Peerless Whiskey describes itself as a legacy reborn. But does the Kentucky distillery produce bourbon and rye worthy of its historic name? We find out.
There are two main chapters to the story of Peerless Distillery. The first starred Henry Kraver, your classic early Kentucky bourbon pioneer. After he purchased the brand in 1899, he spent his reign investing, innovating and merrily making booze. Until he headed into the double trouble of war and Prohibition. A familiar roadblock for many, Peerless eventually succumbed and when the last barrel was sold, it went dormant. 
The second chapter began in 2014, when Kraver's great-grandson, Corky Taylor, and his son Carson, revived the project. The Taylors constructed a distillery in an abandoned 115-year-old tobacco warehouse in the Bourbon District of downtown Louisville and even got special dispensation to restore Peerless' old DSP number, KY 50. The team has been producing the good stuff since 2015 an in 2017, a two-year-old rye whiskey became the first whiskey made at a distillery named Peerless for nearly a century. Now, Peerless Rye and Peerless Bourbon make up the core range.
An impressive family history will get you far in this business. But that isn't what has generated the buzz around Peerless. While there's a story to tell, there wasn't a legacy of recipes or a brand profile to follow. The Taylors instead made a decision to take things slow, not purchasing a single drop of whiskey from anyone else and creating a new generation of whiskies that prioritise quality over volume or cost. And it's paying off. The booze it produces today has received widespread acclaim and picked up a slew of awards.
What makes Peerless whiskey unique
In many ways, the new Peerless is embodied as much by master distiller Caleb Kilburn as it is by the family. He grew up on a dairy farm and has no family connections. But his fascination with the science of distilling led him to shadow various producers and a summer job at Peerless. The Taylors were so impressed they invited the young man (he's only 29 now) to become master distiller. There he had a say in the equipment design and was able to implement his beliefs. "I didn't have any handcuffs on as a distiller. There was no flavour profile, mash bills, yeast strains, fermentation proofs or even economic concerns to follow. The focus was on crafting something special," says Kilburn. 
This is the spirit that Peerless whiskey is being made with today. One of Kilburn's ideals is to ensure the spirit had a low barrel proof (ABV) entry and high bottle strength. This used to be commonplace, but economic factors and a cultural shift towards white spirits in the sixties prompted producers to change tact to achieve a lighter flavour and lower cost. Kilburn, who has a keen understanding of bourbon history, prefers the old way of doing things. "By adding water before maturation rather than after, we're not diluting the spirit. This way, the water actually becomes an ingredient. It's a great solvent and really pulls out the caramel and vanilla characteristics," he says. "So our maximum barrel entry strength is 53.5% ABV and we bottle every whiskey at cask strength without chill-filtration". 
Another of Kilburn's beliefs is that sweet mash fermentation creates better booze. The industry standard is sour mash, which involves adding a portion of a prior fermentation batch into the next run. The acidity helps prevent contamination from microorganisms. When bourbon was in its infancy a lack of understanding of microbiology meant it was the only feasible option. "Sour mash produces a consistent, safe mash that makes good whiskey," Kilburn says. "But there's also a sour note which gives the process its name that can be magnified in distillation. The workaround was to distil at a higher ABV. But that can cut out some of the fruit, oils and a lot of grain character. It's a consistent spirit, but it doesn't have all the flavour that's on the table". 
Peerless whiskey: flavour comes first
Being a new distillery with no established process, as well as access to equipment and technology that can eliminate contaminants led Kilburn to implement his preferred sweet mash fermentation. That means no recycled stillage, just fresh grains and water fills the brand's six fermentation tanks, creating sweet, floral and citrus notes. A long, controlled fermentation runs five to six days in order to retain more flavour. Kilburn explains, "Fermenting for two-four days means you get a high volume of alcohol fast. But for a quick ferment, the temperature needs to be high, which stresses the yeast. This produces more heads and tails that you have to cut out." 
The distillery doesn't reveal the particulars of its mash bill, but we know it's a mix of corn, rye and barley. These are grown in the US and malted with Kentucky limestone water. In the bourbon, there's around 10-15% of both rye and malted barley, but the fermentation character's floral sweetness keeps the rye's peppery elements balanced. Similarly, Kilburn ensures the rye isn't too heavy on its signature grain so the corn's more grassy, buttery elements shine. Double distillation takes place first in a 26-foot continuous copper still from Vendome Copper & Brass Works which strips the distillate away from the beer. The spirit then goes to a smaller pot still, which creates adds body and weight while allowing Kilburn to work with greater attention to detail so he can more accurately cut the flavours he doesn't want. 
Peerless also uses a 3,800-gallon beer well which pumps a slurry of grains and alcohol into the column still. It flows down a series of trays and spillways while steam blows up through each level. As that steam blows through the beer, it condenses the water within the steam and boils away the alcohol vapour until it's roughly 60% ABV at the top of the column. From there it condenses and runs into the pot still. The hearts boil off ahead of tails and the latter is consistently fed back to the beer well to start the process over again, allowing Kilburn to re-distil the discarded spirit and separate the good elements away from the bad (methanol, propanol, butanol and other harsh oils and acids).
Peerless by name…
Ageing occurs for a minimum of four years in barrels housed in the Peerless rickhouse on a single-story. Using gimmicks to heat, cool or change the whiskey is out of the question. Kelvin Cooperage supply the casks with a medium toast beneath a number three char. Kilburn says this maximises the red layer of the char. It's an active layer where the wood's structure breaks open to allow tannins you can extract during ageing. "This was where a great deal of the colour, flavour and aroma characteristics of the wood comes from, so we have a shallow char to maximise that red layer". 
Kilburn is understandably excited for the future. Peerless have started looking into different finishes and is already assembling an impressive range of single barrel releases. "I can't tell you exactly what innovations we'll be rolling out within the coming years, but there are no restrictions on my creativity with what I can do here. The product just keeps getting better and we're laying down more and more whiskey all the time in this amazing facility".
Which is something to look forward too. For now, we have quite enough excitement tasting the Bourbon and Rye, which are just smashing, frankly. The bourbon is mellow, crisp and so beautifully composed. As well as being more Kentucky than any chicken-frying colonel stereotype you can think of. And forget those brash and overly peppery, herbaceous young ryes you're used to. This is a creamy, deep and complex spirit. It's also got so much toasty goodness you could sell blankets scented with it. They have both the slightest bit of imbalance in places, but at just four-years-old, these are seriously impressive expressions. So many distilleries are butchering the word craft that it's losing all sense of meaning. But Peerless is the kind of enterprise we should be reserving it for. I guess they'll have to make do with calling themselves Peerless.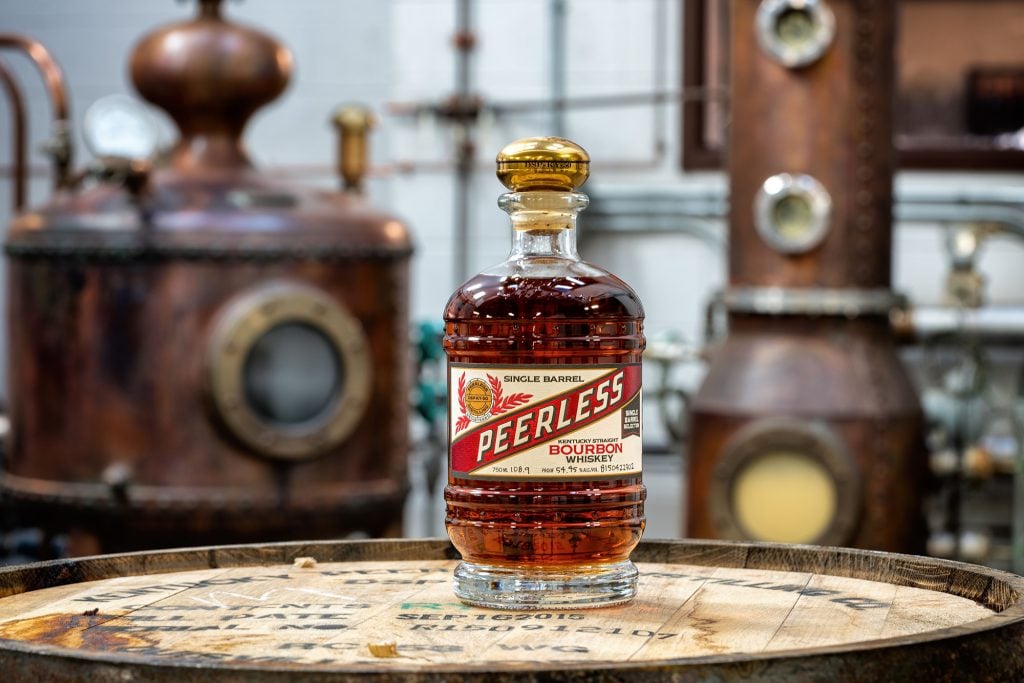 Nose: There's brown sugar, chocolate-coated peanuts, golden syrup, posh vanilla ice cream (the kind with the little black specs of vanilla pod in them) and ripe red apples initially. Then lemon mousse, farmhouse loaf, red berries, cola cubes and floral elements. Keep nosing and you'll find cedar BBQ char, peppermint essential oil and dry earth notes tucked away in different corners of the glass.
Palate: The palate takes its cue from the nose, in that the flavours are clean, well-integrated and persistently interesting. First, there's toasted oak, butterscotch, cinnamon-dusted almonds and some stewed dark fruits. Underneath there's earthy red chilli, eucalyptus leaves, wood ash, loose-leaf tobacco, ginger snaps and green tea.
Finish: Warming and of a good length, the finish has hints of cacao powder, dry grass, cookie dough, orchard fruit and the faintest copper penny note.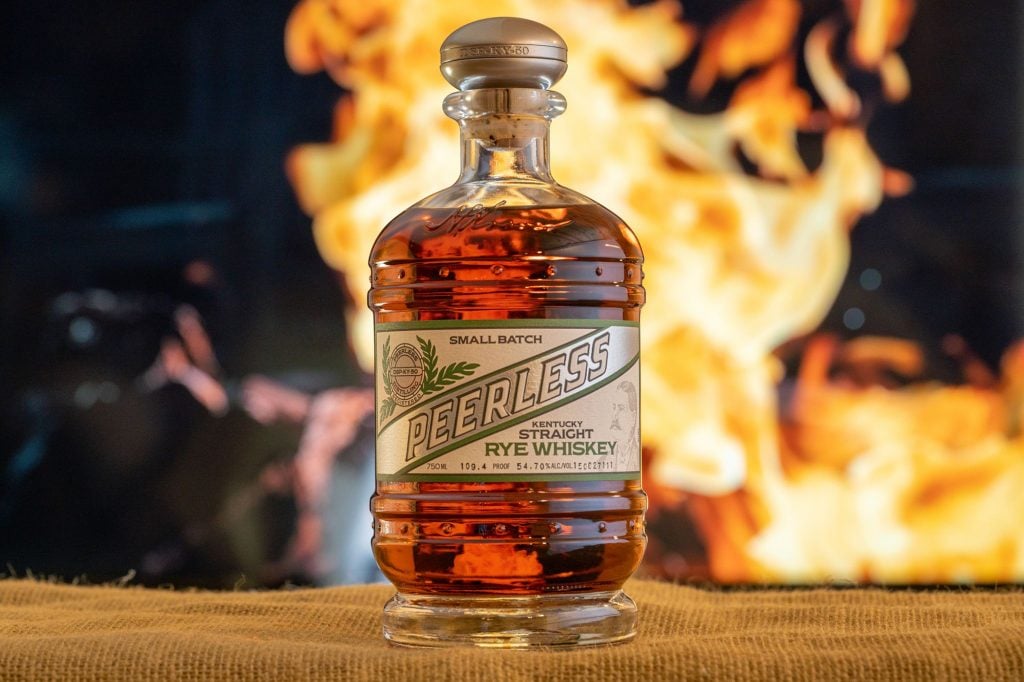 Nose: There's ripe green apples, cranberry, peanut brittle, buttery vanilla, toasted brown sugar and toffee popcorn bring a wave of complex sweetness while nutmeg, ginger, black pepper add aromatic spice. As it develops there's orange peel, fennel and baked earth as well as some barrel char. There's also touches of Dr Pepper, rosewater, Taveners Coconut Mushrooms, fluffy marshmallow and sandalwood in support.
Palate: An impressive variety of flavour emerges from that same core of apple fruitiness, baking spice and nutty woody goodness. Fresh malty rye grains, earthy vanilla, stem ginger and floral honey then emerge. They're present among touches of chocolate milk, raspberry, black tea and apricots in syrup. Underneath there's charred pepper, toasted oak and just a handful of dried herbs. 
Finish: Homemade apple juice, salty porridge, marmalade and hints of cedar, clove and menthol linger.