Last week, Renegade Spirits broke ground on a US$20 million distillery on the Caribbean island of Grenada. We caught up with CEO Mark Reynier – founder of Bruichladdich and Waterford distilleries – to find out why his terroir-driven single cane rum could be the hero the category deserves…
"All men have limits. They learn what they are and learn not to exceed them. I ignore mine." – Mark Reynier
Pretty profound, huh? Alright, full disclosure. He didn't actually say that, Batman did. But he could've, because in many ways Reynier is the Batman of the spirits industry.
Like Batman, he excels at subverting the system. Drawing from years of experience as a vigneron, shipper, wholesaler and retailer, Reynier turns traditional practice on its head. By channelling a winemaker's approach to distilling, he paves the way for a new normal. And (like Gotham), the booze is far better for it. No word on whether he too knows 157 different types of martial arts.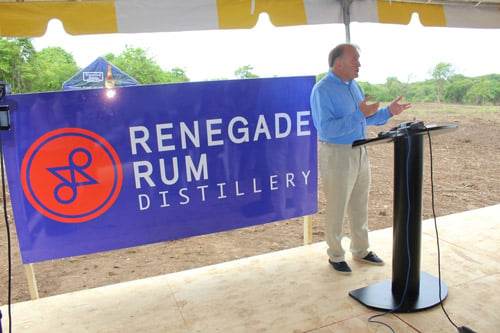 Mark Reynier!
When we last spoke in March, Reynier had just distilled what's thought to be the world's first biodynamic Irish whiskey at Waterford. This time, he's halfway up a mountain on the Caribbean island of Grenada – home to his latest endeavor, Renegade Rum Distillery.
"Independently bottling rum in the noughties, it became abundantly clear to me that there was scant variety of rum style," he explains. "It was all a bit monochrome. The preponderance of molasses as the base material means there's an inherent lack of provenance, traceability, or individuality. Anyone anywhere can distil rum from molasses, and many do. Surely, I felt, I could do better."
Initially Reynier sought to buy an existing distillery, like he did with Bruichladdich, and spent 10 years exploring the likes of Fiji, Mauritius, Reunion, Cuba, Jamaica, St Lucia, and beyond. The distilleries he found were either inaccessible, or "defunct, inefficient and environmentally-compromised, with ancient machinery". It became clear that he would have to start from scratch.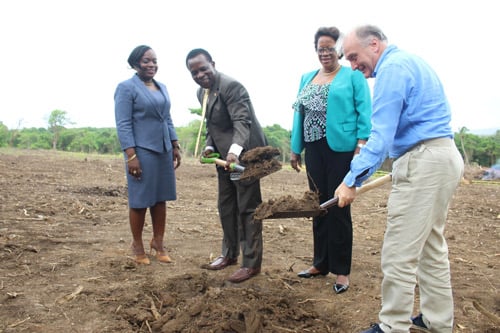 A groundbreaking development
Designed to be 'modern, efficient and environmentally sound', Renegade Rum Distillery will produce up to one million litres of spirit each year, made exclusively from sugar cane reintroduced to Grenada during the first phase of the project.
Reynier's overarching aim is to create the most compelling rum the world has ever seen. A tall order indeed, after all, the category has been waiting in the wings for a while now. There has been plenty of debate about the avenues rum must explore to transcend its longstanding party image.
"According to all the big players, rum is on the cusp," says Reynier. "It's the perennial 'next big thing', isn't it? Trouble is, as I see it, unless one changes the production principles and values, I don't think it will ever really take off. The consumer has moved on, rum hasn't. There is little authenticity for the single malt drinker to get his head around. No one can take it seriously or see it as any more than a fun party drink, as the stereotypical promotional activity reinforces."
That the rum category lacks any real enforceable legal regulations hardly helps. When it comes to production, Reynier and the Renegade team will follow their "own conscience and know-how". The Martinique principals, he says, are as good as any. So, how do you go about truly premiumising a category blighted by "sea, sun, sex, pirates and parasols"?
"My aim is, in a word: complexity," says Reynier. "In two: terroir and traceability. In three: authenticity, provenance and transparency. I intend to answer my own question: 'how can one create as much complexity as one finds in a single malt?'."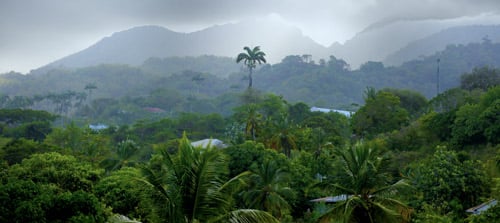 Not a bad view, is it?
With its hilly terrain, altitude range, volcanic and alluvial soils, Grenada certainly has flavour potential by the bucketload. Better yet, the island has a long history of sugarcane cultivation – and very little to speak of today.
Impassioned by the prospect of a blank agricultural canvas, the Renegade team set about propagating seven cane varieties ideally suited to the climate and soil – and resistant to disease – with the help of sugar consultants Booker Tate and the West Indies Sugarcane Research Institute.
Much like at Waterford Distillery – and Bruichladdich – the harvest from each field of cane will be milled and distilled in isolation, creating a spirited library of Grenada's unique soils and microclimates.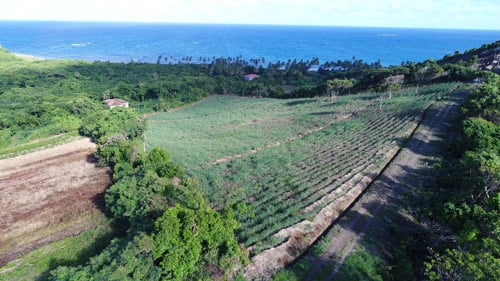 Good views continue
How has his experience in Scotch, Irish whiskey and wine helped shape the Renegade Rum project, I ask? "Each has influenced the other," Reynier says. "And all of them by my time in wine. I do think I have a somewhat unique viewpoint and outlook influenced by half my career in the wine trade as vigneron, shipper, wholesale and retailer, and half my career as a distillery owner.
"The Bruichladdich project came about by being convinced I could make whisky in a better way than what was happening at the time in the industry. Same for Irish whiskey, and most definitely for rum! The French islands of Martinique and Guadeloupe are certainly inspirations; that have been at it for a long time. I suppose the challenge – and I do like a challenge – is: can I do it any better? We'll see."
Reynier expects to have foundations finished by October and steel frames erected by Christmas, ready to receive machinery by February. Should all go to plan, Renegade will be distilling by July 2019. The distillate will be matured in oak barrels for a few years before being brought to market (and our collective palates) around 2021. Intrigued is an understatement.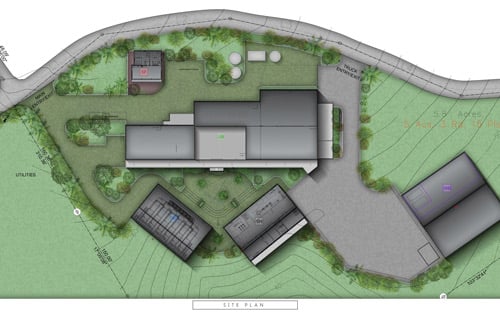 Expect the Renegade Rum distillery to look a bit like this (if you're the opposite of a flightless bird)
"My iconoclastic tendencies would imply that Renegade is going to be a crossover spirit, a bridge between single malt and rum," summises Reynier. "A serious spirit: compelling to nose, rewarding to savour. At the very least, a serious experience that will demand one's undivided attention. This is will not be a frivolous frolic."
Holy astringent plum-like fruit, Batman! We can't wait to taste it.