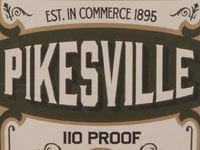 Cast your mind back to November of last year and you might just remember seeing a fantastic rye whiskey come through our doors – the Pikesville 6 Year Old 100 Proof Straight Rye. Not only was it rather yummy and a Master of Malt exclusive, it also made an entertaining whoosh-ing noise as it flew right back out the door in a very swift manner. This might have had something to do with Jim Murray naming it his Second Finest Whisky in the World shortly after it arrived (and it's since been crowned World's Best Rye Whisky at the World Whiskies Awards 2016)…
If it whoosh-ed past you the first time, you'll be happy to know that Pikesville 6 Year Old 100 Proof is back in stock! Go a get yourself a bottle now! (Update: Aaaaaand it's gone. Again.)
Here's our tasting note for it…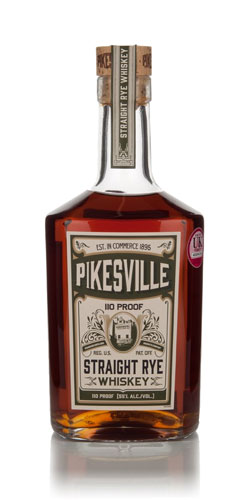 Pikesville 6 Year Old 110 Proof Straight Rye – 55%
Tasting Note for Pikesville 6 Year Old 110 Proof Straight Rye:
Nose: Some dusty spice a touch of Norwegian hand cream and cocoa at first with sweet liquorice, Curaçao, vanilla custard and crème caramel developing.
Palate: Fruity, then wonderfully spicy rye, sweet liquorice again (specifically the coconutty/nougat-y pink Liquorice Allsorts that have a black bit in the middle), plenty of oak and clove drops too.
Finish: Vanilla with cinnamon and apricot Danish.
Now that you've gone and bought a bottle of this excellent rye (before they all whoosh out the door once again), let's take a moment to have a look at where it came from. Nestled comfortably in the catchily-named east south-central region of the USA is Kentucky, one of only four states constituted as a commonwealth. Among many things, Kentucky is famous for bluegrass music, a popular fast food chicken restaurant and bourbon. Many of the most well-known American whiskey distillers reside in Kentucky (though Kentucky's official state beverage is milk), and the city of Bardstown is where Heaven Hill, producers of Pikesville, made their home.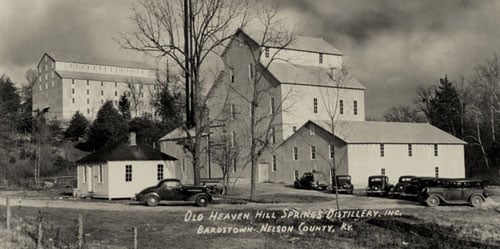 Heaven Hill back in the day…
Heaven Hill was born the same year as Elvis Presley – 1935. Though the King isn't as important to this story as you might think considering the connection I just made, but maybe it'll convince you to listen to "A Little Less Conversation" or "Suspicious Minds" while you read the rest of this post because those songs are sick and make everything cooler. That's a fact you can take to the bank.
Anyway. Heaven Hill. It was founded in 1935 by a group of investors and five brothers; Gary, Mose, Ed, George and David Shapira. Back then, it was known as Old Heavenhill Springs distillery. From filling their first barrel in December 1935, it took them until September 1955 to fill their 1,000,000th barrel. In 2014, they filled their 7,000,000th barrel. Which is full-on ridiculous.
The founders of Heaven Hill, filling barrel #500,000
The Shapira family continues to own Heaven Hill, but there is another family that is tied to the company's history – the Beam family. There have been many members of the Beam family who have held the title of Heaven Hill Master Distiller, producing their excellent whiskeys from generation to generation. They're good folks, the Beam family…
There's plenty of great American whiskey brands from Heaven Hill. This includes Evan Williams (introduced in 1957), Elijah Craig, Rittenhouse, Bernheim (recently named World's Best Wheat Whisky at the World Whiskies Awards 2016) and of course, Pikesville – which is why we're all here of course, reading this blog, learning about Heaven Hill, listening to Elvis and thinking about yummy rye whiskey. Now this blog is a full circle, which is probably as good a note to end it on as we're going to find. Unless I find a good picture of a cat, then we'll end it on that.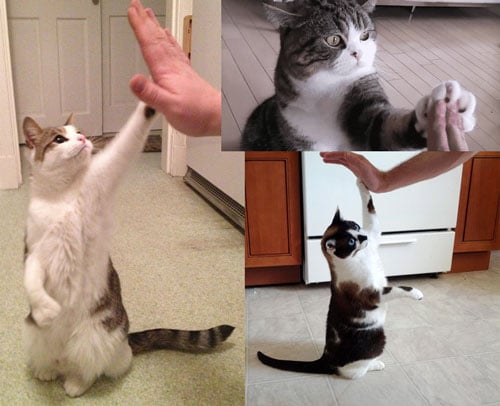 Surprise, it's three cats! High-five!
Sam