Aperitif and sparkling wine producer Cocchi recently welcomed MoM to its Italian home in Piedmont. We marvel at the brand's fascinating history, take a peek at aromatised wine production at Bava Winery, and touch on the world of Futurist cocktails…
"Our family tree dates back to 1682 – and it started on that hill," says company director Roberto Bava, as he gestures at a vineyard opposite the Bava Winery. "We were farmers who came from the Savoy area to run the farm. We've been there ever since."
Our group is standing in the shadows of a building that was erected by Bava's great grandfather in 1911 – during the throes of the Italian Futurist movement* – after a brand new railway line was laid, directly connecting Asti and Piedmont's capital city, Turin, for the first time in history. "This is how a farmer became a winery," he explains.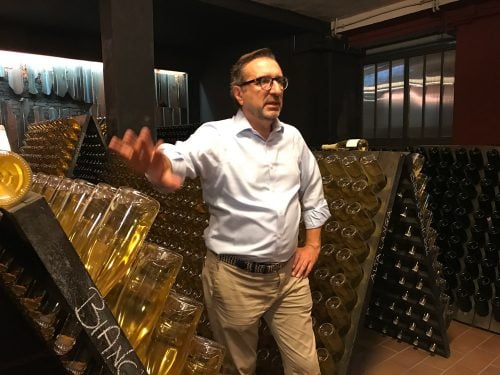 Roberto Bava!
These days, the family business in split into three. Firstly, the vineyards – there are three Bava Vinyeti estates in total: Cocconato, Pianoalto, and Cascina Scarrone – secondly, the winery, and finally, aperitif and sparkling wine brand Guilio Cocchi. The historic producer dates back to 1891, and was acquired by the Bava family in 1978.
"Giulio Cocchi wasn't a farmer, he was a pasta chef in Florence," says Bava. "He came [to Asti] because he wanted to make his own vermouth, and married the daughter of the owner of the main bar in town, which was called Bar Roma at that time. After a few years, he started to produce his own-recipe Barolo Chinato Vermouth and Americano, and the bar became Bar Cocchi."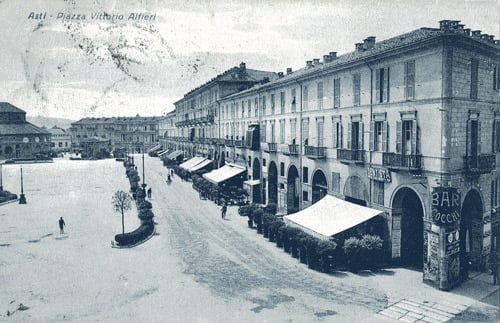 Bar Cocchi
Up until a few decades ago, to call a wine with bubbles 'sparkling wine', you had to use 100% Piedmont vines, outlines Bava. This is why many of the historic vermouth brands such as Martini and Gancia also produce sparkling wines – and Cocchi is no different.
In fact, it was the bubbles that attracted the family to the brand in the first place. "My father wanted to make his own sparkling wines," explains Bava. "He couldn't make it here, and he hated having to buy all of this wine he loved to drink."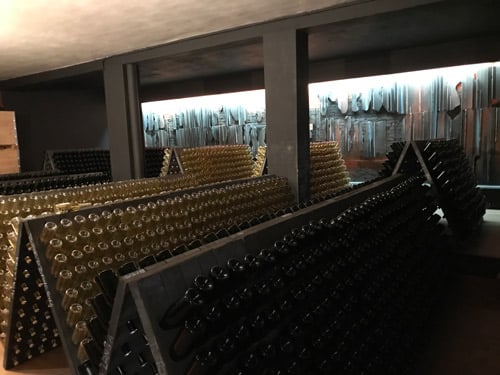 Why buy wine when you can make it and fill your own wine cellar?
While great emphasis was placed on producing sparkling wine "at the highest level", it quickly became apparent just how significant Cocchi's aromatised wine products were. "The people of Asti need the Americano," explains Bava. "Like they need coffee, they need an aperitivo! It's such a deep part of the Asti story."
There was one problem though. It was the early eighties, and aromatised wines were considered to be a bit gross and deeply uncool. Nevertheless, the Bava family continued to produce Barolo Chinato and Americano, and sought to bring quality and provenance back to the category.
"There was a big job to do," admits Bava, who spearheaded the Vermouth di Torino geographical indication – which came into force in March 2017 – through his role as president of the Vermouth Institute of Turin. "First, to bring back the origin. Back to the right area. And the second? Quality."
When it comes to Cocchi's aromatised wine range – which has expanded to include Cocchi Rosa, Riserva la Venera Reale, Cocchi Storico Vermouth di Torino, and Dopo Teatro Amaro – every single label is made from a specific wine; from Moscato to Barolo.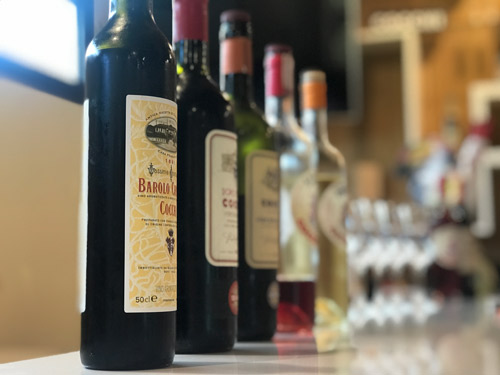 A delicious range…
That said, there are no vermouth-specific vineyards just yet, explains Bava. "For example, we have an estate of Barolo and part of this is due to become Barolo Chinato.
Once the grapes have been transformed into wine – more on that next week – the liquid is blended with 30 botanical tinctures. The ratios vary from product to product. By law, an Americano must feature gentian as the lead botanical. Vermouth must have artemisia, while Chinato requires quinine bark.
"Technically speaking, it's the easiest thing in the world," says Bava, "you take a botanical extraction, filter it, add it to the wine, and it's done. Except it's actually the most complicated thing in the world – because of the recipe. Can you imagine how long it takes to mix 30 different botanicals together?"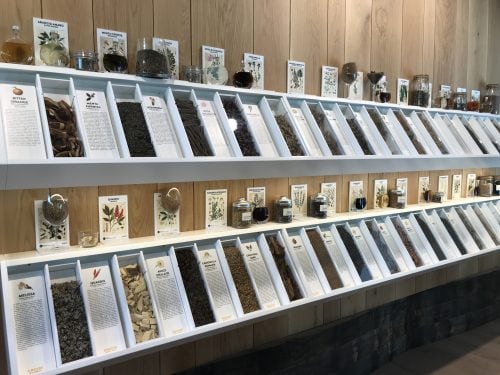 Cocchi's botanical wall
When dealing with herbs and spices that are somewhat medicinal in nature, balancing the recipe isn't just crucial for flavour, it's a health issue too (seriously – quinine poisoning is a real thing).
A botanist and two enologists are on hand to oversee the entire process and verify the end product is delicious rather than dangerous. Phew.
Stay tuned – next week, we head to the vineyards for a winemaking 101. Missed last week's medieval horse festival? Catch up here, quicksharp.
*The Futurists inspired a drinks revolution with vermouth and other Italian spirits at the very centre. Crafted with contrasting ingredients, regional liqueurs and not a single jigger in sight, these 'polibibite' (multi-drinks) were split into six categories according what the drinker intended to do afterwards. If they needed inspiring, an inventine will get creative juices flowing. Off to sleep? They'd opt for a pace in letto, or 'peace in bed'; a warming boozy drink to induce a lovely long sleep. No prizes for guessing the function of the guerra in letto ('war in bed'). Ahem.