Its historic distillery build is well under way, we've seen the stills get delivered, and now American whiskey brand Old Forester has named its first distillery manager to take the reins at its new site.
Juan Merizalde Carrillo will manage the new $45 million-dollar distillery, due to open in spring 2018. He joins the wider Old Forester team which includes president Campbell Brown, master taster Jackie Zykan, and Chris Morris, who is master distiller across parent company Brown-Forman (you may know him best for his Woodford Reserve creations).
This is a pretty big job. Old Forester was founded way back in 1870 by George Gavin Brown (yep, the 'Brown' bit in Brown-Forman), and the brand's new Louisville distillery, situated on the town's iconic Whiskey Row, is one of American whiskey's biggest construction projects in modern times.
Carrillo will oversee the whiskey-making and lead the practical side of things, as well as get involved with the new visitor centre (which looks like it'll be amazing. Guests will be able to char barrels at the touch of a button as well as get involved with a host of other whiskey-themed activities on tour. Get those travel plans together now).
What qualifies someone for such a job? Carrillo joined Brown-Forman 10 years ago and has worked in the R&D lab, in operations and engineering roles, and in management positions. Quite the multi-tasker.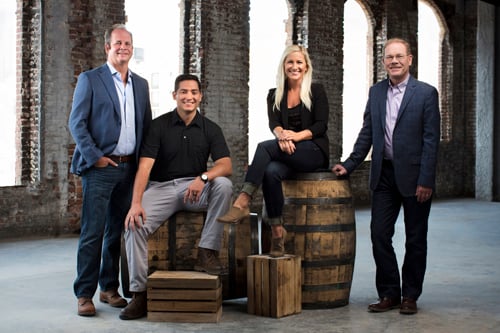 The dream team (L-R): Campbell Brown, Juan Merizalde Carrillo, Jackie Zykan and Chris Morris
"Juan is the perfect recipe for what we need to manage the Old Forester Distillery," said Campbell Brown. "His experience in a lab environment coupled with his production knowledge provides a strong base for a unique facility that will showcase the art and science of bourbon-making under one roof."
We're excited to see the whole distillery project come together. A new high-tech site making up to 100,000 cases per year? That's a lot of new whiskey.