This week, we're tempting you with not one but three (soon to be four) extraordinary bottlings from Texas' trailblazing Balcones Distilling, released in collaboration with our good friends at That Boutique-y Whisky Company. You'll want to taste them to believe them, but until then, we've captured their essence in four words: upside-down cask maturation…
Hello, curious whisky drinker. We thought the words 'upside-down cask maturation' might just lure you in. Those clever folks at That Boutique-y Whisky Company are back at it again – and by 'it', we mean bottling the contents of compelling, rare, and/or downright bizarre casks from across the globe, this time from the Lone Star state: Texas. 
Now, the team behind Balcones Distilling aren't shy about "testing the waters of what's possible", as head distiller Jared Himstedt so eloquently puts it. They're the creators of the first Texan whisky since Prohibition, the pioneers of blue corn whisky, and the only distillers bold enough to create a smoky whisky by smoking the distillate, rather than the grain. If they can't find a space for these barrels in their existing range, the contents must be – and we mean this as the highest possible compliment – extraordinarily weird.
Of the four Boutique-y releases, three are single malts made from Golden Promise malted barley from Scotland – aged for various timescales in Tequila, oloroso sherry, and Balcones' own Brimstone casks – while the final spirit is made from blue corn and finished in Pedro Ximénez barrels. Each one spent more time in the finishing cask than it did in the original – hence 'upside-down cask maturation'.
"We haven't really released anything like these on our own," says Winston Edwards, brand ambassador at Balcones Distilling. "We haven't done a Tequila cask single malt at the distillery, we haven't done a Brimstone cask at the distillery – we have done a sherry release, but not with our blue corn spirit. They're unique to Boutique-y."
Let's take a closer look, shall we?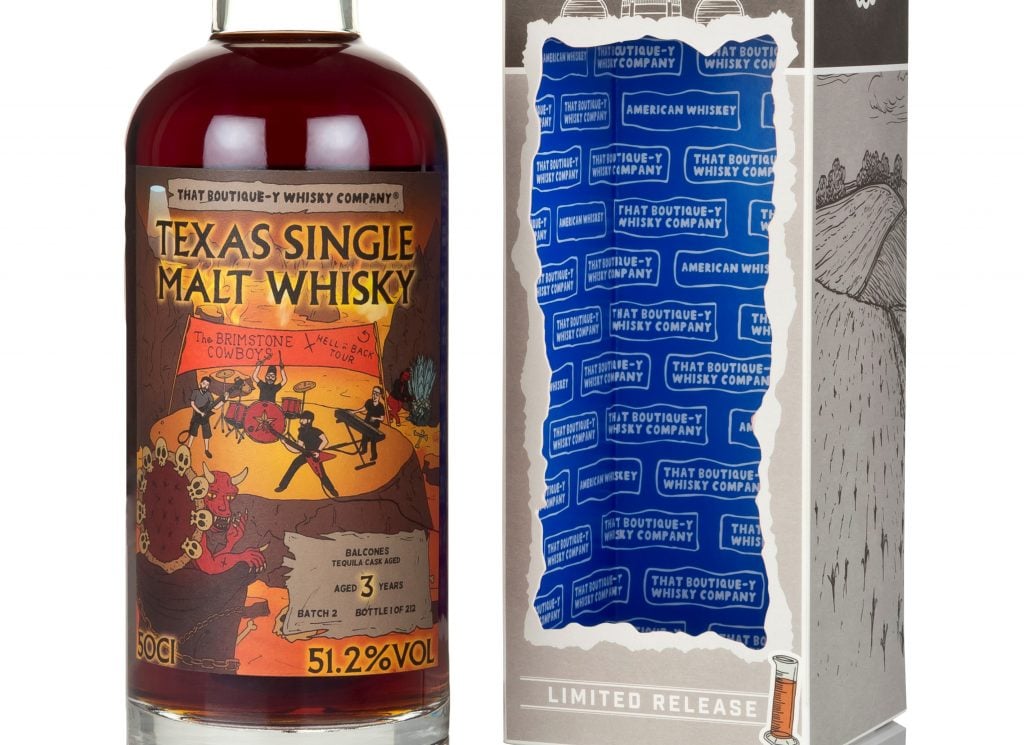 Well, well, well, what have we here? A Tequila cask-aged Texan single malt whisky; bold and vegetal, with a glorious dried fruit sweetness. "I don't know what distillery this Tequila cask came from," says Himstedt. "[Cask] Brokers can be weird – sometimes they don't want you to know because then you can just start calling the distilleries and bodegas on your own. 
The team has always used Tequila casks, right from the beginning, in the mix for Baby Blue Corn Whisky, he continues. "We'd buy all the Tequila casks that were about to break down and they would make them into smaller barrels for us – they'd get shaved and re-charred and all that. I wanted to see what big Tequila casks would do for Baby, and when we got our first truckload in, we probably had 14 or 15 different isolated spirits recipes, so we threw everything in one – just to see."
After 12 months ageing in a virgin French oak barrel, the single malt was scooted across to the ex-Tequila barrel, where it remained for 37 months. "I don't know what you call it when you reverse the process," says Himstedt. "We didn't 'finish' it – we started it in one barrel and then it really matured in another."
The more astute among you might've noticed something unusual. That Boutique-y Malt Company? Eh? "We're not allowed to call it whisky in the UK if it's under three years old," Dave Worthington, global brand ambassador at That Boutique-y Whisky Company explains. "This is just two years old, so we've put a little flag over the whisky logo and renamed it 'That Boutique-y Malt Company'." 
After 14 and a half months ageing in an ex-bourbon barrel, this single malt was switched to a Balcones Brimstone cask for a further 16 and a half months' ageing. The name Brimstone refers to a corn whisky of the same name, which is smoked using scrub oak. "It's actually not a different species of oak, but in Texas where it's really dry the tree grows twisted, almost like a Bonsai version of what an oak tree would be," Edwards explains. "It's so dense, we're talking about something that has spent 60 to 80 years just to grow four feet tall, so lot of the compounds and aromas are really concentrated." Think: smoky bacon and campfire deliciousness.
The third single malt – again, bottled as a malt spirit rather than a whisky – spent 11 months in ex-bourbon casks before maturing for a further 14 months in an oloroso sherry cask, with all the rich plum fruit and mouthwatering spicy treacle you'd expect. Fun fact: This will be the joint-third Balcones release that has spent time in a sherry cask – the other two being the distillery's 10th anniversary single malt and a dark rum finished in a Pedro Ximénez cask. *Italian chefs kiss* 
We say joint third, because soon (quite how soon is still under wraps) there will be another spirit joining this experimental line-up: a 100% blue corn spirit finished in Pedro Ximénez casks. If your whistle has been thoroughly wetted, you'll need to get a move on – a very limited number of bottles are available, priced at £69.95 per 500ml bottle. Hey, we told you they were extraordinary.