It's been 10 whole years since pioneering Texas distillery Balcones burst onto the American craft distilling scene! Here, head distiller Jared Himstedt reflects on a decade of experimental whisky-making (without the 'e'), details his anniversary creation Texas Rye, and reveals why future projects mean the best of Balcones is yet to come…
From humble beginnings in an old welding shop under a bridge in Waco (operated by a team with no distilling experience to speak of, using equipment they built by hand), to a 65,000 square foot site almost 25 times the size, in 10 short years Balcones has quickly become a force to be reckoned with.
When the team set up shop, the US craft whisk(e)y scene was still very much in its infancy. Meticulous about each step of the distilling process, from grain varieties to fermentation processes to maturation choices, Balcones dared to be different from the very beginning; crafting the first ever Texan whisky, Texas Single Malt, and the world's first blue corn whisky, True Blue.
"We don't have anybody here who's ever worked in distilling, so it's been a pretty self-taught learn-as-we-go process," explains Himstedt. "All of our knowledge was theoretical. It was just the right mix of… we were excited and passionate enough, and I don't think we were particularly the kind of people to sit down and worry about 'what if it doesn't work?' or 'are we taking a huge risk?' Is this really smart?'. We just wanted to do it."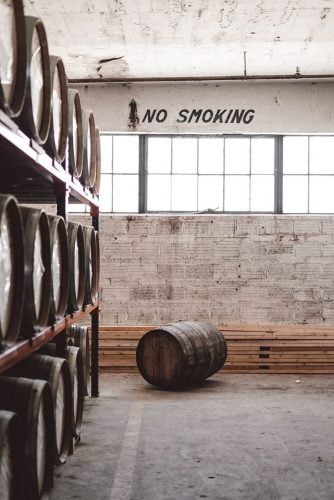 Solid advice, that
While the distillery has weathered more than its fair share of turbulence in these 10 transformative years (not least the dramatic departure of founder and former head distiller Chip Tate back in 2014), the most interesting development of all has to be that of the liquid itself.
"Every once in a while we see a bottle out on the market from the first year, one of the first two or three bottlings we did," he says. "Whoever finds it will bring it back and sometimes just for fun we'll open it just to see, relative to now, how we feel about [the whisky] and it's usually not super positive! I feel really fortunate that people that stuck with us."
Balcones is often hailed for its tendency to venture off the beaten track. For the most part, the team has sidestepped traditional American categories in favour of niche styles like corn whisky and single malt.
"We mostly left bourbon and rye to the rest of our craft, because that's what almost everybody else leads with," offers Himstedt. "It's not that we don't like bourbon and rye, we just found our niche elsewhere, filling in gaps that other people weren't exploring. A lot of the product development around here ends up being a little bit whimsical and personal."
The team started making rum for that exact reason. "We were drinking a lot of high-ester really cool dark rums," Himstedt explains. "At some point you realise that right outside your office door is a distillery – why wouldn't you give it a shot?" A few years later, he found himself enamoured with rye whiskey. The team bit the bullet, and have released their first-ever Texas Rye to mark Balcones' milestone year.
"The first step, in almost all of the journeys on all of our expressions, is trying to nail down ingredients," states Himstedt. "Most [distillers] use pretty boring, very straightforward, either flaked or raw or malted rye berries. A lot of us come from a beer background, so we wanted to do a little bit better than that.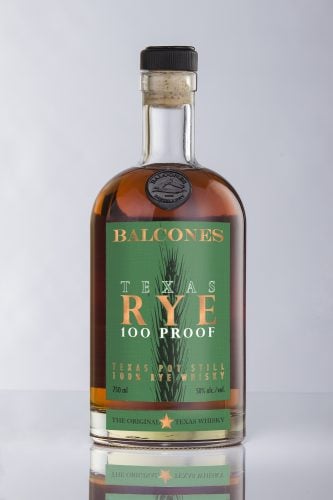 The latest addition to the Balcones family
"There's all kinds of really fun malt toasting and kilning and other things that they do to barley for brewing that nobody really messes with for whisky. The list of things that we can play with is a lot bigger than it would have been a long time ago."
Eight pilot recipes and a series of control experiments later, the team settled on a 100% rye mash bill comprising 80% raw Elbon rye from north and northwest Texas, along with Crystal, Chocolate and Roasted rye varieties from Weyermann Specialty Malts.
The resulting whisky has been twice pot-distilled and is available in a limited-edition Cask Strength expression (bottled at 62.5% ABV) and a 100 Proof release (bottled at 50% ABV), the latter of which will join Balcones' core range.
That's not to say the team are quite done celebrating – far from it. In fact, Balcones will release a series of 10th anniversary commemorative bottlings throughout the second half of 2018 (10 in total, naturally), made up of various unseen experiments laid down in years gone by.
While the line-up is yet to be finalised, there are certainly some peated whiskies in the running, along with Port, Madeira, Oloroso, Pedro Ximénez and Tequila cask-aged drams, and even the potential for a rum bottling or two.
And with all this warehouse space up for grabs, one wonders what future marvels Himstedt has up his sleeve? As it happens, things are about to get really interesting. Balcones recently teamed up with a local cooper to explore different aspects of maturation, and has embarked upon a project to age its single malt in craft distilleries across seven distinctly different climate regions in the US.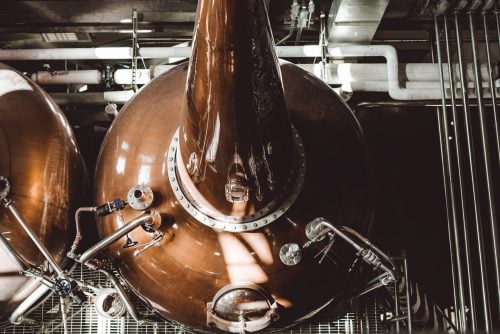 One of Balcones' impressive Forsyths-made stills
"Obviously no barrel is exactly the same, but we're going to do it all in triplicate so it's a semi-scientific approach," Himstedt says. "We'll do some sensory [analysis] and the cooper will do some gas chromatography and we'll track the progression over probably three to five years."
For Himstedt, maturation climate is "a way more interesting conversation than age statement". "We know what the ages mean in Kentucky and we know what the ages mean in Scotland, but now that we're making whisky in places that have radically different climates, we're going to see really different results," he explains.
In terms of the Texas climate, one of the biggest determiners of wood influence is the regular extreme swings in temperature.
"Distillers in Scotland and Kentucky will be tasting barrels and say 'oh, this could use another summer'," says Himstedt. "What they mean is it's going to get warmer, the wood's going to swell, it's going to suck the spirit deep in and then as [the temperature] starts cooling off, the wood's going to squeeze that stuff back out, almost like squeezing a tea bag.
"If you compare it to breathing, it's like taking a big lungful of air and exhaling it. Our climate makes the barrels hyperventilate. There's a lot of things obviously that go into maturation and the wood extraction is just one part of that. But that part for us happens really fast."
While Balcones has tweaked aspects of its mash bills, fermentation, still processes and cask construction to keep pace with the wood extraction, there's no denying it has an impact on the final flavour of the whisky. As such, Himstedt expects the more temperate climates in the experiment to produce a softer, gentler liquid.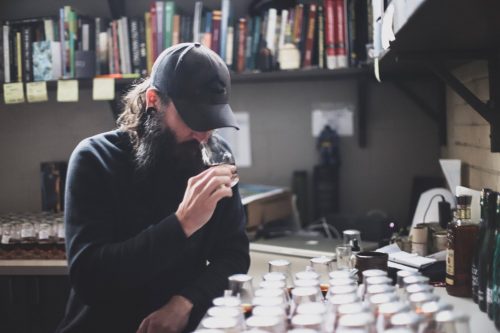 Himstedt doing his thing
He's also interested in how the humidity of each region will impact the whisky. Much like in Kentucky, the ABV of each cask in arid Texas is always rising – compared to Scotland, where the ABV drops over the years.
"If the proof is dropping slowly as opposed to going up, the kind of extraction and the kind of maturation you get would be similar to having a lower entry proof, which a lot of American whiskies do," he explains. "You can make a more delicate, soft and subtle whisky by going in at a hundred proof as opposed to 125. It will be interesting to see which combinations [of temperature and humidity] happen in which parts of the country."
This is not Balcones' only experiment in regionality. In recent years, the distillery has partnered with local farmers to grow a variety of malting-grade barley that could withstand the heat and drought Texas is privy to. Summer 2016 signalled a significant harvest, so Himstedt and the team bought as much barley as they could lay their hands on, had it malted in Texas, distilled it in January 2017, and filled it into three bespoke barrels made from live oak (a really common species in Texas).
"We found some really big straight trees, had staves made, and aged them on the roof of the distillery for three years – we always have our wood seasoned for three years before our barrels are made," says Himstedt. "So now we've got three barrels of Texas-grown and malted, fermented, and distilled [whisky] ageing and it will be really fun to see how that goes."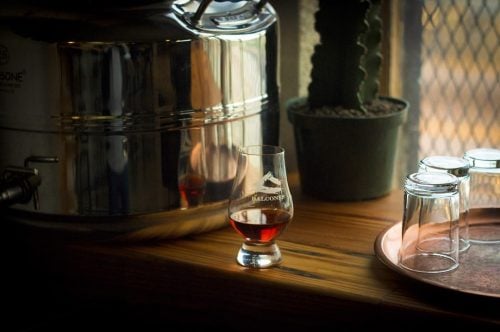 Save one for us
That's not all. Himstedt also has his eye on something as rare as a hula-hooping unicorn – Texan peat. The eastern region of the state is thick with swamps, wetlands and pine trees, and it was while researching the history of the area last year that Himsteadt uncovered something truly exciting. Around 90 years ago, the region was a prime location for peat harvesting.
"I'm curious to see if we can track down whoever owns the land and get it tested, because some peat can have clay levels that are way too high to make it usable for malting," says Himstedt. If he's successful, and the peat is safe, the results could be mind-blowing. "Even Scotland's peat regions give such a different profile in the finished product; specifically from Highland to coastal is radically different," he observes. "So it would be really fun to get out there and harvest some of that peat and see what's there."