Today we're taking a closer look at a limited edition 58.2% ABV single malt whisky from Scotland's most northerly mainland distillery. It's Wolfburn 7 Year Old Cask Strength.
Nowadays, when we get a press release about a new distillery almost every week, it's difficult to remember that ten years ago such news was genuinely very exciting. In 2012 the whisky world learned of a new distillery in Caithness in the Highlands that would trump Pulteney as the most northerly mainland distillery in Scotland. Head toward Clynelish and then keep going. 
Wolfburn reborn
The distillery gets its evocative name from its water source – the Wolf Burn. There was a distillery here from 1821 to the 1850s which at one time was the largest distillery in Caithness. After it closed it was left to fall into ruin. 
The company behind the revival is a local consortium called Aurora Brewing, though for some reason its registered address is in Rainham, Essex where director David Hill is based. Thanks Companies House!. Production started in 2013 and the inaugural release landed in 2016. Today the team is headed up by distillery manager Iain Kerr who previously worked at Balmenach Distillery, Allt á Bhainne Distillery and Glenlivet. 
Not a fearsome beastie
You might think with a name like Wolfburn that the whisky would be a fearsome beast but in fact the distillery is geared up to produce a light fruity new make. The team uses both unpeated and lightly-peated malt. This starts at the beginning with a long mash in a 1.1 tonne stainless steel semi-lauter mash tun which produces a clear wort. Fermentation takes around 72 hours, long by Scotch whisky standards. There are two stills, a 5,500 litre wash and 3,600 litre spirit still, and they are run slowly to maximise copper contact, with shell and tube condensers. 
Wolfburn has a broad array of casks to choose from such as ex-bourbon hogsheads and sherry butts plus some more unusual things like quarter casks. The distillery produces a range of whiskies under various names including two lightly peated expressions, Northland and Morven, a sherry cask version called Aurora (named after the parent company, we assume) and a cask strength core expression, Langskip. All the whisky is matured in four on-site dunnage warehouses. 
As well as these core expressions, there are some limited editions like our New Arrival of the Week. It's an unpeated whisky aged in ex-Oloroso and ex-bourbon quarter casks so you're going to get a lot of barrel influence plus it's bottled at cask strength with no chill-filtering or colour added. Expect big flavours. Most expressions from Wolfburn are NAS, so this limited edition cask strength is unusual plus there are only 1,840 bottles in existence.
Wolfburn 7 Year Old Cask Strength is available from Master of Malt. Click here to buy.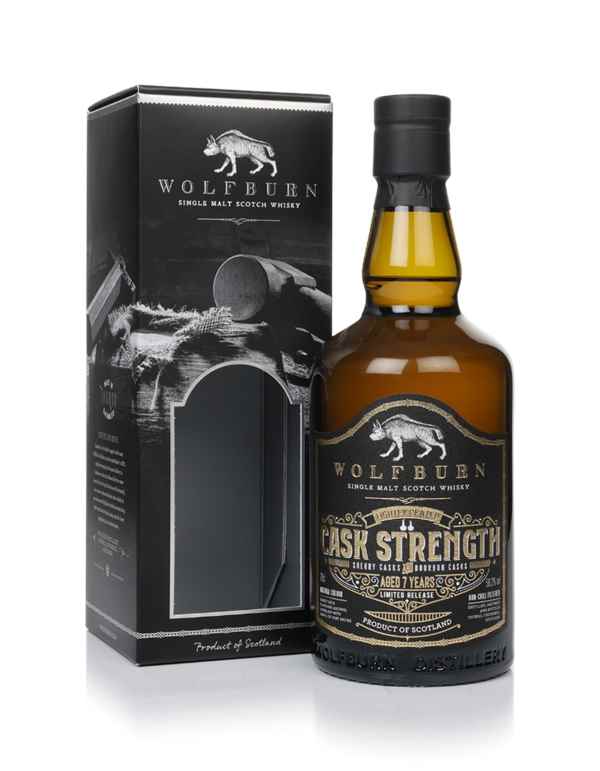 Tasting Note by The Chaps at Master of Malt
Nose: Buttered popcorn, oaken vanilla, and sweet, sherried fruits are followed by creamy butterscotch.
Palate: Hazelnuts and stewed, spiced fruits with syrupy sponge cake lead the way before elegant whispers of peat smoke creep in.
Finish: Chewy toffee and burnt sugar keep things sweet at the end, while the peat tails off delicately.
Header image from Whisky.com