Tobermory welcomes a new brand ambassador, wildlife filmmaker and Mull native Gordon Buchanan, and to celebrate releases a very special limited edition single malt: Tobermory 25 Year Old Oloroso Sherry Cask Finish.
It's become quite the thing for whisky companies to hire brand ambassadors from outside the whisky world. Often they have very little connection to the product in question but in the case of the new face of Tobermory, Gordon Buchanan, it could not be a better fit.
Introducing Gordon Buchanan 
You might not know his name but as one of the world's premier wildlife filmmakers you will have almost certainly seen his work. Buchanan was brought up on the Isle of Mull, the home of Tobermory and he even used to sneak into the then moth-balled distillery as a teenage dare. 
But the connection doesn't end there because his mother used to work at Tobermory where she met the man who would become her husband and Buchanan's stepfather. And it goes on, whisky fans will know Gordon's brother, Stewart Buchanan who began his career as a stillman at Tobermory and now works as a brand ambassador for Brown Forman's Scotch distilleries, Benriach, Glendronach, and Glenglassaugh. 
We were introduced to Gordon Buchanan at a lunch in London hosted by master distiller Brendan McCarron and master blender Julieann Fernandez. Buchanan seemed genuinely delighted about working with his hometown's distillery. McCarron commented:"We're really excited to welcome and partner with Gordon as island ambassador. We have a shared passion for Mull, the land, the community, the wildlife. We're committed to work together to protect and preserve our beautiful island, ensuring it's looked after for years to come."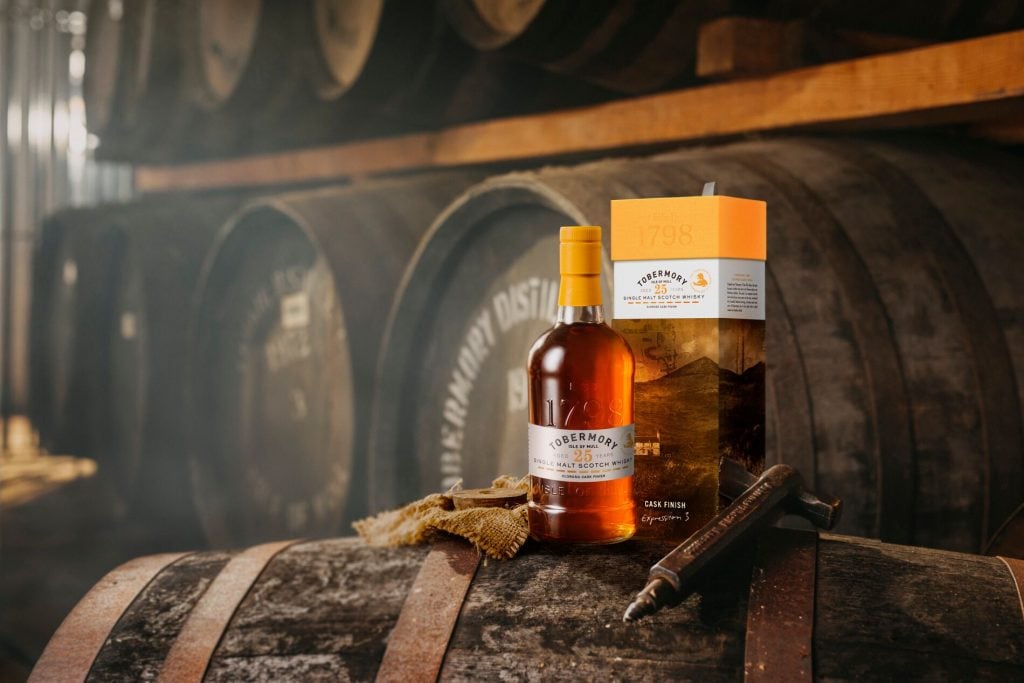 And a limited edition sherry cask single malt
As well as unveiling Bucahanan, the occasion was the launch of a very special limited edition whisky from the distillery: Tobermory 25 Year Old Oloroso Sherry Cask Finish. It's the third release in the Hebridean Series following on from the 23 and 24 year old bottlings. The whisky began life as the very popular 15 year old which proved so popular that it was discontinued. But some was kept back and spent ten years in Gonzalez Byass oloroso sherry casks before bottling at 48.1% ABV with an outturn of 5,298 bottles.
The result is a massively fruit rich drop; McCarron described it as jammy. There's a full tasting note below. We tried it next to two other whiskies from the distillery: Tobermory 21 Year Old and the peated Ledaig 18 Year Old. They are both phenomenal whiskies, the 21 Year Old beautifully poised between sweet sherry and floral aromatic notes but the 18 Year Old really deserves all the plaudits it has received with smoked meat, fruit, sweet sherry, and smoke all in perfect balance. In short, the event showed how well the spirit from Tobermory ages.
In future the distillery is going to be upping the number of peated runs, such has been the success of Ledaig (pronounced as Brendan reminded us 'lay chick') which is very exciting news. But it does mean that 'ordinary' Tobermory will become rarer. What a difficult choice to make!
Tobermory 25 Year Old Oloroso Sherry Cask Finish is available from Master of Malt. Click on link for price and to buy. 
Tasting note for Tobermory 25 Year Old Oloroso Sherry Cask Finish
Nose: Peachy nose, with plum jam, toffee, coconut, wood, walnuts and molasses, and some floral orange and orange peel notes.
Palate: Initially quite light, floral, saline and peppery then sweet molasses, baking spice and sherry finish. 
Finish: Long and sweet with dried fruits and rum-like flavours.
Overall: Big rich sherried whisky. Very complex. One to sip slowly.