Today we're highlighting a very special dry vermouth from Piedmont made using grapes from a top wine producer and bottled unfiltered to preserve flavour. 
Alfredo Sconfienza from vermouth producer La Canellese was nonplussed when Riikka Sukula from Scarpa approached him about bottling an unfiltered product: ""I've never tried an unfiltered. Nobody has ever asked me to do an unfiltered, what would be the point?", he said, according to Sukula. But Sukula went on to say: "In the process of trying samples, he grew really excited. He is now as proud as we are."
Scarpa has been going for over 100 years and owns vineyards in Piedmont producing a highly-regarded range of wines including Barbaresco, Barbera d'Asti, Barolo and many others. The company had produced a Vermouth di Torino since the 1930s but stopped in the '70s due to lack of interest in the category. According to Sukula, the managing director, the rise of the mega producers saw most of the small operations die out. When interest revived in the 2000s, Scarpa turned to a specialist La Canellese to make its vermouth to the old family recipe because of rules about allowing alcohol and sugar in a winery. 
The regulations for Vermouth di Torino are much stricter than normal vermouth, grapes have to come from Piedmont as opposed to the EU wine lake, but Scarpa takes things a lot further. The company uses naturally sweet Moscato grapes from its own vineyards and all the botanicals are Piedmontese. According to Michael Palij from UK importers Winetraders, "nothing but fresh botanicals using only cold extraction. All done with a coffee grinder thing. Nobody does that anymore, they use essences or hot extraction. It's expensive and time consuming but it preserves aromatic intensity." Its two bottlings, a Rosso (made from white grapes and coloured with caramel) and a Bianco are superb but seeing the traditional production process Palij had the idea to go one step further and produce an unfiltered version. He said: "You can only do this if you're making it in this old style. If you use essences, there's nothing to filter out."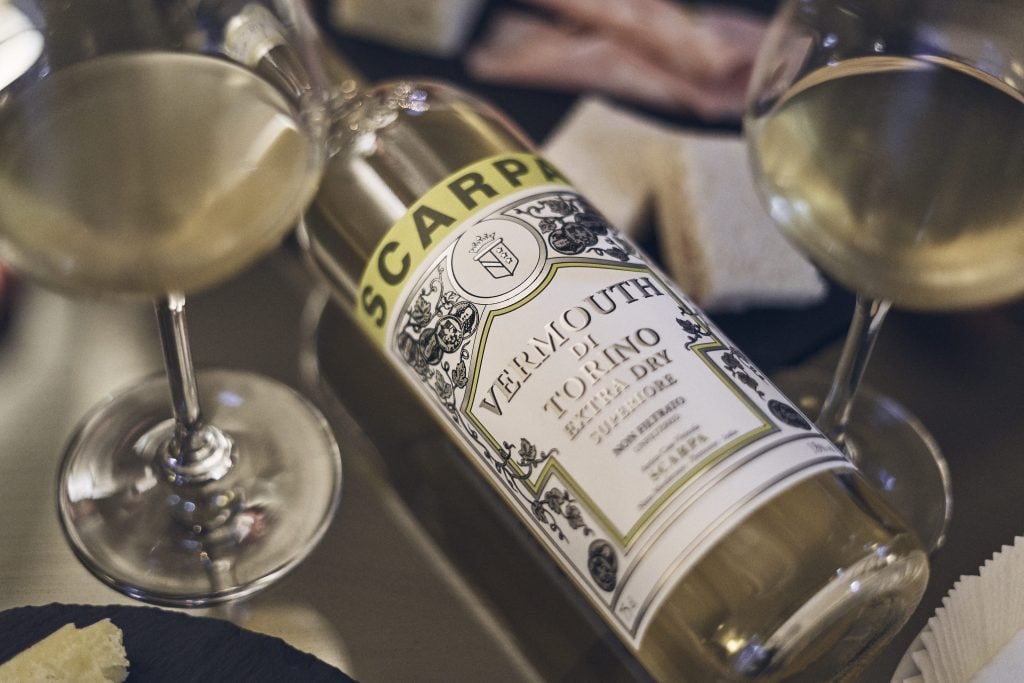 Rikkala, who is originally from Finland, went into more detail about the process. They start with 38 botanicals including gentian and artemisia (woodwood) which are steeped in neutral alcohol for between 32 and 41 days depending on the time of year. No heat is used in the extraction process because, she said, "heat gives a jammy cooked flavour". Moscato grapes give too much sweetness so they use Cortese (as used in Gavi) from Scarpa's vineyards in Monferrato. The quality of the base wine is very important. Some beet sugar is added at the end, there is 30g per litre of sugar compared with 70g in the standard. It is then bottled at 18% ABV unfiltered so it is naturally cloudy. Palij suggests that you shake the bottle before use. 
It tastes gorgeous neat, with chamomile, elderflower and menthol notes on the nose. On the palate, it's almost crisp, you barely notice the sugar with gentle grapefruit-like bitterness and the quality of the base wine really shines through. Drunk chilled like this, it serves much the same role as a manzanilla sherry, tasting delicious and complex with salted almonds and olives.
Then we tried it in some cocktails. First a spritz made with just 50ml of vermouth, the flavour is so intense you don't need so much, rather as you might use a white Port. But the ultimate serve was in a wet Martini. Edmund Skinner-Smith from Winetraders joked that the only people who drank their Martinis with such a high vermouth content were bartenders but with this low sugar vermouth, suddenly it makes a lot of sense. Drunk with 50ml gin, Smeaton's Bristol Method gin, to 15ml of vermouth, the delicate flavour of the Scarpa came through but without making the Martini too sweet. Edmund-Smith thinks the Scarpa Extra Dry could well bring the wetter style of Martini back into fashion. He might be right. It's certainly one of the best vermouths on the market.
Scarpa Vermouth di Torino Extra Dry is available now from Master of Malt.