It's another rum-heavy week here on the Master of Malt blog. To kick things off we have a special botanical rum distilled in Devon from the people who brought you the award-winning Salcombe Gin. 
Salcombe Distillery was founded by Angus Lugsdin and his friend Howard Davies in 2014. Lugsdin's background was in oil and gas exploration, but he was inspired by childhood holidays in Salcombe on the south Devon coast to set up a distillery there. They began distilling gin in 2016. "We set out with the aim to create one of the world's best London Dry Gins," Lugsdin told me. The result was Start Point, named after a local landmark. 
It's fair to say they have been rather successful. Lugsdin told me, "in our first full year we won double gold at San Francisco, gold at the World Gin Awards and one of the highest ever recorded scores at the Beverage Tasting Institute in the US, with 96 out of 100." Start Point has been followed by some interesting barrel-aged versions including collaborations with Bodegas Tradicion in Jerez and a sloe gin aged in casks from Niepoort in Portugal. Last year saw a bit of a departure with the release of limited edition gold rum which was aged in ex-bourbon barrels for around six months. 
And now there's a new rum, inspired by the Salcombe Fruiters, boats that in the 19th century brought produce to England from warmer climates including sugar, molasses and finished rum. It's called Whitestrand after an area of Salcombe where the ferry boats and harbour master are located. Also, said Lugsdin, "it sounds quite Caribbean."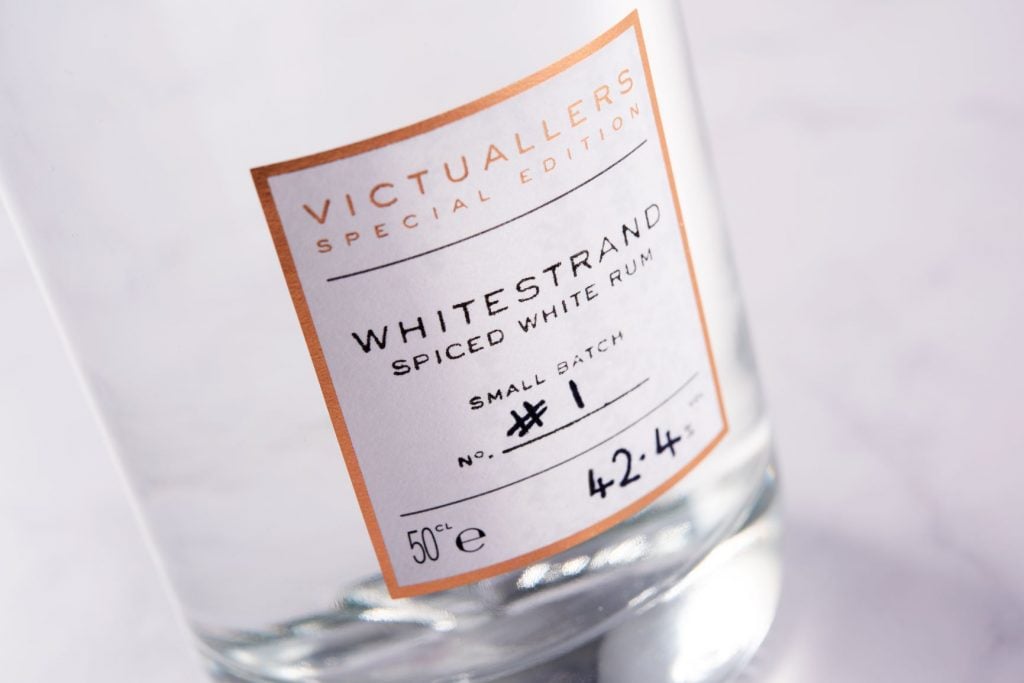 To make its white rum, Salcombe uses a mixture of molasses and unrefined sugar, fermented with a blend of yeasts. You need special yeasts to get such a high sugar mixture fermenting. According to Lugsdin: "we are working with a lot of different yeasts, some for rum, some champagne and some beer, to find the right combination." Fermentation lasts around 4-5 days depending on the weather. 
This is then distilled twice in a 60 litre copper pot still. During the second distillation a selection of botanicals are added. Lugsdin told me that they use whole spices not essences including fresh lime, coconut and long pepper to bring out the banana bread and apricot flavours of the spirit. It's bottled at 42.4% ABV. Finally and unusually, there's no sugar added at the end. The idea is to create something refreshing and elegant not a heavy, sweet spiced rum. Lugsdin recommended mixing it with ginger ale and lime to make a so-called 'Light and Stormy' (do you see what they did there?) Or try it in a Mojito (see below).
Whitestrand is made in small batches and will, unlike the limited edition gold rum, be part of the Salcombe core range. But there's also some neat rum ageing in the barrel. In addition to bourbon casks, Lugsdin told me that they have some interesting barrels sourced from wineries. From Salcombe's track record with barrel finishes, these are likely to be from some extremely interesting producers. The team is currently experimenting with finishes and there should be something to try at the end of the summer. Watch this space. 
50ml Salcombe Whitestrand Rum
2 teaspoons of caster sugar
Mint leaves
Fresh limes
Soda water
In a Highball glass, muddle four wedges of lime, four mint leaves and two teaspoons of caster sugar. Add one large measure of Salcombe Whitestrand rum and stir until the sugar has dissolved. Fill the Highball glass with ice, top up with soda water and gently stir.
Salcombe Whitestrand Rum is available to buy now from Master of Malt.