This week we're particularly excited about a Dominican rum with a difference, it's been finished in casks that formerly held a peated Speyside whisky giving the spirit a subtle smoky quality. 
As the expectation and excitement around the rum category continue to swell, we can expect to see more and more innovative expressions. While some of this experimentation will inevitably make us cringe, there's also plenty of room for those who create the intriguing and delicious to shine and we're always happy to help them share some of that spotlight.
Take Relicario Ron Dominicano Peated Finish, an aged Dominican rum from Relicario (owned by the Spanish-based Beveland Distillers) that was finished in American oak barrels which previously held peated whisky. It's simultaneously an interesting drink for seasoned rum lovers and exactly the kind of bottling that will convert whisky drinkers to the joys of rum. It shares a similar production process to the brand's core expression, Relicario Ron Dominicano, that is until the end of the maturation process. The rums are made from 100% native Dominican sugar cane juice harvested by hand. The sugar cane juice is fermented for 30 hours with yeasts (the distillery reveals this is saccharomyces cerevisiae, which should delight yeast fans), before the spirit is distilled in two different stills. I told you this rum was interesting. It is distilled initially in a continuous column still and then again in a copper pot still, which Relicario says is to create a smoother delivery. 
The rums are then matured in 225 litre American white oak barrels in the Dominican Republic, which means you can expect the humidity and temperatures typical of the Caribbean, as well as some sea breeze, to add to the character of the product. Where Relicario Ron Dominicano Peated Finish differs is that following ageing on the island for between five and ten years, the barrels were transported to Speyside to be matured for a further 6 months in those 250 litre American oak barrels that contained peated whisky.
Yes, that's right, Speyside. Some of you might have been expecting that maturation to take place at an Islay-based distillery, but Islay holds no monopoly on peated whiskies. Speyside has a few distilleries that embrace the smokier side of things such as Cragganmore, Glenfiddich, BenRiach, Tomintoul and Glen Moray . Relicario doesn't confirm which distillery housed the whisky and/or provided the casks, so you can have a fun game of 'guess the distillery' yourself when you taste it. 
Relicario Ron Dominicano Peated Finish is definitely the kind of bottling that you would consider to be a sipping rum and I would recommend trying it neat, at least initially, so you can pick out the peaty influence. Relicario went for a more subtle style of smoke, which was the right choice in my opinion. The character of the rum isn't overpowered by the peat, instead, it adds a really pleasant earthy and savoury quality to balance the sweetness of the molasses and vanilla. The nutty elements that come through in the palate predominately are also delightful.
And then it's time to move on to cocktails.  The brand recommends the Almond Fashion, which is essentially a rum Old Fashioned, which I'm very partial too. It's made by combining 60ml of Relicario Ron Dominicano Peated Finish, 25ml amaretto and a dash of grapefruit bitters. Garnish with an orange twist and a maraschino cherry. The rum still takes centre stage with all those nutty, sweet and smoky notes which the grapefruit bitters complement beautifully.
So, if this sounds like you're kind of thing or you're after something a bit different, then you'll perhaps you'll plump for a bottle of Relicario Ron Dominicano Peated Finish. It's now available from Master of Malt and we've included our own tasting note below, but be sure to let us know what you think as well!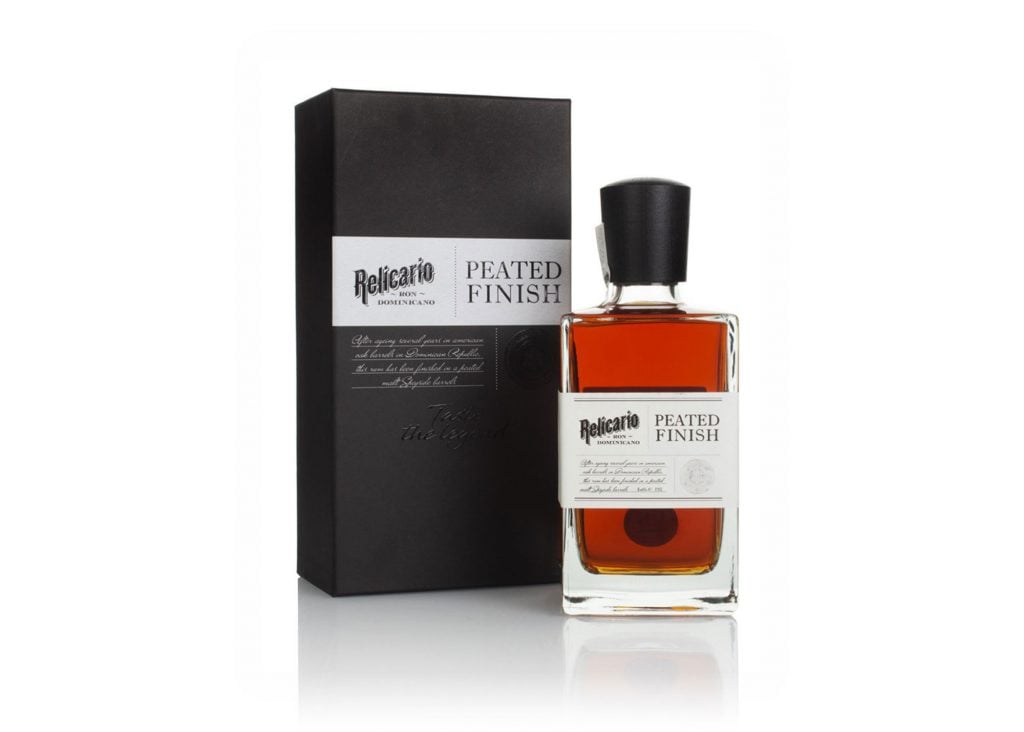 Relicario Ron Dominicano Peated Finish Tasting Note:
Nose: Thick treacle, earthy vanilla and gentle sweet peat smoke combine with chocolate digestives and oily toasted nuts.
Palate: Brown sugar, roasted nuts and juicy dried fruit take centre stage before notes of tropical fruit and a hint of salinity emerge in the backdrop.
Finish: Gentle smoke with lingering and creamy vanilla sweetness, a hint of citrus and some cinder toffee.