Today we're shining a spotlight on a neglected though vital part of the Scotch whisky, grain whisky with a special single grain release from the North British distillery finished in Port casks and bottled by Murray McDavid.
Grain whisky was, until very recently, the dutiful sister when compared to the film star that is malt whisky. While single malt became internationally famous, with books, films, articles and clubs devoted to it, grain whisky just quietly got on with providing the backbone for the Scotch whisky industry. 
It doesn't help that grain whiskies distilleries look like oil refineries and they are sited in the Central Belt – Scotland's industrial heart. In contrast, malt distilleries are picturesque, set in dramatic landscapes like the Isle of Skye or Speyside. But also, let's be honest here, new make produced from wheat or maize (corn) in continuous stills up to around 94.8% ABV doesn't have the character of malt spirit.
Time for grain to shine
And yet, according to Dean Jode from independent bottler Murray McDavid, it's time for grain whiskies to have their "time on the red carpet." Grain might be lighter in flavour than malt whisky but what it does have is texture and an amazing affinity with oak. Think of the flavours in Compass Box's Hedonism, a blend of Port Dundas, Strathclyde and North British grain whiskies.
This release in 2000 did much to change people's perceptions of what grain can do. Furthermore, whisky lovers began taking an interest in long-aged stock from ghost distilleries like the Caledonian in Edinburgh, closed in 1988, or Port Dundas, shuttered in 2011. In 2015, the Diageo Special Releases contained an opulent 1974 single grain from the Cally. With time, grain whisky can do magical things. 
The North British
This week's whisky was bottled by Murray McDavid and comes from the North British Distillery in Edinburgh, which until the opening of the Holyrood distillery, was the only whisky distillery in Scotland's capital city. It was founded as a joint venture in 1885 by some of the biggest names in Scotch whisky, Andrew Usher, William Sanderson, James Watson and John Crabbie, to challenge the monopoly the Distillers Company Ltd. had over the supply of grain. The distillery is now jointly owned by Diageo and Edrington, and the whisky goes into blends such as the Famous Grouse and Johnnie Walker.
But it wasn't until 2018 that the first independent single grain bottlings appeared from this whisky powerhouse. Now Jode thinks that whisky lovers are so much more open to new flavours, styles and countries, that they appreciate grain whisky for what it is. It also helps that it's often much less expensive than malt whisky (not the Diageo Cally Special Release though, which was released at £750 a bottle!)
Aggressively-matured
"Historically single grain hasn't been finished with the same respect as single malt," Jode said. Murray McDavid is changing this. Its 2007 North British release was finished for 1.5 years in four 225 litre French oak barriques sourced from a tawny Port producer Caves de Murca. Before that, it spent 11.5 years in four refill bourbon hogsheads. 1375 bottles have been filled at 50% ABV with no chill filtering or colour added. 
Jode described it as a "gamechanger in terms of what people can find in grain." It's very different to the sumptuous long-aged grains that have so far led the category. He said it was "young, bold and brash" and "aggressively-matured in first-fill Port casks." I think that's the first time I've seen a whisky described as "aggressively-matured." 
Murray McDavid has been innovative since it was founded in 1996 by Mark Reynier, Simon Coughlin, and Gordon Wright. In 2000, they purchased and revived Bruichladdich to great acclaim. Then in 2021, the firm sold Bruichladdich to Remy Cointreau before the following year being bought out by Aceo, a whisky bonding, bottling and brokerage firm. Operations moved to Coleburn, a closed distillery near Elgin. Jode has been with the firm since 2015 and he's bringing malt-style cask finishes to the single grain, blended malt and blended Scotch categories. You can see the range here.
But back to that North British 2007. It's a great sipping whisky either neat or on ice but like most grains, it's a superb mixer too. Mix it in a Rob Roy with a good Italian vermouth to bring out those red fruit notes, and you'll see why grain whisky is finally having its film star moment.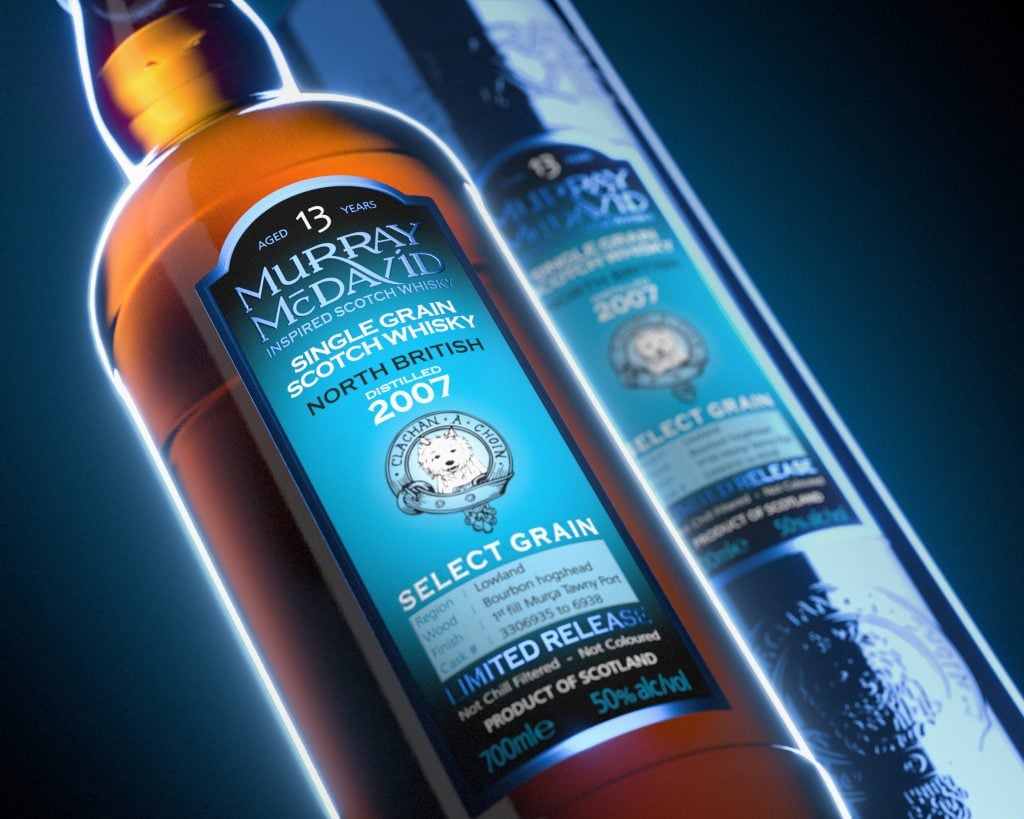 Tasting Note by The Chaps at Master of Malt
Nose: Buttery oak, raspberries, vanilla, toasted oats, and sugared cereal.
Palate: Mouth-coating creamy, with whiffs of lemon posset. Gently herbal, grassy notes balance juicy chocolate raisins, mocha and butterscotch.
Finish: Floral melon and citrus zest combine with boozy sultanas and warming oak spice.
North British 13 year old 2007 (Murray McDavid) is available from Master of Malt.