This week we've got a bargain blended whisky with an interesting history. It's called John Barr and it's perfect for cocktails like Rob Roys and Highballs.
For knocking up a Highball or a Rob Roy, it's always good to have a value blend in the house and they don't come much better value than John Barr. The price might be low but not only does the bottle look stylish with that Charles Rennie Mackintosh-esque font but the contents are good too. It's from the Whyte & MacKay stable which means that 'the Nose' himself Richard Patterson will have had a hand in this blend. And he knows what he's doing. Sorry.
An intriguing history
John Barr also has an intriguing history which we learned about from Nicholas Morgan's book about Johnnie Walker, A Long Stride. You see, John Barr was originally a replacement for Johnnie Walker Red Label for the domestic market. As Morgan explains, the root of the story is a dispute between the UK and the EEC (later the EU), something of a perennial theme in recent British history. Johnnie Walker was priced lower for the domestic market than the European one and this was against European law. It led to much British Johnnie Walker being re-exported to Europe. In 1977 the European Commission issued a judgement against the Distillers Company, the parent company.
You'd think that the DI would either raise UK prices or lower EU prices, or a bit of both, until they evened up but someone had a cunning plan. As Morgan writes: "the unprecedented decision was taken to withdraw Red Label from the home market entirely." At the time it was selling 1.25m cases in the home market alone. That's a lot of whisky. Something was needed to fill the whole and the answer was John Barr. The launch of this new blend in 1978 which came in a rather familiar-looking square bottle was accompanied by a £500,000 marketing budget.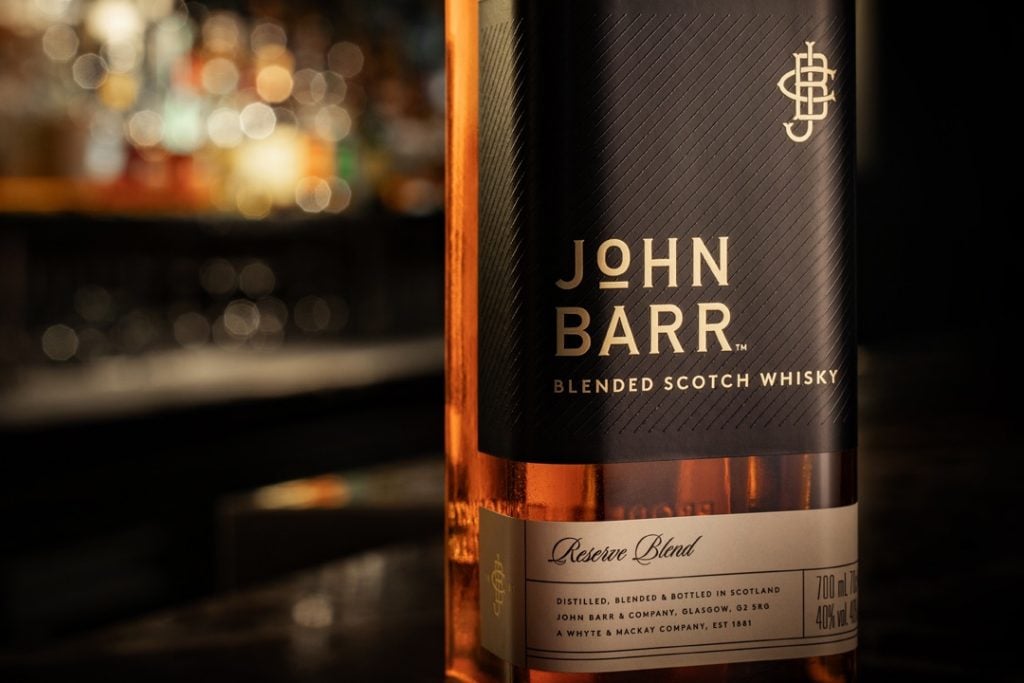 Failure to thrive
There were adverts, articles in the press, sponsorship and competitions but John Barr was a flop. It's failure was gleefully capitalised on by other brands like Famous Grouse which rapidly took the place of Red Label in the home market. Eventually Red Label was introduced in 1983 but by then the damage was done. As Morgan writes "it would not regain its former pre-eminence." 
But what about John Barr? The brand may have disappointed but it soldiered on until 1986 when the DI merged with Guinness to form Diageo. Under competition laws, it had to sell off a number of brands including John Barr which went to Invergordon Distillers which in turn was taken over by Whyte & Mackay in 1993. The latter company under Richard Paterson tinkered with the recipe and today it's a sweet, fruity blend of Highland and Speyside malts with grain whisky. The brand was relaunched in 2012 and again in 2017 but John Barr has never become the national brand that it was intended to be. But at this price with that pedigree, we reckon it's worth taking a punt on. 
Tasting Note by The Chaps at Master of Malt
Nose: Dark chocolate, orchard fruit, cinnamon, and hazelnuts.
Palate: Baked sweet apple, ripe apricot, gingerbread, and toffee.
Finish: Rich and sweet.
John Barr blended whisky is available from Master of Malt. Click on links to buy.