We're toasting a glorious new week here at Master of Malt with a limited edition Oloroso cask Deanston 12 year old. But that's not all. Not by a long way. Alongside it, Distell has released three other limited editions from Bunnahabhain, Tobermory and Ledaig. Yes it's bonus week!
Earlier this month we joined some of the team from Distell for one of those online tastings that have become fashionable of late. On the call were master blender Julieann Fernandez, master distiller Brendan McCarron and travel writer Robin McKelvie, who has just made a film about the three Scotch whisky distilleries in the Distell stable: Tobermory, Bunnahabhain and Deanston.
Not faceless whisky factories
McKelvie spoke passionately about his film. He said that the distilleries are not "faceless whisky factories", they mean something to the local community. The real stars are the distillery workers who during the height of the pandemic were frustrated that they could not share the love of whisky with visitors. You can watch the film here. 
Julieann Fernandez commented on the film: "To be able to tell the stories behind each distillery and showcase the team who have worked so hard behind the scenes to keep our whisky flowing, is a real honour for us. These film clips pay tribute to these teams and our distillery homelands".
This was Brendan McCarron's first public engagement since his surprise move from Glenmorangie earlier this year. He described himself as the "new boy " and seemed to be enjoying his new job thoroughly. The only problem is he's spending too much money on whisky especially Ledaig, the peated expression from Tobermory: "my wife banned me from bringing anymore in."
As well as enjoying McKelvie's film, we were there to try four limited edition whiskies from the three distilleries. They range from the classic to the slightly off-the-wall, but all are worth trying especially as none is overpriced. Fernandez commented: "We're incredibly excited to share these four wonderful, limited-edition whiskies with fans around the world, each with their own defining characteristics and flavour profiles."
Here's what we tried: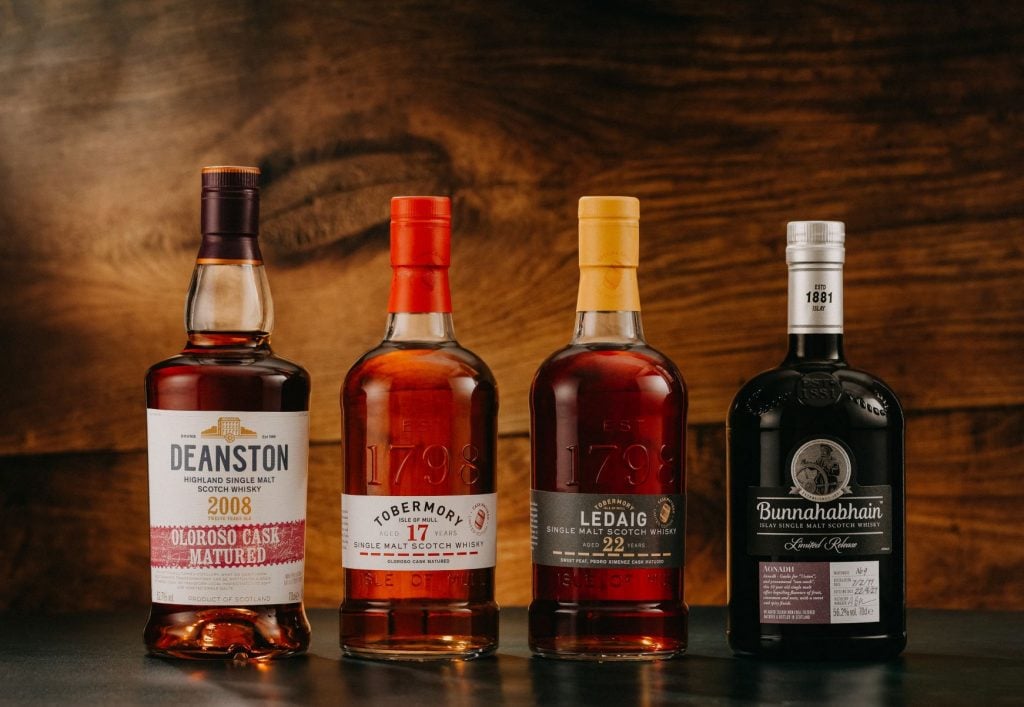 This was distilled in 2008 before filling into an American oak Oloroso cask. McCarron is clearly a massive fan of his local distillery located near Stirling in the central belt of Scotland. "It has a waxy texture which is impossible to copy. You can try but you won't succeed", he said, "it has a robustness about it which suits the high ABV." It's bottled at 52.7% ABV.
This has an amazingly fruity nose with sweet orange notes, bitter orange peel and that classic Deanston waxy flavour. The palate is an explosion in the mouth of dried fruits, waxy notes (naturally), cinnamon, ginger, cloves, and honey with aromatic wood notes. McCarron described it as having a bitter cherry note like an old Chianti. It's a big sweet dram but that spiciness balances the sweetness nicely.
This is a daring whisky from Islay's famous unpeated distillery. It's aged in sherry casks but with a Port finish. Does sherry go with Port? McCarron commented: "It shouldn't work but it does" and praised how the Port and sherry were harmonised. Fernandez explained how it was a matter of mixing a range of Port finishes together some at four, five or six years in the Port casks, "finding the right length of time in cask." It's bottled at 56.2% ABV.
So does it work? The nose is massive, lots of wood, caramel, cloves and cardamom with distinct varnish notes. It's certainly distinctive. The palate is much more classic with sweet toffee balanced by a salty dryness and then in comes a massive wave of nuts, walnuts, brazil nuts and chestnuts. It's like Xmas day on Islay. One that tastes far more harmonious than it smells. One to discuss at your whisky group!
We've been fortunate enough to try a lot of long-aged sherry cask malts from Tobermory recently and this is a classic example. It was distilled in 2004 at the Isle of Mull distillery and aged in Oloroso sherry casks. Nothing strange going on here. According to Fernandez, Tobermory has a light new make so you have to be careful not to swamp it in sherry. It's bottled at 55.9% ABV.
This is a lovely dram for fans of sherry cask whisky. The nose is sweet with malt, toffee and dark chocolate, a dash of water brings out orange, orange peel and for one taster a little lime. I loved the sweet nuttiness on the palate, like roasted walnuts and coconut, with a thick full texture like creamy toffee. A load of spice comes in towards the end and it finishes dry to prepare you for another sip. Another great old sherried Tobermory.
Distilled in 1999, this was fully matured in a Pedro Ximénez cask before bottling at 55.6% ABV. Ledaig is the peated version of Tobermory but it's very much not a "peat monster" according to McCarron.
At first the main smell is the wine, floral like a muscat with dried fruit, then comes the wood smoke and bacon-flavoured crisps. The mouth is all about the balance of sweet grapey notes with cigar smoke, bonfire and roasted nuts. This is a very special dram. You can see why McCarron is spending so much money on Ledaig.
All in all some seriously distinctive and impressive drams from the Distell stable. 
They are available to buy from Master of Malt. Click on links above to buy.