This week we've got a fruity new gin from one of our favourite producers. And at the moment you can only buy it from Master of Malt. It's Citadelle Rouge!
When is red gin not red? When's it's Citadelle Rouge! Confused? We can explain everything. Fruit gins are all the rage these days from Tanqueray Flor de Sevilla to Beefeater Pink Strawberry Gin. What these two products have in common is colour. The orange gin is orange and the pink gin is pink. Makes sense.
But at Citadelle, they do things a little bit differently. For those who don't know. Here's a bit of a recap on this innovative French distiller.
The Citadelle gin story
Citadelle gin was founded by a great friend of the Master of Malt blog Alexandre Gabriel, the man behind Plantation rum and Pierre Ferrand Cognac. What's so surprising is how long it's been going for… since 1996! That's three years before Hendrick's appeared, 13 years before Sipsmith was launched and about 20 years before trendy British pubs started serving G&Ts in Spanish-style fishbowl glasses. These were the dark ages in gin terms.
Gabriel's gin was made using a technique which he calls progressive infusion, which is a similar process to making tea, except you brew different elements at different times in the teapot. The process lasts four days. The various botanicals including French juniper berries, orris root, French violet root, Moroccan coriander, almonds, Spanish lemon peel, and Mexican orange peel are infused in progressively lower strength alcohol. This infusion is then distilled in a Cognac still. It took much bureaucratic wrangling before the Cognac authorities allowed him to make the gin in the Cognac region. This is France after all. 
Ahead of its time
He was ahead of his time. Gabriel joked: "I thought the world was waiting for an artisanal delicious gin. It was not!" But a couple of things helped turn things around, first superchef Ferran Adrià of El Bulli fame became a champion. "In about 1997/98 Adrià was on TV. He said that Gin and Tonic is a gastronomic act and a beautiful aperitif and that you should use a great gin. He whipped out a bottle of Citadelle. We were like 'wow'. That made a difference," said Gabriel.
Then there was a profile in the New York Times in 1999 but it would take another ten years before the world finally caught up with Gabriel's vision. He explained: "When I created and launched Citadelle back in 1996 there was no such thing as artisanal gins, or any craft movement, it was the desert and I felt lonely at that time. I dreamed of a moment when the gin category would open up and real gins made with real things would blossom."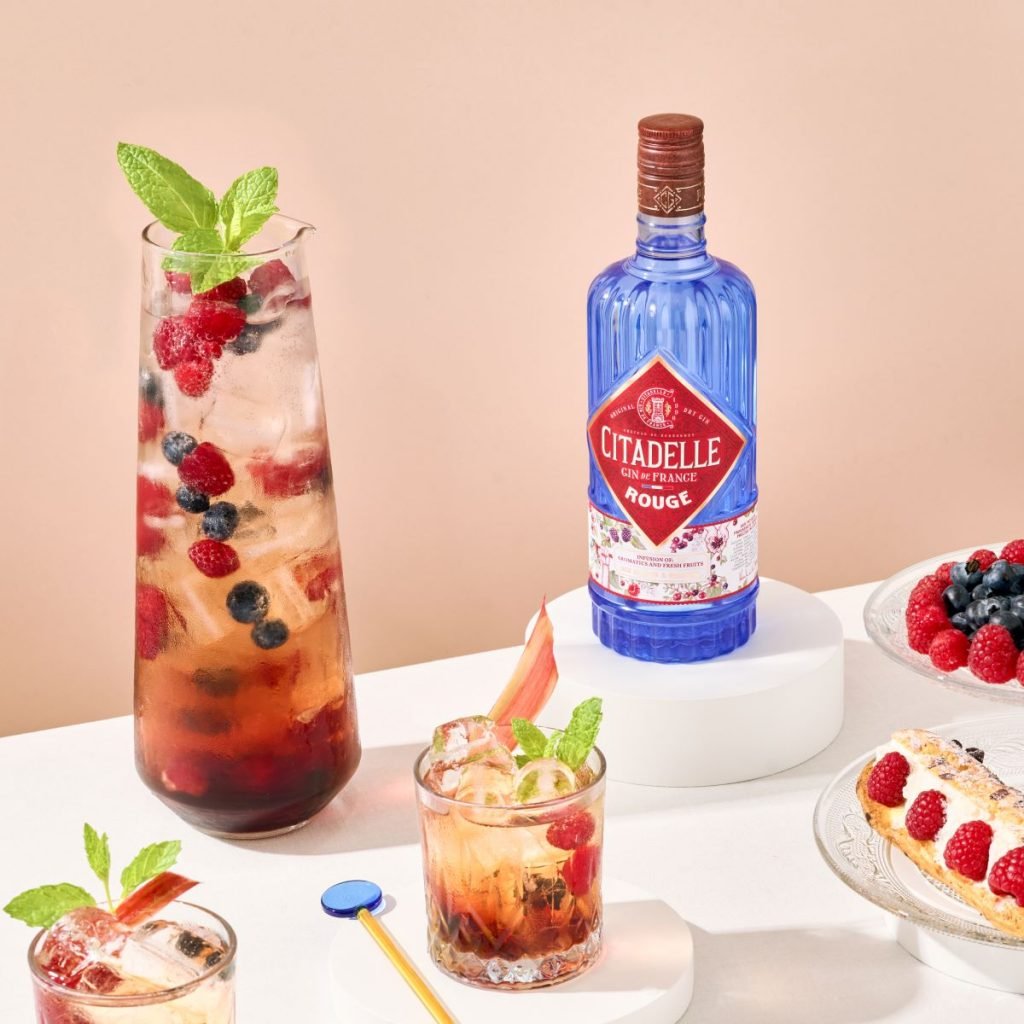 Tasting Citadelle Rouge
Well, eventually it happened. Citadelle gin has become a classic beloved of bartenders and gin lovers. It was joined by Jardin d'Été in 2021. Now there's a new version, a fruit gin, but this is Gabriel, so it's not your conventional fruit gin. The idea is to create a gin that majors on natural red fruit flavour – but without being red. It includes fresh cranberry, raspberry, blackberry, blackcurrant, and rhubarb plus more usually gin botanicals including juniper, coriander, orange peel, cardamom, and cinnamon.
Gabriel explained the idea behind it: "I have been worried to see that gins were being made with artificial flavours and colours. I think that this is a danger for the category and so I created Rouge to showcase a beautiful gin that uses nicely extracted and distilled 100% natural red fruits. Since we use distillation, the flavour comes through but not the colour and we refuse to use any artificial aspect in our gins. We decided to call it Rouge for the taste, but of course not for the colour."
So how does it taste? It's quite incredibly fruity with the fruit ranging from fresh raspberry to fruit jam to sweetshop flavours. There's definitely more than a whisper of fruit here – it positively screams fruit. There's a real sweetness, though no added sugar, here that makes it delicious sipped neat on the rocks. I have to say Schweppes tonic water wasn't the ideal mixer here though experimenting with different flavours like Raspberry and Rhubarb from Fever Tree would probably be a good idea. But truly the perfect cocktail for this has to be the Bramble and Citadelle Rouge is so naturally fruity that you only need a tiny splash of creme du mure. Perfect timing for brambling season.
How to make a Bramble cocktail
Ingredients
50ml Citadelle Rouge Gin
25ml lemon juice
10ml sugar syrup*
5ml crème de mure
Method
Prep time: 5 minutes
Shake the gin, lemon juice and sugar syrup with ice in a shaker, double-strain into a tumbler filled with crushed ice. Drizzle crème de mure on the top and garnish with a lemon slice and a bramble.
Buy Citadelle Rouge here, exclusively available from Master of Malt.