The original gin is back. Today we're celebrating the start of a new week with one of the oldest brands in existence, dating back to 1740. It's Booth Finest Old Dry Gin and it's aged in ex-sherry casks.
Before there was Beefeater, Tanqueray or Gordon's, there was Booth's Gin. The gin dates back to 1740 but the family had been in the drinks business much longer. Like the Gilbeys, the Booths started out as wine merchants.
The largest distilling company in England
Philip Booth began distilling in 1740 in Clerkenwell, London near the site of the current Farringdon Station in Cowcross Street, according to Gin, Glorious Gin by Olivia Williams. It was his three sons William, Felix, and John who took the business to the next level with the building of a giant distillery at Brentford in West London while continuing making gin in Clerkenwell, "which made Booth's the largest distilling company in England," Williams writes. The family's crest was the red lion which features on the label up to the present day.
Booth's Gin got the royal seal of approval in 1833 from William IV and after that was known "the king of gin". The last family member involved with the business, Sir Charles Booth (Felix's nephew), died in 1897. The company was independent for a while before being acquired in 1937 by the Distillers Company Limited, the forerunner of Diageo.
With the might of a large corporation behind it, Booth's became one of the biggest gin brands in the world. It was apparently a great favourite of both the Queen, the Queen mother, and the King. No, not George VI, we mean Kingsley Amis. There were various varieties over the years including High and Dry, House of Lords, the standard Booth's Gin, and Booth's Finest Dry Gin which was matured in oak barrels. Both the latter came in the trademark hexagonal glass bottles and came in at 70 degree proof, in other words 40% ABV. 
Decline and fall
But from being one of the biggest brands in the world, up there with Beefeater and Gordon's, Booth's Gin declined. Perhaps being in a group with brands as strong as Gordon's and Tanqueray didn't help. It was discontinued in the 1990s. Bottles of original Booth's now fetch good money on drinks auction sites.
In 2018, Booth's was bought by Sazerac as part of deal worth half a billion dollar deal that included famous brands such as Seagram's Five Star rye, Myers Jamaican rum, Goldschläger, and John Begg Scotch whisky.
Booth's is back
There's a rather budget-looking gin on the company's website which is distilled at Plainfield, Illinois. But our New Arrival is a more upmarket-looking beast. 
It was distilled in England at an undisclosed distillery in the north, according to Sazerac. After distillation it was aged in ex-sherry casks, though it doesn't say exactly how long, before bottling at a nice punchy 43% ABV. The time in oak gives it a hint of creaminess, almonds, and dried fruit to go with the citrus and juniper profile.
We love a cask-aged gin here at Master of Malt, especially in a Martini. We think the sherry cask would go beautifully in a Palo Cortado Martini. It's made with sherry instead of just vermouth which really brings out the cask notes in the gin. The recipe is below. Cin cin!
Booth's Finest Old Dry Gin is available from Master of Malt. Click here to buy.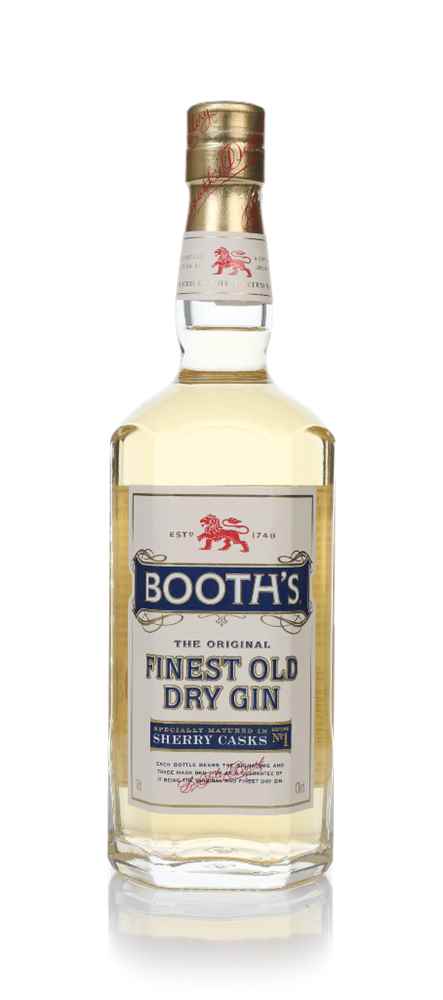 How to make a Palo Cortado Martini
90ml Booth's Gin
30ml Romate Regente Palo Cortado sherry
1 tablespoon of Gonzalez Byass extra dry vermouth
Add ingredients to an ice-filled shaker, stir for around 30 seconds and strain into a chilled Nick & Nora glass. Garnish with a piece of orange peel.