We're toasting the start of the week with a brand new Champagne from Bollinger. Don't worry about the baffling-sounding name, everything will become clear shortly.
'PN VZ15', it doesn't quite roll off the tongue like Special Cuvée or Grande Année. Can you imagine ordering a glass of PN VZ15 in a restaurant? Well it might sound like a form you fill in when you want to sell your car but it actually provides lots of information about the make-up of this special Bollinger cuvée. We'll explain shortly.
Champagne is something of an anomaly in wine because for the majority of bottles, the only information you get on the label is the name of the producer plus an indication of how sweet it is, normally brut meaning bone dry. Just take a look at the label for the classic Bollinger Special Cuvée, there's nothing about a vintage, grape variety, where it was grown etc. Compare that with Burgundy, a region that mostly uses the same grapes as Champagne, Pinot Noir and Chardonnay. There the label will be increasingly specific depending on the quality level of the wine; from the region, eg. Côte de Nuits, to a village, Gevrey Chambertin, and right at the top, a specific vineyard such as Chambertin-Clos de Bèze. Even the greatest Champagnes, in contrast, will usually just say 'Champagne' on the label and will be blended from all over this large and disparate region. 
The idea is that it's the same consistent quality year in year out. Champagne is great for people who just want excellence without disappearing down the rabbit hole of wine geekery. You don't need to know anything about wine to order a bottle of Bolly in a restaurant whereas ordering Burgundy and Bordeaux it helps to have a bit of knowledge. But now Champagne producers are waking up to the fact that some of their customers are interested in the story behind the wines.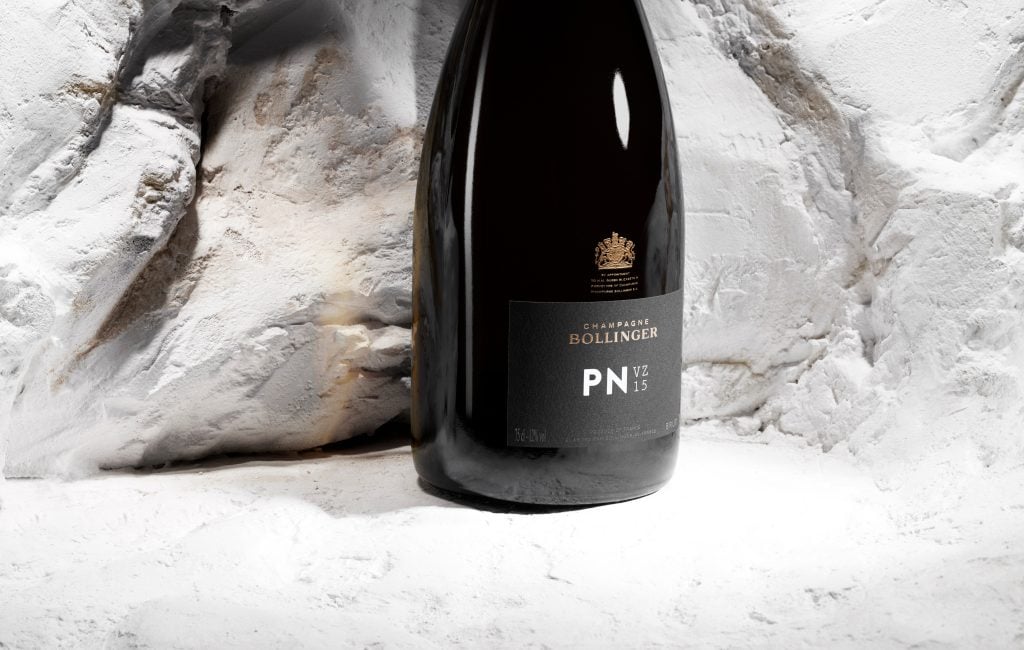 Increasingly on labels you are seeing names of regions within Champagne and even specific vineyards. As with most French AOCs, producers are not allowed to put the grape varieties on the front (but if you see 'Blanc de Blancs', it means it's all Chardonnay, while 'Blanc des Noirs' means it's made from Pinot Noir and/or Pinot Meunier). Which is where the cryptic name of today's New Arrival of the Week comes from. The PN stands for Pinot Noir. The VZ refers to Verzenay, a commune within Champagne (rather like Pauillac is a commune within Bordeaux) and the 2015 refers to the harvest. So that's a lot more information already than on a standard Champagne label. 
But this isn't a vintage wine. Those who want to dig further, can learn that in addition to 2015, it contains about 20% reserve wines mainly from the 2009 and '10 vintages from famous red grape communes including Aÿ, Bouzy and Tauxières. The idea is to celebrate Pinot Noir, the backbone of Bollinger's wines. Of the 178 ha of vineyards owned by Bollinger, 104 ha are planted with Pinot Noir, but along with the super pricey Vieilles Vignes Françaises cuvée (yours for about £650 a bottle if you can find it), this is the only all Pinot Noir offering. Charles-Armand de Belenet, general manager of Champagne Bollinger, commented: " This cuvée made entirely from Pinot Noir is ingrained in what has become the very essence, the DNA of our House – an inimitable vision of an iconic grape variety and uncompromising efforts to fulfil the mission we started in 1829 as creators of taste."
It's the first in what will be an annual series focussing on Bollinger's Pinot Noir crus. Like all the company's wines, it's fermented in oak. Not that it tastes oaky, it just gives the wine a richness. There's 7g of sugar added post-disgorgement so it tastes completely dry. Not only is it a delicious wine but it's ideal for those who want to dig a bit deeper into this fascinating region. Practise saying: 'I'll have a bottle of  PN VZ15', or just order it from Master of Malt. 
Tasting Note by The Chaps at Master of Malt:
Fig, cherry and orange zest, with a hint of rose jelly sweetness too. Toasted almonds, spring blossom and just a smidge of buttered brioche.