This week we're shining the New Arrival torch on a single cask Speyside whisky and you can only buy it from one online retailer. It's Benrinnes 17 Year Old (Master of Malt Exclusive)!
Benrinnes Distillery in Speyside ticks a lot of boxes for the single malt enthusiast: it uses worm tub condensers, it's obscure for extra trainspotter points and, best of all, it's not expensive so you can get a lot of maturity for your money. Take this week's New Arrival, it spent 17 years in a refill hogshead before bottling at a nice healthy 47.5% ABV, but it won't break the bank. Before we dive in for a taste, here's a little recap on Benrinnes.
The Benrinnes story
The original Benrinnes was sited almost a mile south-east of today's distillery. Built on the Whitehouse Farm in 1826 by Peter McKenzie, the distillery was completely destroyed just three years later after a great flood laid waste to the buildings. In 1835, a new distillery was built, sited on the side of its namesake, the 840m peak which looms over Speyside.
Alongside four other distilleries, Benrinnes draws its water from springs on the mountain, tapping the Rowantree and Scurran Burns. Following a devastating fire at the end of the nineteenth century, Benrinnes was rebuilt, converting to electric power. Benrinnes made use of a Saladin Box maltings system from 1964 but in 1984, it was decommissioned and malt was bought in instead. 
The distillery set-up
The distillery has an unusual distillation method. The six stills, two wash and four spirit stills, are used to partially triple-distil the make. The spirit goes through a cast iron wood tub condenser meaning less copper contact resulting in a distinct sulphury flavour. This means that Benrinnes responds well to long ageing and develops a distinctive meaty note.
Despite the long history of Benrinnes, there has only been one official bottling – in 1991 a 15 year-old was released as part of the Diageo Flora & Fauna range. Save for a few independent bottlings, the majority of the spirit has been used in blends, notably Johnnie Walker and J&B. Today, single malt whiskies from Benrinnes remain a rare treat.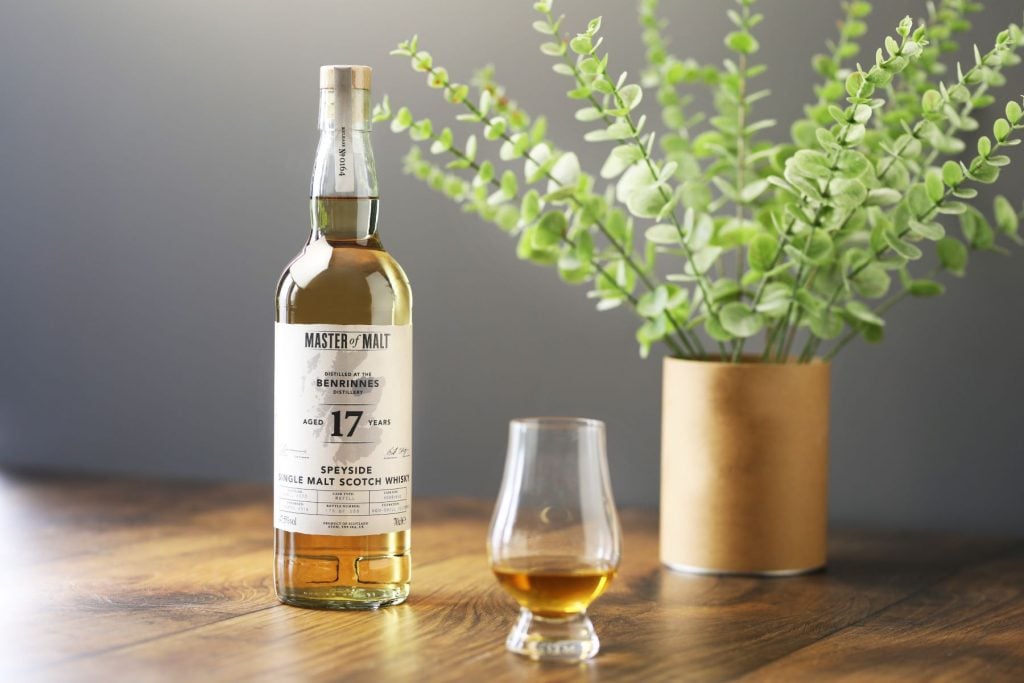 And have we got a treat for you today! The distillery uses mainly a mixture of bourbon and sherry casks. Our special bottling, however, is aged solely in a refill bourbon hogshead. This means you will find lots of fruity and meaty new make character, with the sulphury note softened by 17 years in the wood. We think you'll agree that it's a lot of whisky for the money. In other words, classic Benrinnes. 
Benrinnes 17 year old (Master of Malt exclusive) is available only from Master of Malt. Click on the link for prices and to buy.
Tasting note from The Chaps at Master of Malt
Nose: Waves of lemon zest and buttery pastry are joined by soft oak and vanilla, while peanut brittle and nutty malt develop beneath.
Palate: Juicy barley and honeyed prunes lead to layers of toasted marzipan, roasted walnuts, and hazelnuts.
Finish: Citrus blossom, honey, crushed almonds, and vanilla.