This week we're shining the New Arrival Spotlight on an independently-bottled whisky from one of Speyside's more obscure distilleries. It's Auchroisk 12 Year Old 2009 Storm (Fable Whisky).
It was the arrival of some interesting single casks from Mossburn which put Auchroisk on the map for me. Before that I don't think I'd ever thought much about this distillery apart from, oh Christ, how do you pronounce that? According to some sources it should be pronounced 'orth rusk' or here it says 'ar thrush' but then in the accompanying video they pronounce it: 'och (as in loch) risk.' So not 'oh Christ' then. 
Handily, my latest secondhand bookshop find, Iain Banks' Raw Spirit: In Search of the Perfect Dram (2003) has a pronunciation guide at the back. Here it says it's pronounced: 'och roysk' with the emphasis on the second syllable. I'm not going to argue with one of Granta magazine's best young novelists 1993.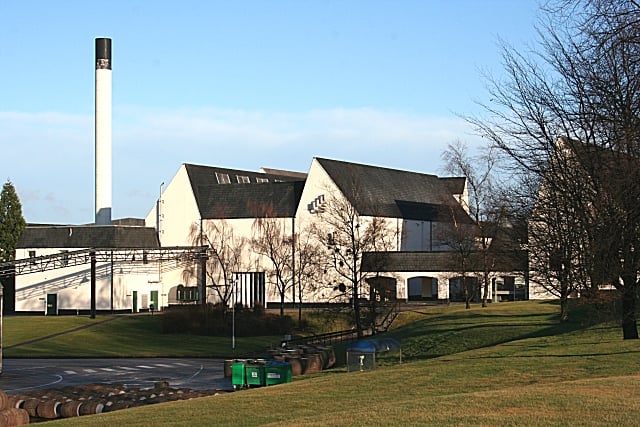 A modern distillery
Say it again: 'och roysk'. That wasn't so difficult, was it? It means 'ford across the red stream' in Gaelic. That poetic name hides a distinctly modern distillery which only started distilling in 1974. It was built at the height of the last whisky boom when the industry thought there was no end to demand for its products. Sound familiar? The idea was to produce lots of light fruity whisky to go into J&B, then a massive brand for IDV (Independent Distillers and Vintners, a forerunner of Diageo.)
But unlike some other distilleries that were either built or revamped in the 1960s and '70s, google Loch Lomond if you want to see a distillery that will make you go 'wow', it does look like some effort has gone into the design (above). It's a modern take on traditional white-washed distillery architecture. Iain Banks writes:
"Auchroisk distillery is quite beautiful in a modernist kind of way, all steep roofs and interesting angles. There's a slightly gratuitous-looking sort of ground-floor turrety thing that I'm not so sure about but otherwise visually it's a peach."
Sadly, it's not open to the public so you won't be able to examine it close-up for yourself. The set-up consists of eight lantern-head pot stills combined with shell and tube condensers and a relatively long fermentation time, 80 hours, to produce an elegant fruity new make. Perfect for lighter blends. It's usually matured in ex-bourbon casks with a light sherrying at the end. In fact, Auchroisk was a pioneer in cask finishing. Iain Banks describes the taste as: "a very pleasant, smooth, medium-bodied dram, like an allsort that's been briefly dipped in sherry".
Single malt bottlings
In the '80s, single malt from this difficult to pronounce distillery was marketed as Singleton, a brand now saved for Dufftown, Glenord and Glendullan. Allow me to go off on a tangent, I've never been able to understand why Diageo markets three distilleries and no others under the Singleton brand. It's certainly not a name that resonates with customers. Somebody in house speculated it was so that Diageo could claim to have one of the biggest single malt brands in the world, by combining three distilleries. Answers and thoughts in the comments below or on a postcard to MoM Towers.
Anyway, as you'd expect from a workhorse distillery, Diageo doesn't exactly pull out all the stops marketing Auchroisk. There's the classic 10 year old Flora & Fauna bottling. Plus it crops up occasionally in the annual Special Releases. But this very obscurity makes it something of a gift to independent bottlers.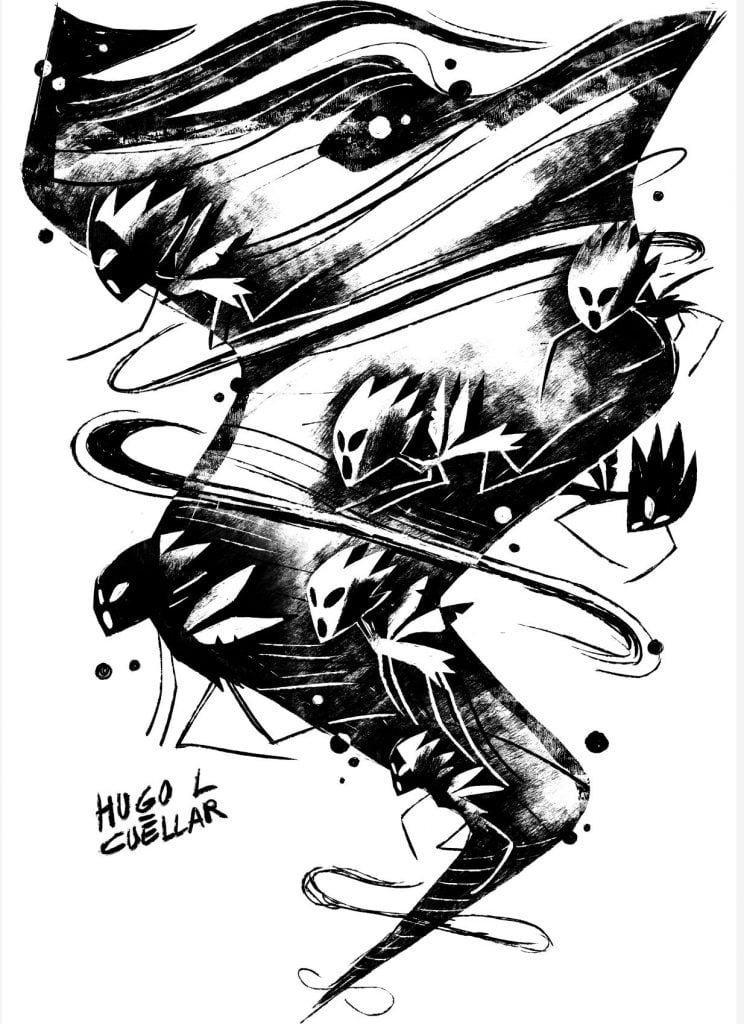 A good story
Our New Arrival comes from a relatively new company, Fable, which is packaging its releases in an innovative way. So as well as great whisky, you get a good story. This release is dubbed 'Storm' and features artwork (above) by Hugo Cuellar, inspired by the folk tale 'The Ghost Piper of Clanyard Bay'.
Daryl Haldan, creative director from the company, explained: "We're passionate about showcasing distilleries that don't always get enough love, so when you get whisky from places you don't get to taste every single day you have a responsibility to present them at their best".
This particular Auchroisk was distilled in 2009 and spent its entire life in a refill hogshead before bottling at 56.5% ABV. There's a full tasting note below but in brief you're getting masses of fruity distillery character combined with subtle American oak. And the best thing is you can order it online, no need to make a fool of yourself mispronouncing it in a whisky shop. 
Auchroisk 12 Year Old 2009 Storm (Fable Whisky) is available from Master of Malt. Click here to buy. 
Tasting Note by The Chaps at Master of Malt
Nose: Cut grass and subtle floral heather hints, with creamy fragrant vanilla over the top.
Palate: White chocolate, peppercorn, sherbet lemon sweeties, still subtly grassy.
Finish: Drying spiciness, with a smidge of oak.