Benriach's traditional floor malting reopened in 2012, and, nine long years later, the very first Benriach Malting Season release has landed at Master of Malt. So we took a closer look at this historic release from the Speyside distillery.
Paid partnership
Good things come to those who wait. In 2012 Speyside distillery Benriach began using its old floor maltings to malt barley the traditional way. In 2018, we visited in the company of master blender Rachel Barrie. She gave us two new makes to try, one made with bought-in malt, and one using barley malted on the premises. The latter was fuller, funkier and packed full of flavour. We knew something exciting was in the pipeline.
Doing things the traditional way
Floor malting is a labour-intensive technique practised by very few distilleries these days. Stewart Buchanan, global brand ambassador at Benriach, elaborated: "Passed from distiller to distiller throughout the generations, the floor malting process keeps a traditional part of the whisky-making process alive with Benriach being one of only seven distilleries in Scotland to continue the practice of floor malting. Distilling spirit from barley malted here on site is a true labour of love and something we are passionate about keeping alive here at Benriach."
The process involves highly-skilled maltsters who spread barley that has been steeped in water on the malting floor and turn it by hand over several days for optimum germination of the barley. They then move it to the kiln where it's dried under the pagoda-shaped chimney. This pagoda has become the symbol of Scotch whisky but for most distilleries, it's now just for show. At Benriach it's both beautiful and functional. 
Benriach's turbulent history
The past has come back to life, but for much of its history, Benriach was at death's door. It opened in 1898 at the height of a long boom in Scotch whisky. It was built by John Duff & Co as the sister distillery to neighbouring Longmorn. Sadly, the bust came soon after with the collapse of Pattison's whisky blenders the same year and Benriach closed in 1900.
Unlike many other speculative distilleries built at the time, Benriach wasn't demolished because the floor maltings stayed open to supply malted barley for its neighbour. The stills, however, remained dormant until 1965 when Benriach was bought by the Glenlivet Company.
The distillery changed hands a few more times. The floor maltings was closed in 1996 and then with demand dwindling, production stopped entirely in 2002. Happily, the distillery was bought by a dynamic company headed by industry veteran Billy Walker, and it became part of a group including GlenDronach and Glenglassaugh. The three were then acquired by distilling giant Brown-Forman in 2016. You might know it from a Tennessee whiskey called Jack Daniel's.
Myriad styles
Throughout Benriach's chequered history a range of different styles, unpeated, peated and, unusually, triple-distilled have been produced. All three are still made today (you can read about the distillery's revamped core range here) but for this inaugural Maltings Season release Barrie has kept it simple: the Concerto barley is dried without peat and double-distilled.
There is also a vast range of casks in the warehouse. On our visit, Barrie pointed out Port pipes, sherry butts, Marsala casks, virgin wood barrels and, of course, plenty of ex-bourbon casks. For this very special release, Barrie has used an unusual ageing regime with the new make aged in both ex-bourbon and virgin oak barrels. This accentuates the fruity and cereal character of the new make. It's bottled at 48.7% ABV.
Worth the wait
She explained: "At Benriach, we never stop exploring how fruit, oak and barley flavours intertwine and mature in our broad range of eclectic casks. The unique process behind Malting Season allows the cereal flavour from the concerto barley to pull through and when married with the creamy, wholesome flavour from being two-cask matured in bourbon and virgin oak barrels, creates a truly unique expression."
This first batch consists of only 23 barrels which were all distilled on 2 November 2012, yielding 6672 bottles at 48.7% ABV. The will be the first in a regular release of special floor-malted Benriach.
We were given a little sample and have to say that it was truly worth the wait (full tasting note below). There's a strong cereal note on the nose with fresh apple fruit with creamy vanilla notes; the palate balances custard with peppery spice, cinnamon, and toffee with that fresh fruit note running through it. If you like a dram with a zest for life, then you'll love this.
It's sure to be highly in-demand so we don't think it will hang around long. Click here to taste a little bit of history.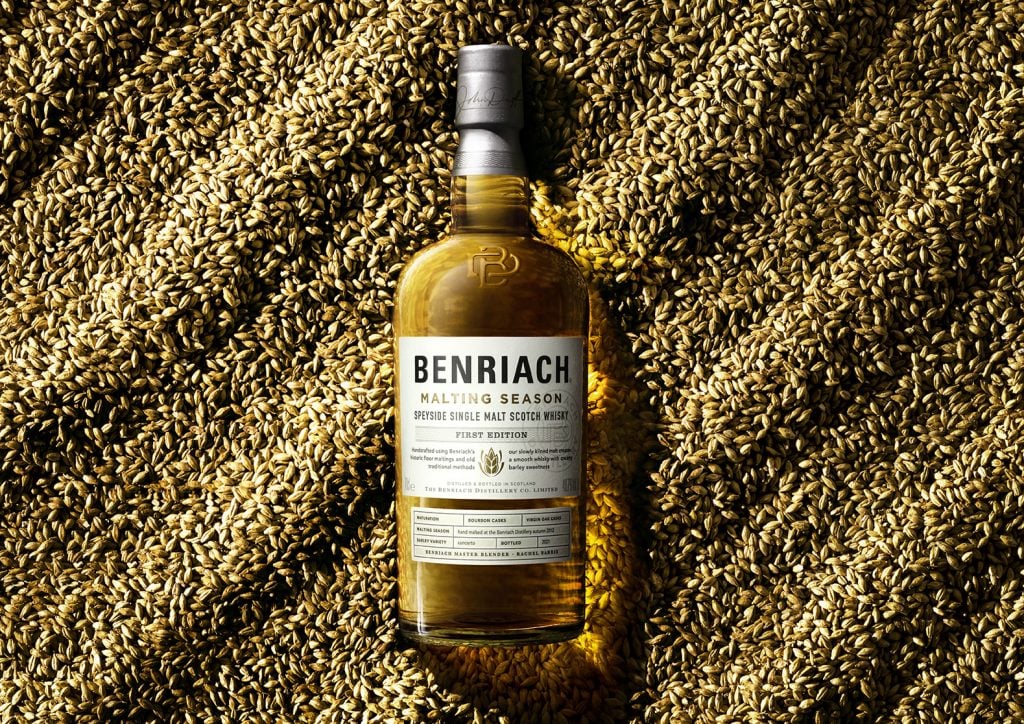 Tastings note from the Chaps at Master of Malt
Nose: Pear drops and Campino sweeties, with earthy barley and a smidge of cut oak for balance.
Palate: Vanilla, lemon, grassy malt, toffee, melted butter on crumpets.
Finish: Lasting sweetness of caramel and vanilla pod on the finish.