Speyside Scotch whisky distillery Benriach has undergone something of a makeover, with a refreshed core range and revamped presentation. We chat to Dr. Rachel Barrie, Benriach master blender, to get the inside scoop.
Paid partnership
Benriach is a distillery with a storied history. It dates back to 1898 when it was founded towards the north of Speyside by a chap called John Duff. Over the following decades, and like many distilleries, it faced periods of closure and changed hands multiple times. Since 2016, Benriach has been part of the Brown-Forman's family, marking the Jack Daniel's- and Woodford Reserve-maker's first foray into the world of Scotch. At the time, the deal made the whisky headlines. But now, with its new look, a refocusing on flavour, and a compelling narrative around innovative cask combinations, Benriach is making waves all on its own.
"I've been with the company three-and-a-half years now, and I've really got to know all of the whiskies," said Dr. Rachel Barrie, Benriach's master blender. We're speaking on the day of the relaunch. The line-up has been unveiled to the world, and drinks social media is in a chatter about the news. And it's been a while in the works. Even within six months of taking on whisky development at Benriach, Dr. Barrie said she was thinking 'what's next?'.
"I had thousands of casks," she said, outlining the process. "I've described it like discovering all these paint pots; it's like painting with flavour."
She mentioned she'd always admired Benriach from afar. "I've always loved the balance of the fruit and the malt," and this balance is at the heart of the new core range. 
So what have we got in the line-up? Dr. Barrie took it back to Benriach's Speyside home (Did you know it gets 40 more days of sunshine a year than anywhere else in Scotland?" She quipped.). A key source of inspiration was the 1994 Benriach 10 Year Old expression, the first bottling that really cemented the distillery as a brand in its own right. It's balance, body and mouthfeel underpin the philosophy behind each new expression.
At the heart of it all, there's The Original Ten, The Smoky Ten, The Original Twelve, and The Smoky Twelve, all bottled at natural colour. Two fundamentals thread through the quartet: production (essentially peated versus unpeated), and the cask make-up. These are all a blend of three different cask maturations. Move higher up the range to The Twenty One, The Twenty Five and The Thirty, and you'll find four different cask types. The entire line-up was crafted to offer accessibility to whisky newcomers, and established enthusiasts alike. And the clear positioning does just that.  
When it comes to the malt specification itself, it's useful to look at the calendar. Each September is devoted to 'smoke season', where malt processed to 55ppm using local Highland peat prior to distillation tracks its way through the distillery. Then malting season (yes, Benriach has its own malting floor), takes place each spring. There will be dedicated Smoke Season and Malting Season limited editions to come in due course, too. 
"My job was to create this perfect world of flavour, a journey of taste, many different layers all perfectly integrated," Dr Barrie continues. "There's a rainbow of flavour as the spirit comes off the still, which you can then amplify with casks." 
And why such an overt focus on smoke? "It's such a sweet smoke with Benriach, it opens the door to new consumers," she explained. "Just saying 'peated' is too simple, it's a different character." 
The core quartet
In the tasting glass first is The Original Ten. "It's like sunshine on Speyside," Dr. Barrie described it. "A fruit orchard, ripening peaches, a patisserie." Interestingly, while it's barely perceptible, there is still a wisp of that Benriach smoke running through. "It's less than 5ppm," she said, adding that it adds more of a depth, a textural quality, rather than contributing flavour as such. Going into the Original Ten is liquid from bourbon barrels and sherry casks, plus virgin oak. "It's got layers of perfect balance," she continued. 
Next up was The Smoky Ten with an intriguing cask mix indeed: bourbon barrels, toasted virgin oak, and Jamaican rum casks. She confirmed the latter previously held high-ester, pot still liquid. "It amplifies the esterification that happens with the maturation," she got technical for a moment. "It brings out the vanilla, coconut, lactones, the sweetness." The result? "Exotic fruits charred on a barbeque." Delicious!
The Twelve is a "new to world" expression, Dr. Barrie continued. "Everything changes with maturation. You're going to have more oxidation, and therefore more of those top notes." She reckoned the esterification reaches a "sweet spot" at this age for Benriach. Plus the addition of Port pipes to the bourbon and sherry make-up "lifts and lengthens", with a "dark chocolate note on the end".   
Rounding off the four at the heart of the range is The Smoky Twelve. "This is unexpected in its cask combination," Dr. Barrie said, referencing the bourbon, sherry and sweet Marsala cask recipe. "It's a collision of the rugged side of Benriach with the sweet side," she added. "Plus, I love Italian food, I love Sicily. You can see how I was drawn to this."
An experimental approach
It's true that there are some unusual cask combinations across the four expressions we explored. How does that come about, and will there be more experimentation to come?
"There's like a 'eureka!' moment with all of the whiskies," she detailed. "It's a constant quest. You have all the casks, you blend, you go back and think, 'imagine…'. Eventually to get to the point where you're, 80%, 90% there, and then you raise the bar even further."
Announced alongside the new range was an intention to release esoteric limited editions in the future. Are there any experiments or cask types she'd like to play with yet but hasn't?
"Oh, there's so much experimentation," she said, referencing what's going on in American whiskey with mashbills and developments within wine. "And within our group [Brown-Forman], there are so many different types of spirit… Tequila with Herradura. Now, that would be interesting. Never say never!"
Other ongoing projects include working with the R&D team at Brown-Forman's Louisville HQ to investigate the impact of different types of oak on flavour, another area of interest. It makes the whisky lover incredibly excited to see what might come next from Benriach as part of this new programme. 
"There's plenty to try, and then different combinations to try!" There's an energy to her statement that makes you long for a sneak peek around her blending lab, just to see what's there. There's lots to taste in the new range, and there's certainly deliciousness to come. Dr. Barrie best sums it up: "There's an everlasting world of flavour." 
Benriach's new-look line-up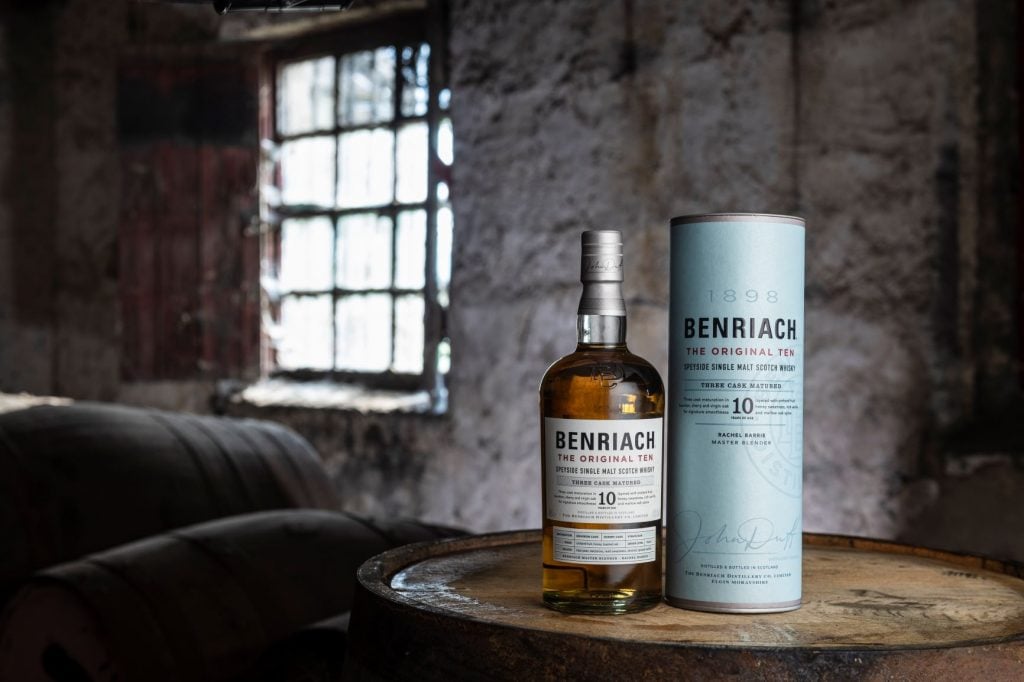 The Original Ten, 43% ABV
Bourbon, sherry and virgin oak casks with a trace smoke level for orchard fruit, honeyed malt and marmalade on toast notes.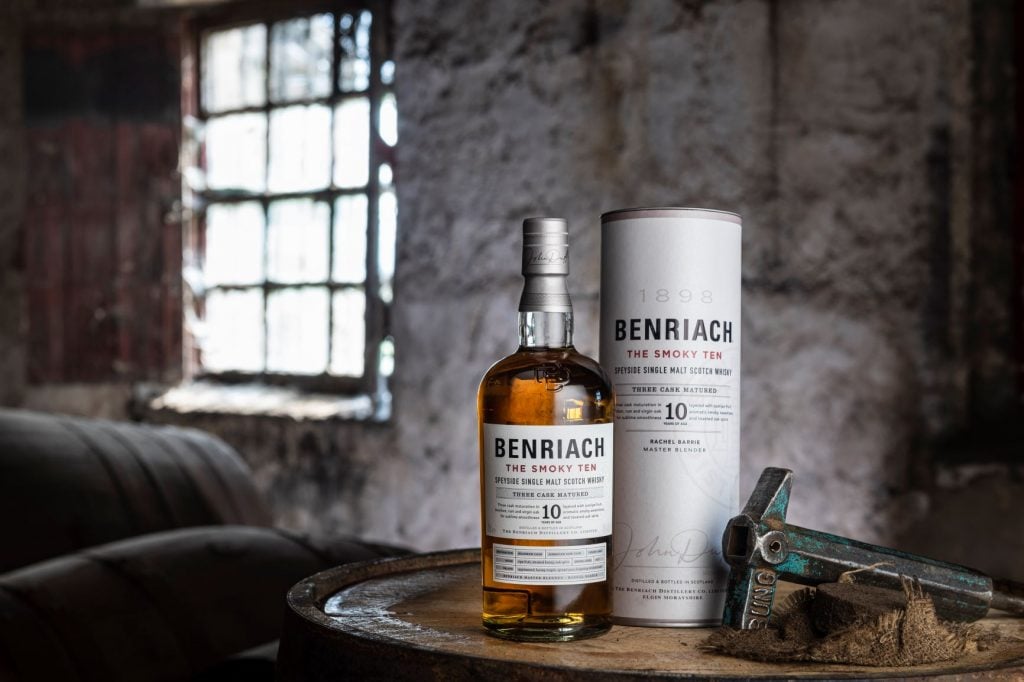 The Smoky Ten, 46% ABV
Bourbon barrels, virgin oak and Jamaican rum casks combine for smoky sweetness with barbecued fruit notes. 
The Twelve, 46% ABV
Sherry rich maturation and layers of dark berry fruit encapture the flavours of Benriach in the autumn.
The Smoky Twelve, 46% ABV
Made with an unusual combination of bourbon, sherry and sweet Marsala casks for a rich smoky sweetness with dark chocolate, almond and charred orange notes. 
Plus coming soon, three older bottlings which we were given a sneak preview of:
The Twenty One, 46%
Bourbon, sherry, virgin oak and red wine cask liquids with elegant smoke. Lashings of orchard fruit, pinewood and honey smoke. 
The Twenty Five, 46% ABV
Sherry, bourbon, virgin oak and Madeira wine casks combine for an intensely rich mouthfeel with baked fruit, cinnamon spice and caramelised smoke. 
The Thirty, 46% ABV
The oldest peated Speyside ever bottled. Sherry, bourbon, virgin oak and Port casks result in chocolate raisin, smoked walnut and cinnamon cocoa notes.