As she approaches her first year as master blender at The BenRiach Distillery Company, Rachel Barrie discusses wood policy, product development, and why there's "no such thing as a bad whisky, just some that are better than others".
Very few master blenders could list the likes of Glenmorangie, Bowmore, Laphroaig and Glen Moray on their CV, but Rachel Barrie is one of them. Having clocked up an impressive 26 years in the Scotch whisky industry, during which she's been "extremely lucky to work with so many great malts", her knowledge of Scotch whisky styles and flavours knows no limits. Put it this way, we want her on our team at the next whisky-themed pub quiz.
In February last year Barrie made the move to Brown-Forman-owned BenRiach Distillery Company, succeeding the company's founder, Billy Walker, as master blender and assuming responsibility for the BenRiach, GlenDronach and Glenglassaugh distilleries. Here, she reflects on her first 12 months in the role…
MoM: Hi, Rachel! Could you tell me about how you got started in the Scotch whisky industry?
Barrie: I first worked as research scientist at The Scotch Whisky Research Institute – working on optimising flavour character in distillation and maturation – before moving into production at The Glenmorangie Company, where I worked on Glenmorangie, Ardbeg and Glen Moray single malts as well as Bailie Nicol Jarvie and Martin's blends, becoming master blender in 2003. During this time I also managed the stocks for the Scotch Malt Whisky Society, giving me a deeper insight into a great many more distilleries. I moved to Morrison Bowmore Distillers in 2011 where I developed the whiskies for Bowmore, Auchentoshan and Glen Garioch single malts, also working latterly with Laphroaig and Ardmore. In March 2017, I joined Brown-Forman, and now make the whiskies for BenRiach, GlenDronach and Glenglassaugh.
What inspired you to make the leap to BenRiach?
Firstly, I was attracted to the highly collaborative and creative culture at Brown-Forman, and knew instantly the company's values of teamwork, integrity, trust, respect and excellence would give me the perfect environment in which to thrive. Secondly, I relished the opportunity to work with such distinctive, high quality and revered single malts, all true to my Aberdeenshire roots – the most excellent journey from the 'glen' (GlenDronach) to the 'ben' (BenRiach) to the 'sea' (Glenglassaugh). Thirdly, The GlenDronach is my Dad's favourite malt, so this provided the ideal opportunity to share the depth of this truly great single malt with him.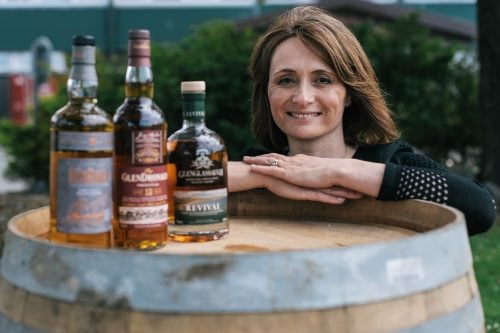 A bottle from each of the three distilleries…
Could you explain your day-to-day role as master blender?
Day-to-day tasks are varied, depending on what needs to be planned for the coming weeks, months and years, and what needs to be actioned that day. At present, I'm planning the stocks and recipes for the coming year, selecting new whiskies for new product development and limited editions, writing tasting notes and product descriptions, planning the re-rack programmes for the year, and selecting individual casks for batch releases. Last week I was at GlenDronach, discussing bottlings for the distillery shops. Every day I collaborate with distillery teams to schedule vattings for bottlings, arrange cask sampling and regauges, schedule re-racking of stock into different casks, and process operations through SAP – I spend a lot of time on systems, applications and products (SAP), managing, analysing and reviewing stock inventory, calculating and planning stock availability for bottlings, setting up orders for reracks and vattings. As well as all of this, I do a lot of nosing (and a little tasting, with a spittoon), currently an average of around 20 samples per day, although it can be much more. Over the past 26 years, I've nosed around 150,000 cask samples (and counting!).
What was it like to work with Billy Walker during the transition period?
It was a great pleasure to both work with and get to know Billy. We had many discussions about the stocks, maturation, cask selection, and quality, and I think we are very much aligned in what it takes to make great whisky. Billy invested in the highest quality oak casks and ensured time-honoured distillery processes were maintained, and the business will continue to reap the rewards of his efforts for many years to come.
How have you put your stamp on the distilleries since taking the reins?
Having been with BenRiach for nearly one year and sampling hundreds of casks in that time, I'm developing a feel for what works best for each distillery – which cask types bring out the heart and soul of each single malt. Working with the team, I am influencing the wood policy and maturation schedules to ensure we steer the distilleries towards the pinnacle of quality, balance and complexity while staying true to their individual character and house style. This in turn will shape each distillery's emerging portfolio in the coming years.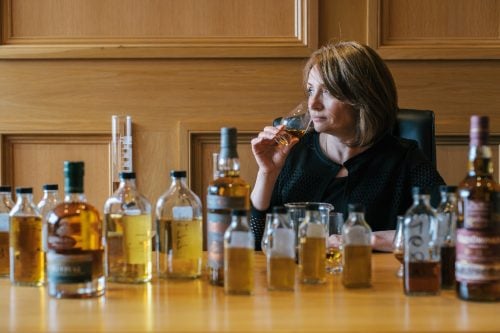 Barrie noses around 20 cask samples per day
All three distilleries have been active in terms of releases lately! Can you tell me about any projects you have in the pipeline?
There are so many nuggets in the stock profile that are slowly but surely coming of age and reaching their pinnacle. In the next couple of years, you will see releases from all three distilleries, showcasing some of our most exceptional stocks maturing through the decades. Look out for further expressions of richly sherry cask-matured aged GlenDronach and a fascinating range of eclectic individual casks from BenRiach (leading to a few more surprises). Glenglassaugh will also reach new heights as it awakens to a new age. There's much work to do and an exciting future lies ahead!
How do you create a new blend – do you start with a flavour profile in mind?
Yes, I always have a vision of the style of whisky I'd like to compose when putting together a new blend. This vision tends to come from the convergence of numerous stimuli, it's never just one thing, and at the outset there are always more questions than answers. Stock availability is top of the checklist – what stock do we currently have that can contribute to the new whisky? How much of it do we have across wood types and ages? What are the stock ratios? If we create a new whisky, what impact will this have on the remaining stock profile? To create the new whisky, do we need to experiment, source new ingredients, or try things out small-scale before making significant investment? What is the growth plan of the new whisky? How sustainable will it be? Can we make it sustainable or can it only be a one-off limited edition? Development of a new whisky or expression always generates more questions than answers during the creative process until everything starts to come together. It's a highly iterative process, a complex puzzle where there are no rights or wrongs, only many twists and turns leading to the best way forwards.
Let's talk wood! Could you tell me a little bit about the cask programme at The BenRiach Distillery Company?
Brown-Forman has its own cooperage in Kentucky so we have a superb source of bespoke virgin oak, and of course we are pretty much guaranteed supply of Jack Daniel's and Woodford Reserve ex-bourbon casks, so we are very fortunate to have a highly sustainable source of quality American oak. We have also been able to increase supply of the highest quality Spanish oak sherry casks – a huge investment for the business – which continues to contribute immensely to the richest and finest aged single malts, in particular for The GlenDronach. We have a continuously evolving programme of wood experiments which develops as we have new ideas, discover which casks are available and learn which are most successful and suited to each malt. And of course an endless programme of sampling as we learn how long each experiment takes to mature and reach perfection, and which cask combinations are best; influencing the long-term maturation strategy and wood policy. I'd recommend the latest BenRiach Batch release of individual casks as the drinker can get a real taste of the variety of wood experiments on the go each year. There are always new sources of casks as our sister distilleries and also vineyards experiment in the US, and in turn this can provide us with a supply of new casks to experiment with.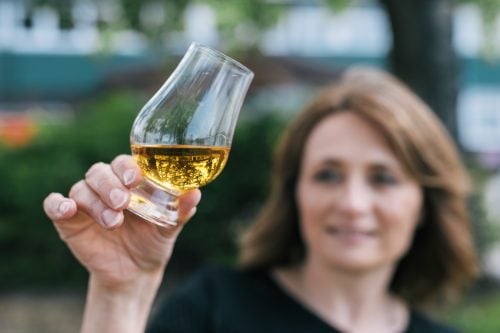 Mystery dram is mysterious
Some Scotch whisky producers are placing a focus on ingredients, is this something you're interested in?
Having worked with several distilleries over the past 26 years, I've observed that everything can make a subtle difference to the taste profile. At each of our three distilleries, we source barley locally from maltings in the North East of Scotland, so the barley, peat [when used], water, environment and malting conditions are true to the 'terroir' of the distillery region. What continues to amaze me is how much distillery location appears to contribute to each highly individual and distinctive distillery character. Different barley varieties naturally come and go in nature, and we always work with the optimum varieties over time.
How about yeast strains?
Having experimented at length with different yeast strains over the years, I've observed that distillers yeast seems to do the best job in optimising distillery spirit quality. Distillery environment and indigenous microflora also influence the unique character of each distillery spirit, and I am very happy with the current flavour balance of each new-make spirit, all things considered.
How has the industry's technical knowledge of Scotch whisky improved in recent years?
We learn more and more each day, especially about oak and maturation and the science behind the process, but also about flavour and sensory perception. In spite of all we have learned, it never ceases to amaze me how we still get surprises, how there is still so much more to learn and how much nature influences character beyond what we can currently explain. For example, a distillery design could be replicated a relatively short distance away, and the character would not turn out the same. We more deeply understand the composition of malts and blends, and can access quality sources of oak which has led to consistently good quality whisky. In 2018, we should be able to honestly say more than ever before, 'there is no such thing as a bad whisky, just some that are better than others'.