It's back by popular demand, Master of Malt Whisky Championships 2022. Vote for your favourite whisky brand. There can only be one winner.
Last year we had a competition to decide what was your greatest whisky brand, and the winner was Bunnahabhain! It was such a popular event that we decided to do it all again. Before we dive in, a quick recap on Master of Malt Whisky Championships 2022.
All the brands featured were chosen by Master of Malt followers on social media. It features such well-known names as Lagavulin from Islay, and Teeling from Ireland as well as newer distilleries like White Peak from England. So to decide this once and for all (until next year), we're giving Master of Malt customers the opportunity to shout about their favourite brands.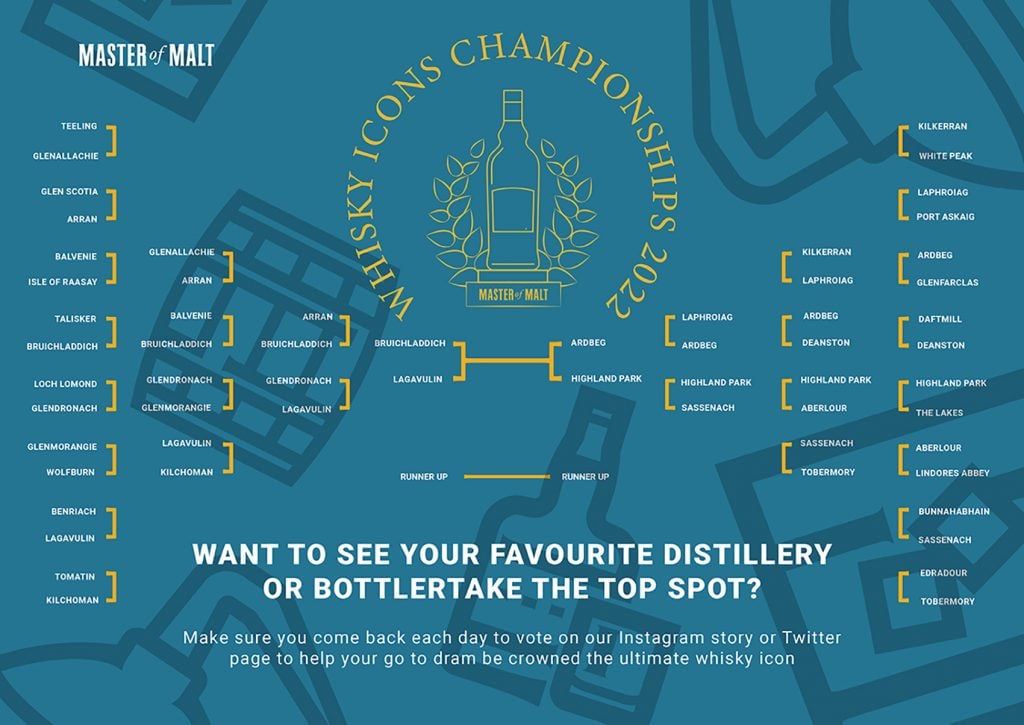 Whisky brands have been paired using a random generation machine and the competition works on a knock-out basis. You can vote below and social polls will be posted on a @masterofmalt Instagram story Monday to Friday this week (simply view our story and tap on the distillery/brand you wish to vote for). Or alternatively, you can vote over on the @MasterOfMalt Twitter page where a poll will be posted to our feed.
Here's how the competition will go:
Monday 1 Aug – first round with 32 whiskies
Tuesday 2 Aug – second round with 16 whiskies
Wednesday 3 Aug – quarter-finals
Thursday 4 Aug – semi-finals
Friday 5 Aug – finals
Saturday 6 Aug – voting closes
Monday 8 Aug – announcement of the winner
Get voting so we can say once and for all what the greatest whisky is! Until next year…