Torabhaig's second bottling of the Legacy Series is here, so we thought it was high time we had a taste. It's called Torabhaig Allt Gleann and it's rather easier to get hold of than the first release.
Torabhaig has been eliciting raw excitement ever since we heard about the first whisky distillery to be built on Skye in 190 years and only the second legal site to operate on the island. Then came the inaugural whisky, and we knew it was worth the wait. As you might imagine, it disappeared very quickly. Now, we have more spirit to get stuck into with Torabhaig Allt Gleann.
Shaped by Skye
The distillery's plan is to release four bottlings in the Legacy Series. That will take us up to 2028 when its single malt will be a decade old and ready to become a permanent fixture. What we're witnessing in the meantime is a journey into the style of Torabhaig as it takes shape. It's whisky evolution in real-time and, personally, I find that very exciting. 
Particularly as peating levels, yeast, and barley varieties are also constantly being tinkered with, plus the harvest, mashing, fermentation, and distillation process also being monitored throughout to create the finest spirit possible. The ultimate goal is an island-style malt whisky with a 'well-tempered' peat profile and a fruit-forward character that's been 'shaped by Skye'. The latter is a reference to the fact that the water comes from the Allt Breacach and the Allt Gleann (which gives this week's whisky of focus its name) burns and the effect the tempestuous climate will have on maturation.
Tasting Torabhaig Allt Gleann
Torabhaig Allt Gleann begins life as Scottish strains of Concerto and Laureate variety barley, which are milled on-site on a roller mill and then mashed in the 1.5-tonne capacity mash tun. The grain is currently peated to at least 75ppm (I believe this bottling comes out at 77ppm), before a long fermentation between 70-100 hours takes place in eight traditional Douglas fir wooden washbacks. Amongst all the adaptations and experiments, one thing that will remain consistent is the shape and size of the stills, because Forsyths have bloody well built them now. The 8000-litre wash still and 5000-litre spirit still made have a downward sloping lyne arms and condensers as well as a wide neck, which adds a gentle touch of reflux to allow aromatic phenols and more subtle fruit to shine. 
Distillation for Allt Gleann took place in 2017 and 2018, carried out by a large team of nine distillers. There's no master here, instead an expert collective of former apprentices who have studied and worked together to create an array of distillates. As for maturation, more than 50% of Torabhaig whisky is currently being aged in first-fill bourbon casks and the remaining percentage is predominantly refill, with both used in Allt Gleann.
The initial inspiration for Torabhaig whisky was the earthy, vegetal aromas of Lagavulin and the piercing phenolics on the Laphroaig, but the first release was deemed too gentle in peat terms. Allt Gleann takes things up a notch, without veering into industrial peat bomb madness. It has a roasty, smoky and slightly grassy smoke, which pairs well with plenty of maritime character and sparkling fruit notes. The two Torabhaigs I've tasted so far give me lots of reasons to look forward to editions three and four in the Legacy Series. But I'll have a few more sips of this one before I get ahead of myself…
You can buy Torabhaig Allt Gleann from right here.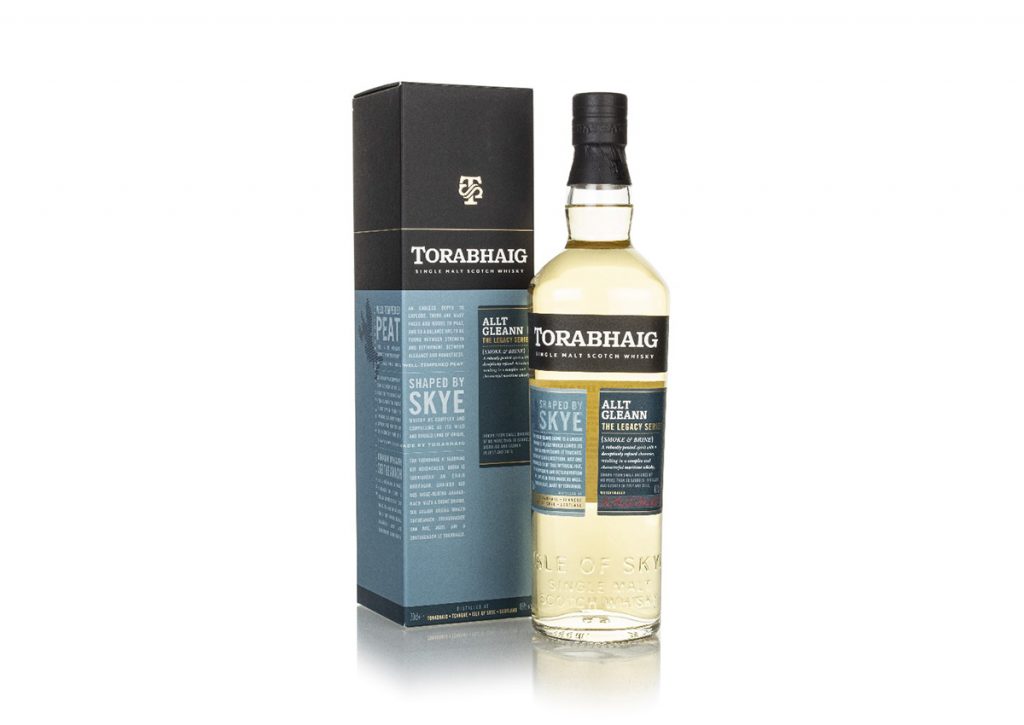 Torabhaig Allt Gleann tasting note
Nose: Wafts of woody tobacco and crumbly vanilla shortbread. Earthy peat smoke and a zing of lemon zest combine with a salty maritime note of smoked shellfish.
Palate: Bolder peat here, coastal tar with an oily texture, roasted, salted nuts, and light fruit salad. Floral wafts of heather, fennel, and a touch of metallic, medicinal pepper spice.
Finish: Sweeter fruit notes with apples and kiwi, vanilla oak and big hits of peat smoke, with continuing sea breeze and briny harbourside character.