Method and Madness is back with the Rye and Malt Irish Whiskey expression, the first made entirely at its Midleton's micro distillery. Excited? Us too. Let's have a taste.
The folks at Irish Distillers sure love a boundary push. Don't leave those boundaries unguarded around Irish Distillers. They'll have them over in a moment. Its Method and Madness brand gives Ireland's biggest producer ample room to play and innovate without confusing Jameson or Redbreast customers, leading to some truly creative expressions.
Six years ago the brand opened an experimental micro distillery, next to its brand home at Midleton Distillery to serve as a base for researching different wood types, grain recipes and help all that relentless pushing of boundaries. But so far much of the fun has happened purely in maturation such as Hungarian Oak and French Chestnut.
Now, however, the brand is ready to release the first distillate made entirely in the micro distillery and one that features innovation in its grains, the revealingly titled Rye and Malt Irish Whiskey. There's rye and malt in this one, folks. To tell us more is one of the minds behind the malts, Eva O'Doherty. 
Mini distillery, big ideas
The micro distillery was built in 2015 and is actually bigger than a lot of the newer Irish distilleries. Size is relative after all, and the mothership is next door. Regardless, it functions as something of a school for graduate distillers like O'Doherty and as a free space to play whereas the main distillery "doesn't have the outlet to create and innovate and really push the boundaries in terms of Irish whiskey," O'Doherty explains. 
The main difference between the micro and main distillery, apart from size, is the former is all manually-operated, while the latter is fully-automated. "Every lever, pressure gauge, temperature control and valve, we're in control of. You learn very quickly here if you're doing things right or wrong!" O'Doherty says. But the two are tied close together, with the micro actually featuring new pipework to transfer down wash from an isolated fermenter in the main building, giving them the "luxury of creating a special brew so it won't be interfered with in the main distillery or it won't be like blended in with other fermentations," says O'Doherty.
The micro distillery houses three copper pot stills made by Forsyths in Scotland: a 2,500-litre wash still, a 1,500-litre feint still and a 1,500 spirit still. Pretty large, but in the main distillery they are five times the size. Then there's Mickey's Belly, a nickname given to Ireland's oldest gin still (dating back to 1958) named after former distillery technician Michael Hurley who "was one for his food and drink," as O'Doherty put it. There's also an unlocked distiller's safe, allowing the distillers to assess the spirit as it's running, checking for things like the strength, temperature, and pressure that's applied to the still. "And we can actually take samples ourselves and nose it directly as it's coming off the still. In the micro you rely so heavily on your senses," O'Doherty says.
More method than madness
The freedom in approach and flexible, varied equipment allows O'Doherty and Katherine Condon, the micro's master distiller to play. And play they do. "The two of us are great for bouncing ideas off each other and pushing our knowledge. We go to marketing and show them what we made, rather than us being told what to do," O'Doherty explains. 
There's also no complaints about legislation from these quarters, with O'Doherty firmly of the belief that there's more than enough room to play in the current system. "We're lucky with the present Irish technical files as we can play around with the maturation element (it allows for woods such as oak, not just oak like Scotch)," she says. "I'm sure that the files will be reviewed at some stage but we're just here to innovate. What we make might not fall underneath an umbrella but that's the whole point, it's just learning, trial and error at the end of the day". 
O'Doherty is herself a success of the micro distillery system, having worked in a placement during college under Brian Nation. She carried out all the distillation trials and sensory evaluations for the Method and Madness gin and, once she graduated, was offered a job among the "great pool of female talent" as O'Doherty puts it. "From the minute I came in I've had the likes of Laurissa Marrichi (distiller), Dierdre O'Carroll (blender), Carol Quinn (archivist) and Katherine around. I've had no shortage of inspiration". Her advice for women who want to get into whiskey? "Don't be afraid to ask those questions, get involved and get your foot in the door. You are just as good as anyone else and, if you have the will and enthusiasm there, you've won half the battle anyway!"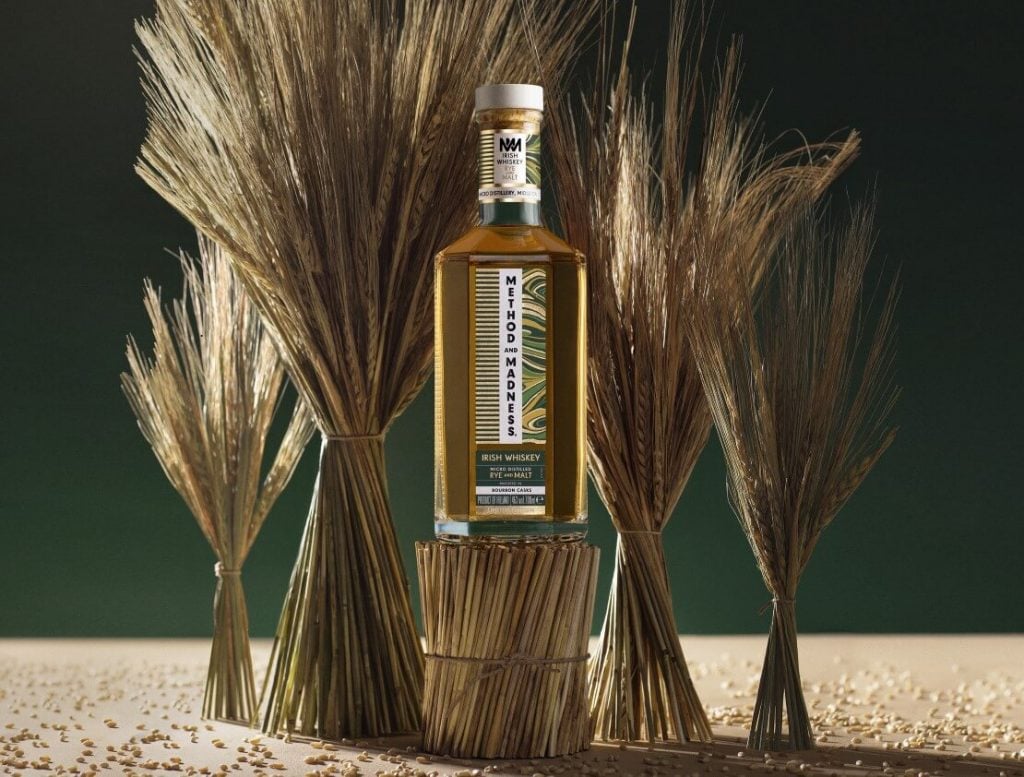 Rye and Malt
As for the fruits of O'Doherty and Condon's labour, Rye and Malt Irish whiskey is a first for Irish Distillers, which has never released a whiskey with that ratio of grains. The recipe, which is 60% rye to 40% malt, was inspired by the personal notebooks of John Jameson III dating back to 1857. And for that, you can thank Quinn. "I literally adore the woman! I could spend all day with her in that distiller's cottage, going through all the actual notebooks, ledgers, diaries, that date back from the time of John Jameson the first and forward," says O'Doherty. "You think it's just like a story we all tell to the media, but it's legit."
Back when the whiskey was distilled in 2015/2016 there wasn't enough local rye so it was sourced from Poland, but now all the rye comes from Ireland. 
Thanks to the manual processes, the team was able to trial varying rates of reflux to achieve the desired flavour and did both a double distillation and a triple distillation batch of whiskey. "The release that we've brought out is a double distillation, because we felt the latter actually matured a lot quicker and was ready to be released," O'Doherty explains. "We also matured it in a 50-50 mix of first-fill bourbon and second-fill, because we really wanted that character of the spirit to come to the fore with the rye and for it not to be dominated by the wood type.
O'Doherty was clearly thrilled to get an opportunity to play with rye and she feels like we're only seeing the beginning of the category's resurgence. But this particular expression features plenty of malt, a balance which O'Doherty says "is like a mash made in heaven, as cheesy as it sounds! When you first taste it, you get that lovely spice and heat; the clove and chilli, then towards the end it just mellows out from that malt aspect". 
Review
We were very excited to try this particular whiskey and are intrigued to see what comes next from the micro distillery. O'Doherty says they are "full of ideas. If I could only tell you the stuff that we've planned now for this year!" The one qualm I would have is that it's a shame that there were other M&M before this one, because the significance of being the first micro distillery whiskey should have carried more weight and the fact that this is branded the same as previous M&M whiskies could be a tad off-putting for consumers.
Regardless, what's in the glass is lovely. I tried it neat but there's also a special cocktail designed by Ronan Collins posted on Instagram. The decision to mature in ex-bourbon has also paid dividends as we can see how the two grains interact, which is very pleasantly. The malt does its job, tempering the more fiery and robust aspects of the rye you sometimes get and showcasing its rich, citrusy and chewy aspects. Bottled at 46% ABV, there's a fair amount of weight and depth to this one too. All in all, a cracking start from the Micro Distillery.
Method and Madness Rye and Malt Irish whiskey tasting note
Nose: A supple, fruity and creamy nose begins with lemon balm, marmalade, floral honey and vanilla. Soft ripples of spice (clove mostly) bubbles away underneath as well as rye bread fresh out of the oven, forest berries, cacao powder, fresh mint and a touch of peppery oak.
Palate: Classic winter spice prickles through oak char, chilli chocolate, earthy vanilla pod and black tea. Salty porridge, orange peel, apple pie filling and hints of floral honey emerge in the backdrop.
Finish: Posh dark chocolate, toasted spice and toffee.
The limited-edition Method and Madness Rye and Malt Irish Whiskey will be available from Master of Malt soon.