A very special Balvenie has just arrived at Master of Malt so we put it through its paces in the company of brand ambassador Alwynne Gwilt. It's The Balvenie 25 Year Old – Rare Marriages.
Balvenie was one of the first distilleries I visited when I began taking a serious interest in whisky so it has a special place in my heart. If you can only visit one in Speyside, then it's a good choice because its owners William Grant & Sons have preserved some of the old ways There's an on-site cooperage plus its one of the last distilleries in Scotland to preserve its traditional floor malting where the barley is turned by hand. As brand ambassador Alwynne Gwilt puts it: "you can feel the magic in the air", and indeed it was a visit to Balvenie that inspired her to pursue a career in whisky. 
Tradition and innovation 
It helps, of course, that the whiskies are so good. Gwilt describes it as "a comforting whisky with great complexity to it." The classic 12 year old Double Wood is a benchmark whisky. Launched in 1993, it's aged in American oak ex-bourbon casks before finishing in European oak Oloroso sherry butts. Not particularly unusual you might think, but cask finishing was pretty radical back in the '70s when malt master David Stewart MBE pioneered the technique. 
In an industry where people tend to move about quite a bit, Stewart stands out as he's been at Balvenie since 1962. Previously highly in demand as a blending whisky, it was launched by William Grant & Sons as a single malt in the '70s following the success of its sister distillery and neighbour Glenfiddich. Indeed, "every Balvenie released under the brand name has been made by Stewart," says Gwilt. 
Balvenie 25 Year Old – Rare Marriages 
Cask finishing might be Balvenie's thing but its older whiskies now use a different technique, marrying. Hence the name of the latest limited edition whisky: Balvenie 25 Year Old – Rare Marriages. It uses a mixture of whiskies wholly matured in American oak ex-bourbon casks, and Spanish oak Oloroso-seasoned casks. For long maturation, Gwilt told us, "we tend to use refill casks" though there are some first fill casks in the mix. 
Following 25 years maturation, the different casks then spend a few months in the marrying tun to get to know each other. It's then bottled at 48% ABV with no chill filtering. The result is a hedonistic, rich, luxurious single malt. I loved the way the sherry provides a weight and complexity without overshadowing the honeyed sweetness and tropical fruit of the ex-bourbon casks. In other words, the perfect marriage.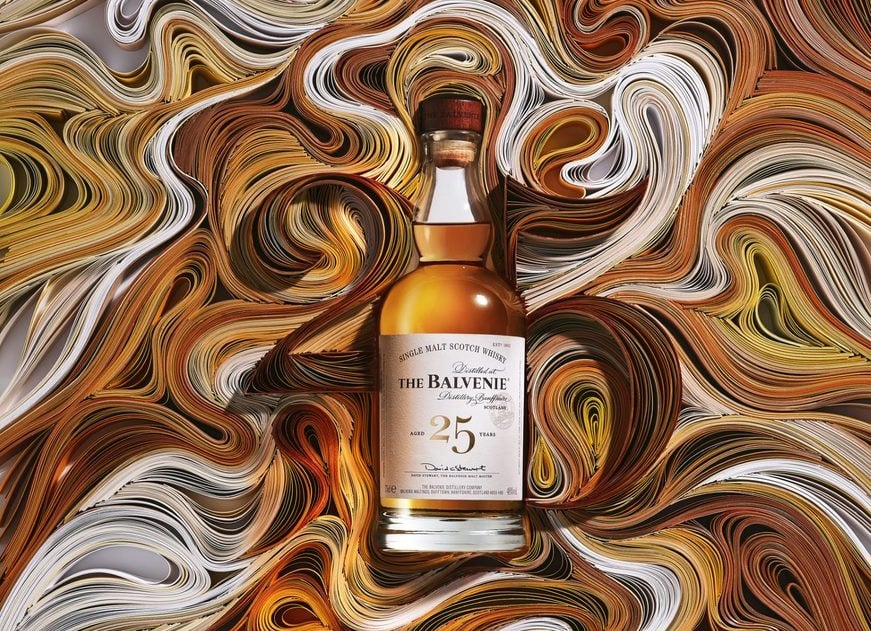 Tasting note from the Chaps at Master of Malt
Nose: Big sweetness initially, honey and fudge. There's a waxy note there as well, beeswax, a touch of cheese rind, followed by orange peel and orange blossom, with wafts of Brazil nut and baking spice.
Palate: Full and chewy, it really coats the mouth. There's toffee sweetness and then peaches, vanilla, cinnamon, and a little black pepper. Waves of heady floral notes with orange peel and a distinct peachiness. 
Finish: Very long with a lingering taste of honey and spice. 
The Balvenie 25 Year Old – Rare Marriages is available from Master of Malt. Click here to buy.