Something very exciting has just landed at Master of Malt, a single cask exclusive from Lochlea. Read on to discover more and to learn all about this exciting Lowland distillery from master blender John Campbell. 
We love working closely with distilleries and sourcing exclusive casks for our customers. We've got something a bit special today. It's a single cask release from Lochlea. We commissioned this cask back in 2018, before the distillery began working. Then in March 2019, the team filled a first-fill bourbon barrel with new make spirit. Now it's been bottled at cask strength, 60.2% ABV with no added colour or chill filtration. It's called Lochlea Single Cask Ex-Bourbon Barrel (Master of Malt exclusive) (click on link for prices and to buy) and did we mention, you can only buy it from Master of Malt?
Earlier this year we were fortunate enough to sit down with master blender John Campbell and taste though some great single malts from this impressive young distillery.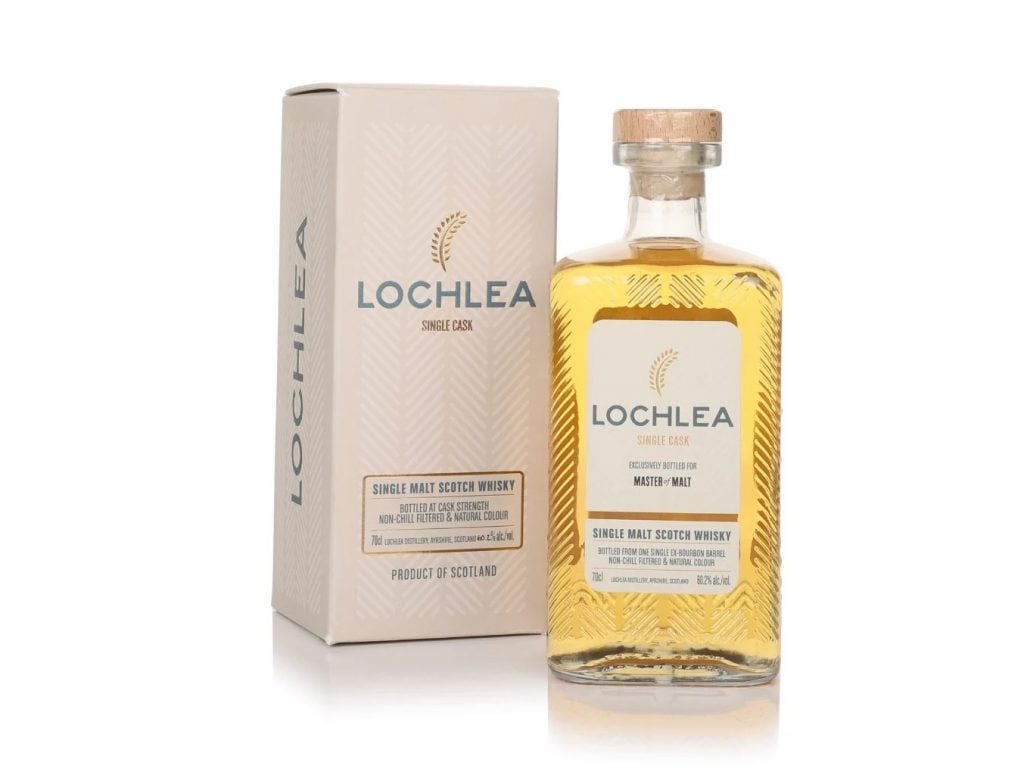 Serious Burns connections
Robert Burns is a big deal in Scotch whisky. On Burns Night, we salute the literary legend with a dram, some of his most famous works either reference or are based on the water of life, and there are brands created in his honour. If you had a Scotch whisky distillery that could claim a connection to Robert Burns, you would imagine they would try to milk that for all it's worth.
Lochlea Distillery has such a connection. The Lowland whisky makers are based on an Ayrshire farm that Robert Burns's father worked at and that the bard once called home. He toiled the very soil that the barley used to make Lochlea whisky grows on today, from 1777 until his father's death in 1784. 
Yet, in nearly an hour of presentation on two Lochlea products with master blender John Campbell, he was hardly mentioned. The truth is, as compelling and lucrative as that history might be to lean on, the whisky production at Lochlea is just too damn interesting. Burns takes a backseat to barley in this tale. 
The story of Lochlea Distillery
Lochlea was a cattle farm when Neil McGeoch acquired it in 2006. But at 222 acres there was potential for more, and a need to establish a more viable operation. The answer for Lochlea was barley, which was grown on this land before to feed livestock. McGeoch decided to plant 50 acres back in 2015 with the aim of creating whisky. Experiments were undertaken, lessons were learned, and contacts were established. 
By 2017, the former piggery, byre, and midden in the heart of the farm steading were being converted into a distillery. The cattle sheds were being repurposed into bonded warehouses. Licenses were secured in 2018. A £6m investment was completed. And Lochlea told… nobody. The operation continued quietly in the background. It was so under the radar that it was the only operating distillery in Scotland not included in The Malt Whisky Yearbook 2021.
Then, on Burns Night 2022, Lochlea launched its first whisky. Since then the brand has gotten a little louder, establishing a consistently available core product, Lochlea Our Barley, launching seasonal selections based on its agricultural approach, and a new cask strength series this year. It's emerged as one of the most interesting new independently-owned producers on the Scotch whisky scene. Early reviews of the liquid are promising. Legends of the game have flocked to be a part of the process (David Ferguson from Beam Suntory, Malcolm Rennie from Bruichladdich and Ardbeg, and the aforementioned Campbell from Laphroaig). Lochlea revels in its complete creative control and full traceability from field to cask.
How is Lochlea whisky made?
Those fields are full of laureate barley, grown just 150 yards from the distillery. The resulting draff is used to feed local cattle and its water is sourced on-site. The finest of Ayrshire's natural resources is showcased in every bottle, while the distillery's carbon footprint is kept to a minimum. Currently, Lochlea can make 180,000 litres of alcohol per annum, and there would need to be more farm before there could be more whisky. 
The idea is to create a light, elegant spirit that showcases the flavour of its raw material – not that the distillery seems to be interested in invoking notions of provenance or terroir in its marketing. There's also an emphasis on generating ripe, bright fruity flavours in the new make. That means creating a slowly extracted, crystal clear wort, which is then elevated by a long fermentation to create an estery wash. 
There are three long (116 hours) and two short fermentations in traditional wooden Douglas fir washbacks with two specifically selected yeasts. Campbell says that generally subtler changes happen when using wooden washbacks compared to some of the other processes in the production of single malt, but they all matter. "Wooden washbacks hold in some bacterias which will produce more lactic acid which generates sweet, fruity, and buttery notes," he explains.
A slow distillation process in pot stills made to spec in Scotland with high cut points then follows. "Distilling slowly preserves and enhances the ester production from the fermentations and this gives us a much fruitier, more congener-heavy spirit," Campbell reveals. "The high cut points also enhance this to ensure that the heavier oily and grassy flavours don't then dominate the new spirit." 
The former cattle sheds now hold warehousing space where Lochlea whisky is matured on-site in a variety of casks, predominantly bourbon (Maker's Mark is a favourite), oloroso sherry, Pedro Ximénez, and STRs (shaved, toasted, re-charred). There are some more experimental varieties too, like some peated casks. Lochlea uses racked warehouse storage because it ensures the best airflow around casks, flexibility for moving and sampling, more surface area contact and fewer losses than palletising, according to Campbell. 
The future of Lochlea
Alongside the core range, Lochlea creates limited edition selections that celebrate its agricultural heritage, like its Sowing Edition or Ploughing Edition, but long term the brand will move to age statements. The big question going forward is how to preserve the distillery character which is so rooted in its raw materials when the product is ageing for longer and has more cask contact. Campbell says the base flavours will remain the same, they will just develop further and become richer and interact with other base flavours more, producing much more depth in the liquid.
After becoming Laphraoig's longest-serving distillery manager there was some surprise when Campbell joined Lochlea, but he was invigorated by the opportunity. "It was the opposite in all ways to what I was doing at Laphroaig, and so it provided a huge personal challenge for me which I was ready for." 
I can see the appeal. The future of Lochlea is very bright. There are plans for a visitor facility, but more excitingly for floor maltings and a bottling hall in order to make it a true one-site whisky maker. It wasn't gin or tourists that built Lochlea, the brand followed something closer to the Daftmill model of establishing a whisky distillery, but one that's getting more liquid into people's hands. This isn't a whisky for collecting or auction markets.
It's for drinking. Good thing it is very drinkable, then. Lochlea makes a pleasant, approachable spirit. In both Our Barley and Cask Strength – Batch 1 I felt things were a little raw, and that the whisky will truly shine around the eight to ten-year mark, but there's still so much to credit this spirit with. The bright fruit and rich barley core of the spirit is beautiful and it's complemented – not concealed – by the cask selection. Burns would probably have something more poetic to say about Lochlea whisky. The best I can do is a tasting note. Slàinte mhath.
What does Lochlea whisky taste like?
Lochlea Our Barley tasting note
Lochlea Our Barley is the first single malt to join the distillery's core range. Matured in a combination of bourbon and oloroso sherry casks, as well as shaved, toasted, and re-charred barriques, the whisky was bottled up without any added colour, or chill filtration. Campbell tells us that this one is consistently getting older, so every drop in here is at least three-and-a-half years old. 
Nose: Barley and orchard fruit at the core of this, with pear drops, Granny Smith apples, Harvesters Chewee, white wine, and acacia honey.
Palate: Juicy and full-bodied, with notes of Scotch tablet, syrupy pear, liquorice, toasted almond, vanilla, macadamia nuts, cream soda, and marmalade.
Finish: Waxy orange peel and STR spice.
In May 2023 came the first in an annual series of limited edition cask strength releases from Lochlea Distillery. This can be seen as a progression from Our Barely, a single malt picked from six recipes made up of a combination of first-fill bourbon (69%) and oloroso sherry casks (31%). Of course, it's bottled at cask strength, 60.1% ABV in this case.
Nose: Coffee fudge, clove orange, fresh barley, stewed dates, fruit punch, and Brazil nuts.
Palate: The palate is oiler than Our Barley, with walnuts, liquorice, darker fruit, cigar, and orange syrup.
Finish: Lots of cereal still but there's also dark chocolate and a hint of sticky toffee pudding with dates.
You can buy Lochlea whisky from Master of Malt.