Launched last year to mark the beginning of the Islay distillery's 200th anniversary celebrations, Lagavulin 8 Year Old woo-ed Scotch whisky fans far and wide with its peaty deliciousness.
It would be a shame to see it expire… And alas, we won't! Because Lagavulin has decided to add the whisky to its rather roomy core range, which currently consists of its famed 16 year old variant and annual Distillers Edition release.
Should you be interested, the tale behind Lagavulin 8 Year Old is an unusual one. The celebratory bottling was created in tribute to Britain's most famous Victorian whisky writer, Alfred Barnard, who sampled an eight year old Lagavulin whisky during a visit to Islay in the late 1880s.
As one of the first ever whisky journalists and travellers Barnard knew his stuff, proclaiming the dram "exceptionally fine" and "held in high repute", which is the Victorian way of saying it was proper tasty and he thought Lagavulin was cool.
Since 200 years of whisky distilling is monumental, the nostalgic lot at Lagavulin thought it would be fitting to recreate this historic happening. Back in the 1800s an eight year old whisky was pretty old, so the blending team kept this in mind as they worked on the tribute bottling.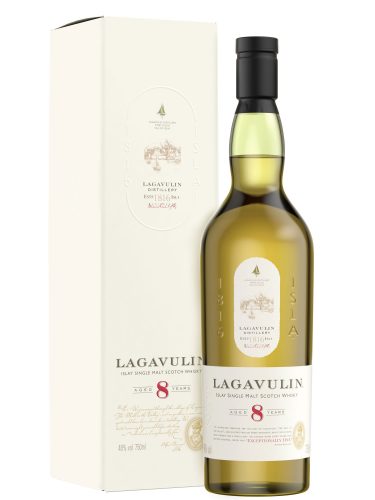 Lagavulin 8 Year Old: here to stay
Pour yourself a dram and you'll discover a whisky that is initially "cooling, soothing and bittersweet", developing into a "warming, beautifully balanced mid-palate". This is followed by a "savoury baked potato skins, salt, smoke, and pine sawdust" into the finish, which is "moreish throughout, with a late, powdery, ash-ridden astringency".
Richard Walker, Diageo's global head of malt, said in a statement: "Our aim for the 200th Anniversary was to bring Islay to life for as many people as possible, and by re-releasing this bottling as a permanent offering in our portfolio, we'll be able to continue sharing Lagavulin's heritage across the globe for many years to come."
It's like Christmas has come early! Speaking of, why not ask #WhiskySanta if he's willing to part with a bottle of Lagavulin 8 Year Old? As my wonderful northern grandmother always cautioned, 'shy bairns get nowt'. Hit that button.