The Kingsbarns Distillery in Fife has just passed some big milestones – not only was it their first anniversary in November last year (they launched the Kingsbarns Distillery Founders' Club to celebrate), but January was the anniversary of their first mash and first spirit distillation! These are memorable events for new distilleries – the start of their journey to making whisky! Congratulations to Kingsbarns Distillery Manager Peter Holroyd and his team!
Peter Holroyd says "Our new make spirit from Kingsbarns is light, fruity and flavoursome in the true Lowland style and now we wait to find out the impact our first fill barrels is having on the distillate – that is a process which can't be hurried! Members of our Founder's Club will have the thrill of owning and tasting the first ever Single Malt Scotch whisky produced by the distillery."
Sounds like a club you want to get involved with? You can still join to be a part of the Kingsbarns story!
Members of the Kingsbarns Distillery Founders' Club will initially receive a Welcome Pack containing a bottle of their New Make Malt Spirit, to show you where their whisky's story starts, as well as a branded Kingsbarns Glencairn tasting glass and a members' club badge. Once their whisky is ready (between 3 to 5 years later, or maybe more – it all depends on the rate of maturation and you can't rush these things), members will receive an exclusive 70cl bottle of Kingsbarns Single Malt Founders' Reserve, and a subsequent bottle each year for the following four years.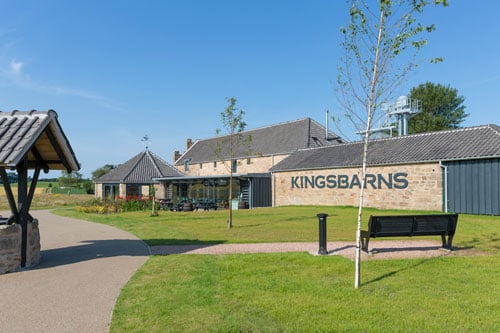 The Kingsbarns Distillery Founders' Club is limited to 3,000 members worldwide and costs £500. Experiencing the exciting development of a brand new Scotch whisky distillery – it's not something you get to do every day, is it?
Sam