What's hot now when it comes to American whiskey cocktail trends? Leading bartender JP Fetherston shares his insights…
It's safe to say American whiskey cocktails are having something of a moment. From Manhattans and Old Fashioneds to Sazeracs and Sours, we've all got a taste for liquid Americana. Which is why, when the Distilled Spirits Council* came to London Town earlier this week, decamping at Somerset House with a contingent of spirits producers in tow, we had to tag along and get involved.
Along with the entourage came noted bartender JP Fetherston, a partner at Washington DC's renowned Columbia Room. As well as receiving multiple awards in the US and beyond for his talents behind the bar, Fetherston also apprenticed at the Bruichladdich distillery under Jim McEwan – so when he chats about cocktails, you sit up and take note. He knows his whisk(e)y. As part of the Distilled Spirits Council's day-long meeting, greeting, tasting session, he took to the stage (bar) to share his take on current American whiskey cocktail trends, what people can't get enough of in the US, and how serves can showcase whiskey to a whole new audience.

Old is old. American whiskey cocktail trends are now thoroughly forward-looking
"Cocktails are the gateway drug for getting into American whiskey," remarked JP Fetherston as he stepped up to the mic. Still today a lot of people who think they don't like rye or bourbon will happily sip on the likes of a Whiskey Sour – an increasingly recognised phenomenon in the US.
But bars and bartenders have been reviving the classics, looking back to the 19th century ("the original golden cocktail era") for inspiration. "This is when bourbon and rye first started to get codified," Fetherston continued, with cocktails creating the demand for rye in particular. But this is focus on the past is now shifting: it doesn't work so well as a recruitment tactic.
"The industry is starting to look forward now, and it's changing the idea of how whiskey can be used in cocktails," he explained, while mixing a refreshing vegetal serve with a cucumber syrup and Wild Turkey 101 as a base.
"People are now starting to think outside the channels," he added. It's a different way to combine flavours – expect to see more forward-looking, non-conventional whiskey serves coming to a bar near you in an effort to convert more whiskeyphobes (and delight the rest of us).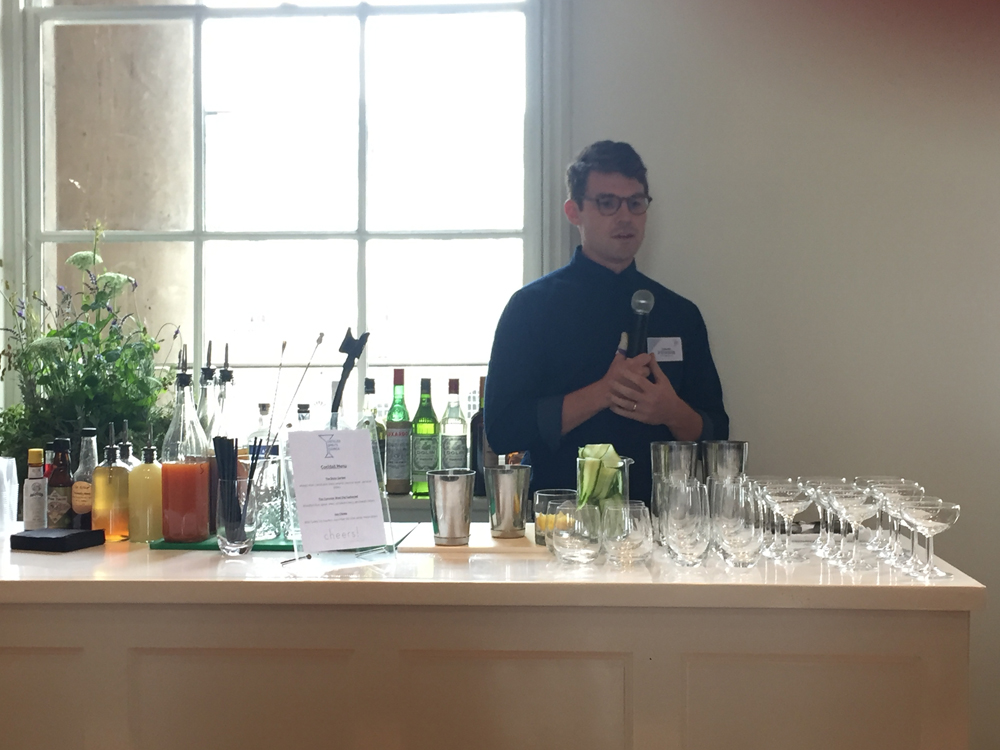 JP Fetherston chatting through American whiskey cocktail trends
Culinary serves: Food is everything
Leading on from the exploration of flavour, Fetherston forecasts an uptick in food-led cocktails, and a "blurring of the lines between the kitchen and bar".
"It's about using elaborate, involved or unfamiliar components of flavour," he explained. While cocktail ingredients and garnishes do play a vitally important part, bartenders are now paying more attention to how they can draw out the flavour in the spirit itself when mixing.
Take dill, for example. It's a flavour not commonly paired with whiskey, but it can actually draw out and amplify notes imparted from the barrel in a cocktail serve, he explained.
This is a concept that extends beyond simple food-pairing exercises – by exploring flavour in this way, bartenders present more of a cocktail/plate hybrid in a serve. Tasty. (Check out Street XO's menu for an example of how this is playing out in the UK.)
Look out for lower alcohol
Murmurings around health and the sugar content of a cocktail have been echoing around drinks circles for some time – but Fetherston says the theme is "not at the forefront" of the sector in the US. Instead it's all about lower-proof serves – or "sessionable cocktails", as he puts it.
In addition to longer drinks, it also means bartenders are eschewing the likes of whiskey and other spirits for sherries, vermouths and other fortified wines instead.
"It's picking up a lot of steam," he says. Watch out, whiskey.
Not just the cocktail capitals
Perhaps most interesting for American whiskey cocktail fans, these trends aren't just confined to the major cities and drinks hubs of the US. "You're starting to see these trends across the board – it's amazing," Fetherston said.
Just 10 or 20 years ago it could be a challenge to get a good drink even in the big cities, he continued, but today people and bartenders everywhere have access to cocktail knowledge and information.
"It's expanding the palate of what things can be," he summed up. "It's defying expectations. People say 'I don't drink whiskey'." Then they try this "second wave" of American whiskey cocktails and are converted, he concludes.
*The Distilled Spirits Council is the trade association for American spirits producers. Check out their membership list if you've got a hankering for American whiskeys, gins, rums and more and want some sampling inspiration.