Nestled inside an 18th century barn located in the depths of the Essex countryside you'll find English Spirit Distillery, which produces the UK's widest variety of spirits and liqueurs all under one roof, and totally from scratch. With the distillers' 10th birthday around the corner, and construction on its shiny second distillery in Cornwall taking shape, all signs point to an action-packed 2021. MoM paid the team a socially-distanced visit…
The English Spirit story begins in Cambridgeshire at the former home of Oxford biochemist and ardent cook, Dr John Walters. Inspired by a Radio 4 feature about eau-de-vie made from wild fruits in the east of France, he set about immersing himself in distilling literature; picking grapes from the side of his house and distilling his first spirit on a four-litre still a short while after. According to Walters, it was as smooth, layered and complex as the £140 bottle of Cognac on his drinks trolley. Galvanised by his creation, Dr Walters found a site locally and established the county's first distillery in 2011 with little more than a single 200-litre alembic still and a reflux column.
Vodka came next, then gin, liqueurs and barrel-aged spirits, all produced with a new make-first philosophy that carries through to this day. "He found that if you really pay attention to the distillation process, it then doesn't become about the botanicals, the spices, the barrel ageing – you really don't have to age spirits for years and years," says general manager James Lawrence. Fast-forward 10 years, and you'll find an even wider array of spirits and liqueurs at the distillery in Great Yeldham, Essex, where English Spirit has operated for the last six years.
The majority is made from a base of East Anglian sugar beet, which is processed at British Sugar's factory in Bury Saint Edmunds and arrives at the distillery as a mash. Seax Vodka is the purest expression of the base spirit; single distilled in a 3.9-metre column still and bottled unfiltered. Dr J's Gin, a London Dry, is pot distilled with juniper, coriander, macadamia nut and citrus zests in 200-litre batches. Coffee Liqueur, one of six liqueurs that make up the core range, sees five Arabica coffee bean varieties partly distilled with the sugar beet base and partly infused using a sous vide.
The distillery's Single Malt Spirit, meanwhile, is made from malted barley wort sourced from a local brewery (before maturing in English oak barrels). And when it's time to make one of three rum bottlings – Old Salt Rum, English Spiced Rum, and St Piran's Cornish Rum – the team source sugar cane molasses from around the globe. Ingredient-wise, nothing is off the cards: English Spirit is the only distillery in the UK to distil sambuca, which is made with elderflower eau-de-vie, and even made the country's first baijiu from 100% British sorghum grains in collaboration with farmer Pete Thompson.
While the distillery team seeks to celebrate Britain's agricultural heritage and seasonality, they are by no means bound by it. Peer closely at the labels and you'll find English strawberries, rhubarb, Victoria plums, cucumbers and red cherries alongside Sicilian lemons and even exotic wood species – Canadian sequoia, Norwegian pine and Omani date palm – which were distilled with sugar cane molasses to make Great British Rum, a recent collaboration with intrepid explorer Sir Ranulph Fiennes. 
Compared to the historic barn at Great Yeldham Hall – a Grade II Listed building that dates back 200 years – the new distillery, located at Treguddick Manor in Cornwall "is like being blasted into the 21st century," says Lawrence. Where the Essex site is home to 20 gas-fired customised copper pot alembics from Portugal, collectively nicknamed 'Fanny', the new build will house a vast electric-powered still – around 1,500 litres in capacity – designed by a German engineering firm to English Spirit Distillery's precise specifications. 
"We use small stills to make an exact cut between heads, hearts and tails," Lawrence explains. "Sometimes we might want to grab just a fraction of the heads or a few esters off the tails to make a particular flavour profile. The art of distillation is knowing when to make that cut, and choosing how much of those elements to take. Anything over 200 litres in size, you traditionally start to lose the ability to have that precision. You might be at 90%, but you won't be at 100% accuracy. But John has found a still that can do that in one giant electric-powered self-contained unit."
The super-still isn't the only standout aspect of the new site, which will feature a giant waterfall, a restaurant, and five geodesic domes within which the team will grow botanicals and base spirit ingredients, from wheat and sugarcane to Mediterreanean herbs. "Imagine the Eden Project, but smaller, and with more booze," says Lawrence. The ingredients will also feature in dishes in the kitchen. "We really want to start showing people how you can bring food and spirits together," he says. "Bespoke drink pairings, cooking with spirits – using them as novel ingredients to get amazing new flavours out of dishes."
To mark a decade of distilling, English Spirit will return to its roots with the release of an aged brandy made with English wine – fitting, given eau-de-vie started it all. As construction works rumble on at the Cornwall site – "at the minute we're in deep electrics and plumbing phase," says Lawrence, with the new still set to be fitted in February – 2021 is shaping up to be a corker for the team. "We're flying along, it's amazing," he says of the project. "I couldn't be more proud."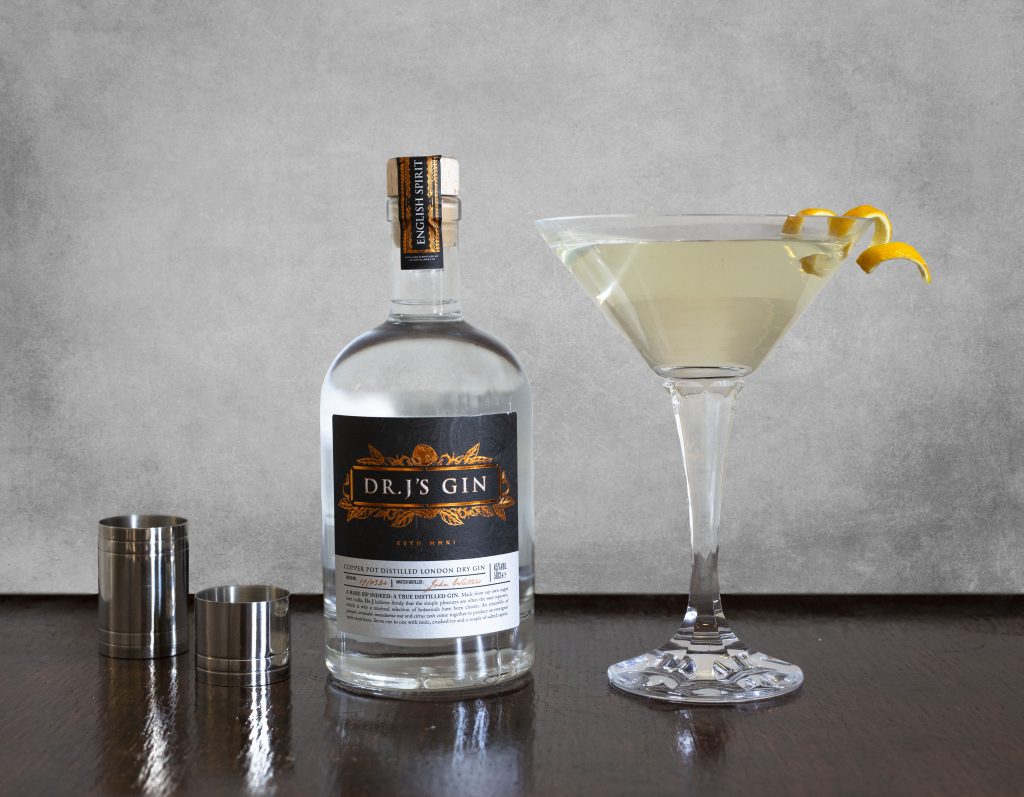 Tasting notes:
The ingredients for Dr J's London Dry? Single-distilled sugar beet new make, juniper berries, coriander seeds, citrus zests (orange and lemon), macadamia nut, and water. That's it.
Nose: Clean and herbal at first, a second whiff reveals a gentle sweetness underpinning those initial bright grassy notes.
Palate: Creamy menthol, with a hit of juniper and coriander. A pepperiness with vibrant, fresh lemon zest. 
Finish: Dry, lingering lemon, warmth and a kick of macadamia nuttiness. Supremely fresh. 
Named after the patron saint of Cornwall, St Piran's is made exclusively from sugar cane molasses and blended with Cornish water drawn from a borehole at Treguddick Manor.
Nose: Grassy and vegetal, with a touch of salt, honey, and soft white pepper warmth.
Palate: Dry on the entry with tart citrus and coconut cream. Evolves into raisin and caramel.
Finish: Medium length with vanilla custard, a hint of agave and a menthol note at the very end.
Made by macerating the distillery's Old Salt Rum with cherries, hibiscus, citrus, ginger and a few secret ingredients – referred to by Dr John as 'pixie dust' – overnight.
Nose: A huge waft of ginger, wrapped up in brown sugar. Hibiscus follows, with hints of sweet vanilla
Palate: Thick and syrupy with toffee apples, glazed cherries, sweet spices, gingerbread, rich raisin and caramel notes.
Finish: A short finish, with bitter orange, cinnamon and a touch of charred oak.
The team has taken five different varieties of arabica coffee beans and combined them with a base spirit made from East Anglian sugar beet. Some beans are redistilled with the spirit, others undergo a sous vide process. The two are combined and bottled as a liqueur at 25% ABV.
Nose: Milk chocolate, roasted coffee beans. Rich, earthy and complex with a leathery, almost tobacco element and hints of dates and cherry.
Palate: Freshly ground coffee with demerara sugar, vanilla. Transforms into delicious mouth-coating bitter espresso.
Finish: Long, with lashings of gooey caramel and a lingering coffee cake note.