Mexico's first whisky distillery has launched its inaugural whisky, Abasolo, as well as a corn liqueur. We talk to its creator, Dr Ivan Saldaña, about the importance of corn, why he chose to use a 4,000-year-old process and more.
News of a release from a new whisky-producing country always raises a few questions: will it emulate Scotch whisky like Japan or forge a new path? Will it represent its country of origin? And, most importantly, will it taste any good? Abasolo Mexican Corn Whisky, which has just arrived in Britain, isn't Mexico's first whisky, but it is from the country's first dedicated whisky distillery. 
The Destilería y Bodega Abasolo is based in Jilotepec de Abasolo (about an hour and a half's drive outside of Mexico City). It might be new but it has some serious pedigree behind it in the form of Dr Ivan Saldaña and Casa Lumbre. They make spirits that explore the potential of Mexican raw materials, prioritising provenance and sustainability. Which you'll know if you've tried Montelobos and Ancho Reyes Chile Liqueur.
It seemed only natural at some point they would make their way to whisky. "We aim to bring Mexican biological, cultural and ancestral heritage into the world of Mexican spirits. Mexican whisky was a category we wanted to be part of and we felt we could truly add a new flavour and style as a New World Whisky," Saldaña explains.
The basis of the profile is corn, as you probably guessed from the whisky's name. Doesn't sound particularly revolutionary but corn in Mexico is a bit different. This is the birthplace of the grain. It's home to at least 59 different varieties. It's central to Mexican culture and the beginnings of its cultivation began nearly 9,000 years ago and altered the way people eat there. "We wanted to find out if Mexican corn could provide something distinctively different from the standard corn used in the bourbon industry," says Saldaña.
After a year-and-a-half of testing multiple varieties, Saldaña settled on using non-GMO cacahuazintle (Ka-ka-wha-SINT-lay), a variety with large kernels prized by generations for its taste. It's the only raw material used, which is unusual. Corn-based whisky like bourbon typically also includes wheat, rye and/or barley in its mash bill. However, Saldaña says the cacahuazintle, which is sourced from three local farms from which the company buys directly, is unlike much of the corn used in the whisky industry. The cultivation of it has prioritised flavour. It hasn't been hybridized or genetically modified to prioritise long shelf life or resistance to disease, herbicide and pests. "The better the raw material you have, the more straightforward your process is to transform it into a rich and interesting spirit," he explains.
After being field-dried, a small percentage of the corn is malted. The majority of the corn, however, is nixtamalized. It's a 4,000-year-old process used to make staples such as masa, tortillas, tamales, which involves soaking and cooking the corn in an alkaline solution (usually a lime bath), which is then washed and then hulled. "We truly wanted to use processes and techniques that are part of Mexican heritage. This is the first time, as far as we are aware, that anyone has used this process in spirit production," says Saldaña. "Nixtamalization opens up the floral sweetness and warmth of the grain. It allows us to mill a finer flour so more of the starch can become sugar, and those sugars can become alcohol".  
Gigantic coffee roasters have been adapted to roast the nixtamalized grain to create a flour that becomes the base of the mash. Fermentation takes place in 14,000-litre stainless steel washbacks using a Champagne yeast, which Saldaña says was favoured because it can tolerate high concentrations of sugar and alcohol. The length of fermentation, five to six days, is a long time for a grain spirit in particular, but Saldaña explains that the longer you maintain fermentation, the more you create a more complex mash and alcohol. "It absorbs flavour from the raw material that has not become alcohol but is floating in the washback. We're getting all the flavour that is possible to attain which creates more densely rich and delicious alcohol".
The whisky is double-distilled in onion-shaped copper stills and the first distillation comes out as 40% ABV. The cuts are simple. Saldaña says he takes a couple of litres of heads out and doesn't really cut the tails. After the second distillation, it comes out as 62% ABV and he ages the liquid in 200 litre second-fill American oak barrels, most of which are from Buffalo Trace and have a Level 4 char. It's not aged for too long, not just to be mindful of Mexico's climate, but to ensure there's not too much cask influence. "We want to showcase the exquisite complexities the corn can bring and complement it with the wood," Saldaña says.
The Destilería y Bodega Abasolo sits at 7,800 feet above sea level, making it one of the 10 highest whisky distilleries in the world, according to the team. They have made no effort to curb the climate and environment here, however, but instead have harnessed it by eschewing traditional warehousing and transforming the former horse stables into open-air warehouses. "In this region the average temperature fluctuates greatly even between day and night, going between humid and dry, warm and cold. So the climate and environment are having a profound effect. We are truly in a condition where the liquid is actively working," Saldaña says. 
Saldaña says he's very proud of the distillery and that it's the most ambitious project he's ever been part of. He's created a brand that is at the centre of the conversation about what Mexican whisky is and could be. Other brands like Pierde Almas Ancestral and Sierra Norte have also used heirloom corn varieties as the base for its whiskies and it would be wonderful if that became a defining feature of the category. But when you add a process like nixtamalization into the mix too the result you have is a whisky like Abasolo that is truly Mexican in both process and profile. Which is exactly what we want from new whisky-producing countries.
Having already answered the first two questions asked in the first paragraph, all that remains is to address the most important one. Does it taste good? In a word, yes. It's rare to sample something where the production process and raw material are so evident. It's earthy, husky, fruity and sweet in equal measure, with a character clearly founded in the corn. The unique methods used have achieved what Saldaña intended. The cask adds delicate, understated notes and provides plenty of room for the distillate to breathe.
If people are expecting a bourbon alternative, they're going to be disappointed. It's completely singular in a way that won't be for everyone. It's a little rough around the edges and a more aged expression with classic cask notes would be more appealing to some. But if you're looking for something original and interesting, it ticks all the right boxes. Check out the full tasting note below for more on what to expect. 
Abasolo Mexican Corn Whisky and Nixta Mexican Corn Liqueur are now available from Master of Malt.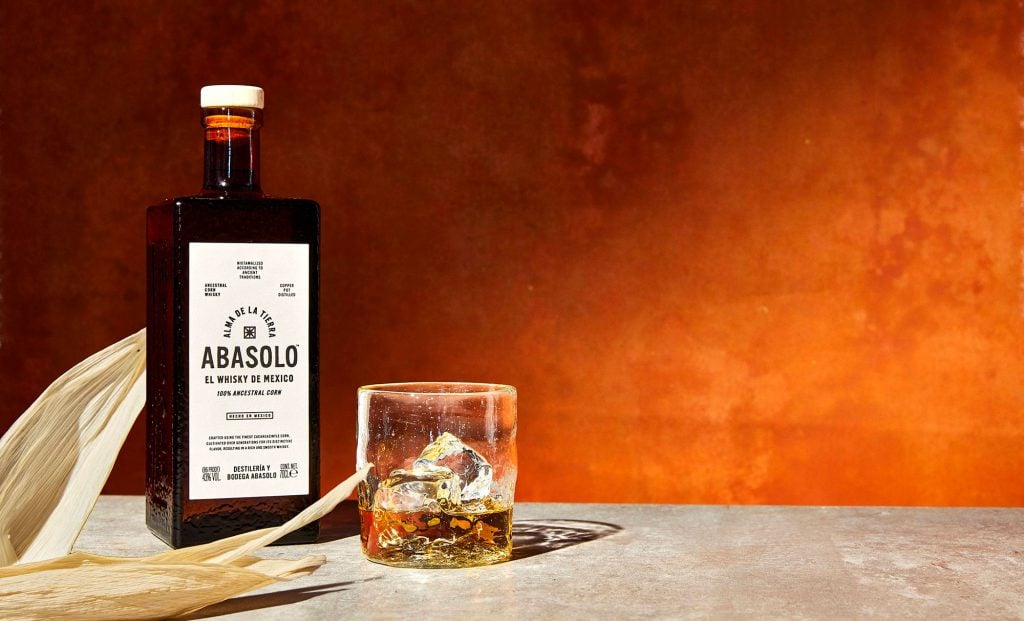 Abasolo Mexican Corn Whisky Tasting Note:
Nose: Roasted corn, buttery popcorn and some green, vegetal notes lead in a distinctive, direct nose. Give this time to breathe to allow the aromas to settle and develop and you're rewarded with notes of vanilla, a hint of toffee and tinned peaches, with earthy black tea, floral honey, new leather, clove and pencil shavings in support. There's a hint of corn husk throughout as well as a soft, cookie dough element (with chocolate chips). 
Palate: An initial tannic abrasiveness subsides for plenty of more the same corn-notes as the nose, as well as milk chocolate, soft vanilla and oak char. Touches of baked apple, caramel and salted butter add depth, amongst some spice from white pepper, cinnamon and clove.
Finish: Like a big scoop of chocolate and vanilla ice cream, with a little salted popcorn and orchard fruit in the backdrop.
Recommended serve: The Jilo Old Fashioned. To make, add 50ml of Abasolo whisky, 10ml of Nixta Mexican Corn Liqueur and 3 dashes of Angostura Bitters to a mixing glass. Add ice and stir under cold and diluted. Zest lemon and/or orange over fresh ice in an Old Fashioned glass then strain the drink into this glass. Roll a lemon and/or orange twist on top of the ice as a garnish. This whisky should also work in any sour or citrus-forward cocktail too and will mix well with ginger beer or coconut water.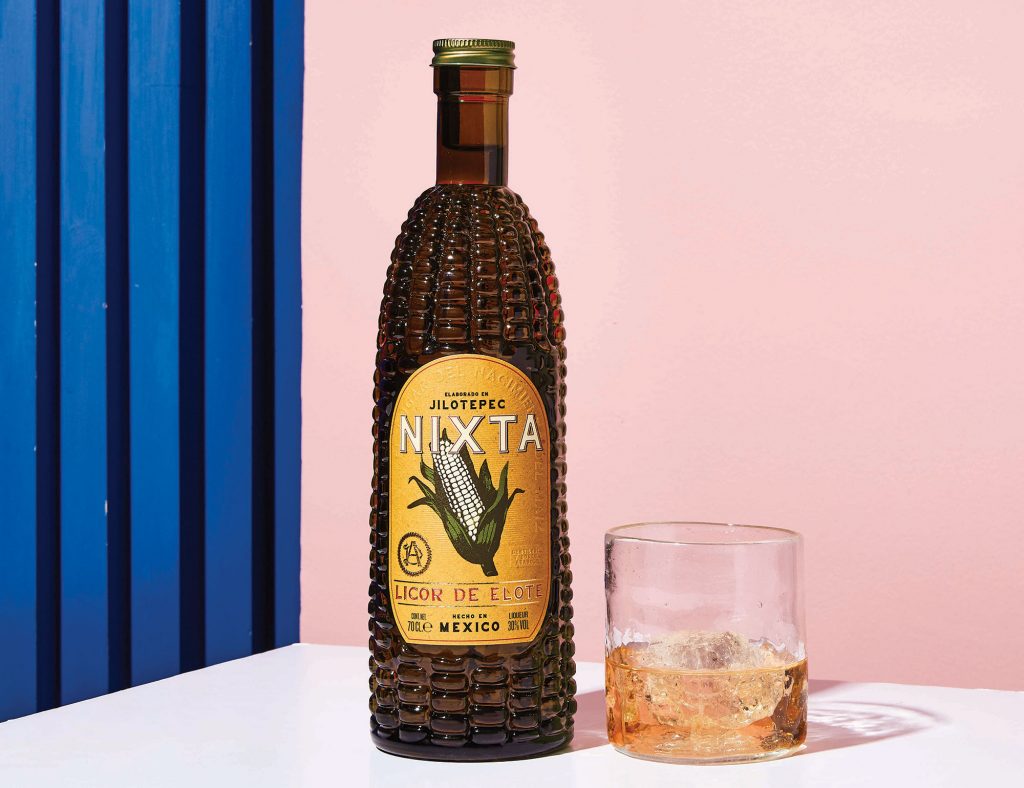 Alongside the whisky, Casa Lumbre also launched this tasty little treat. Much like Abasolo, Nixta was made to express the deepest flavours of corn. It's crafted from new make Abasolo whisky as well as fresh corn and roasted corn and the distillate is sweetened with piloncillo and previously clarified sweet must. The result is a sweet, thick and rich concoction, as you'd expect from a liqueur, but with some husky, earthy qualities that add dimension and make this really interesting.