Morris might be one of Australia's most celebrated wineries, but it has recently entered the world of whisky and has hit the ground running. Here's how a respected wine family dynasty made the transition look easy.
In Australia, north-eastern Victoria is regarded as the capital of fortified wines, ever since vines were brought along with the Gold Rush of the 1850s and were planted in the rolling hills of Victoria's Riverland, fed by the mighty Snowy Mountains and Murray River. Here you'll find the small town of Rutherglen, home to less than 2,000 people, including the Morris family, whose winery was established in 1859. Here six generations have made fortified wine, a tradition maintained today led by head winemaker David Morris. 
This generational expertise, impressive stock, and popular brand made the winery an attractive proposition for Casella Family Brands, which bought it in 2016 but kept the Morris family doing what it does best. But it wasn't just the wine that tempted John Casella. He always had a passion for single malt whisky and had a dream to create a great Australian example. And the Morris family had an original 1930's hybrid copper-pot still, used to make the spirit for the fortified wines since 1941, although it had laid dormant for some time.
When you put 2+2 together you get 4, and when you realise you have a unique still as well as access to an amazing library of fortified casks that could be used to finish whisky, you have yourselves the making of a great distillery. One with a point of difference. Who else starts off with that level of drinks knowledge and quality of equipment to hand? "With these factors combined, alongside a passion for whisky from the family, we knew it was an opportunity that couldn't be passed up," says global marketing manager, Michael Sergeant.
Living up to the family name
With all these advantages comes a certain pressure: the Morris brand has a reputation to uphold. John Casella knew the most critical thing was to get the liquid quality and brand proposition right from the outset. He set up the Copper & Grain Distilling Co. and the Rutherglen Distillery to be the home to Morris Whisky, and carefully restored the hybrid copper pot and column still, naming it Aurora, after the princess in Sleeping Beauty who awoke after close to a century of slumber.
He then ensured that all the barley used in Morris Whisky production is 100% Australian sourced, malted in Australian maltsters, and then brewed at the family-owned brewery. "Having our own grain supply is an advantage as we are able to control the quality and consistency of the grains we are using in our whisky, allowing us to ensure that each bottle of Morris Whisky has the same exceptional flavour," Sergeant explains. There is scope in the future to try other grains but for now it's just malted barley.
Pure, filtered water from the Snowy Mountains is also used in Morris whisky production. But the star of the show is Aurora which produces 400-500 litres of high strength new make spirit per batch which comes off the still at 78% ABV – the strength chosen by the distillers for having the right balance of flavours and congeners. The process is overseen by a team of highly-regarded experts, including ex-Diageo man and head distiller Darren Peck, who has worked for the last five years under the tutelage of John McDougall, a renowned whisky maker with experience with Balvenie, Laphroaig, and Springbank. He now consults exclusively to Morris as master distiller, while the late Dr Jim Swan, was also a key member of the original Morris Whisky team. 
Where whisky and wine meet
Both McDougall and Swan were integral in designing a unique barrel maturation program, and providing the team with a special and unique barrel toasting regime. David Morris helps identify the best casks from a library that includes barrels over a 100-years-old. They're all prepared by hand at a private cooperage in-house in Yenda, which is led by Anton Remkes, a great advantage as the distillery can create customised shaving and toasting methods for optimal maturation.
The whisky is matured in a combination of American and French oak casks, ex-Shiraz, and Cabernet red wine barrels specifically, selected from wineries in the Barossa and Coonawarra regions.  The Signature Whisky is then finished in a combination of Morris fortified barrels, while the Muscat Barrel Whisky is finished in, you guessed it, rare Morris Muscat barrels, some of which have held what the brand claims is the world's most highly awarded fortified wine.
These fortified barrels offer Morris an exceptional edge, creating whiskies with a combination of style and quality few can match. The Morris winery makes some of thebest fortified wines in the world, while the Rutherglen region's climate lends itself to whisky production with hot summer days and cool nights, conditions that are perfect for ageing and helping create the distinctive Morris Whisky taste. 
At the forefront of a growing category
Creating whisky with a winemaker's perspective is an intriguing perspective, as two worlds collide.  Morris says that, from the beginning, the brand set itself two main guardrails: 1) to be respectful of the traditions of single malt whisky-making and 2) honour the heritage of the Morris family. "We also found on our journey that there are more similarities than not between these two worlds, the attention to detail, the influence of terroir, the quality and purity of ingredients, and the role of the barrels in ageing and blending," Sergeant explains. "Over time, we also learnt that both consumers and trade alike were open and intrigued to learn more about the craft of fortified winemaking and how these amazing aged liquids can impart rich and intense flavour into whisky.  While our ambition is for Morris Whisky to be regarded as a world-class single malt in its own right, we hope that we can help shine a light back onto the amazing fortified category for many spirits consumers to rediscover and enjoy".  
This approach has helped set Morris whisky apart from other distilleries in what is an increasingly strong and competitive Australian whisky market. Accelerated growth has defined the category, with the sales of local whisky more than doubling from 2019 to 2020 according to IWSR (International Wines and Spirits Record). The folks at Morris are confident that success isn't fleeting and that drinkers both local and overseas will continue to appreciate the Australian flavour. Certainly, Morris seems to have a bright future, with 2021 a bumper year for the brand with the release of its first whiskies.
Australia's leading wine and spirits writers have given Morris Whisky glowing reviews, picking up numerous awards and receiving overwhelmingly positive feedback from both consumer and industry professionals for redefining the pricing of quality Australian single malt whisky and making it more widely accessible.  These last two points, in particular, are very encouraging as they have tended to be the factors holding the category back. For Morris though, everything is moving forward. Premium releases and ideas to develop the range further are in the works, as are plans for greater distribution to an increasing number of markets, and the team are also close to opening its own brand home, the Morris Distillery in Rutherglen in 2022.  
The review
It's a story and an approach that has grabbed the attention of a few of us at MoM Towers, with its reasonably priced inaugural releases (especially for 700ml bottles, a rarity in Australia) and wine legacy prompting several of us to find out if what's in the bottle lives up to the promise. So, let's take a look at the two releases, which are available now simply by clicking the links.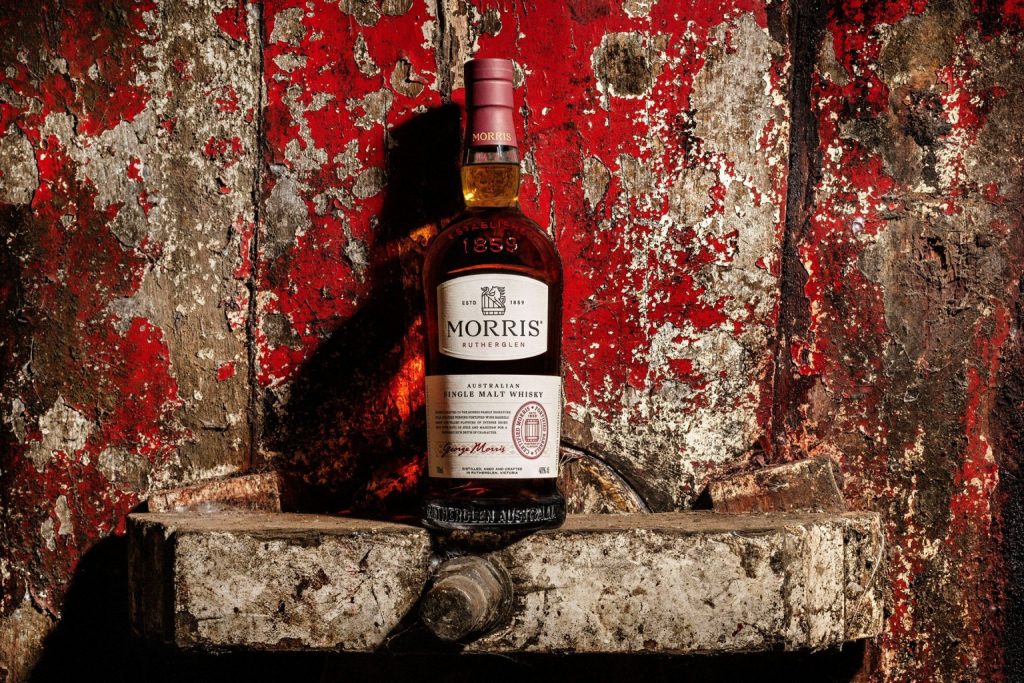 Morris Australian Single Malt Whisky Signature
Here we have the Signature single malt whisky from Australia's Morris Distillery. This expression is aged in fortified wine barrels and, as you'd expect, benefits from all that intense, rich fruity character. Sherry cask lovers will love its blend of spice, sweetness and nutty qualities, while an underlying biscuity malt and orchard fruit character I'd guess is coming from the spirit adds depth and plays with the cask notes beautifully. A very enjoyable sipper, one that's hard not to go back to.
Nose: Biscuit malt, marzipan and jammy black fruits make way for dark chocolate, stewed apples, earthy vanilla, and zingy orange zest.
Palate: Rich and unctuous, with fruitcake, nutmeg, chocolate digestive biscuits, as well as touches of menthol cherry sweets and a little cassia underneath.
Finish: The full-bodied sweetness lingers with a hint of aromatic spice.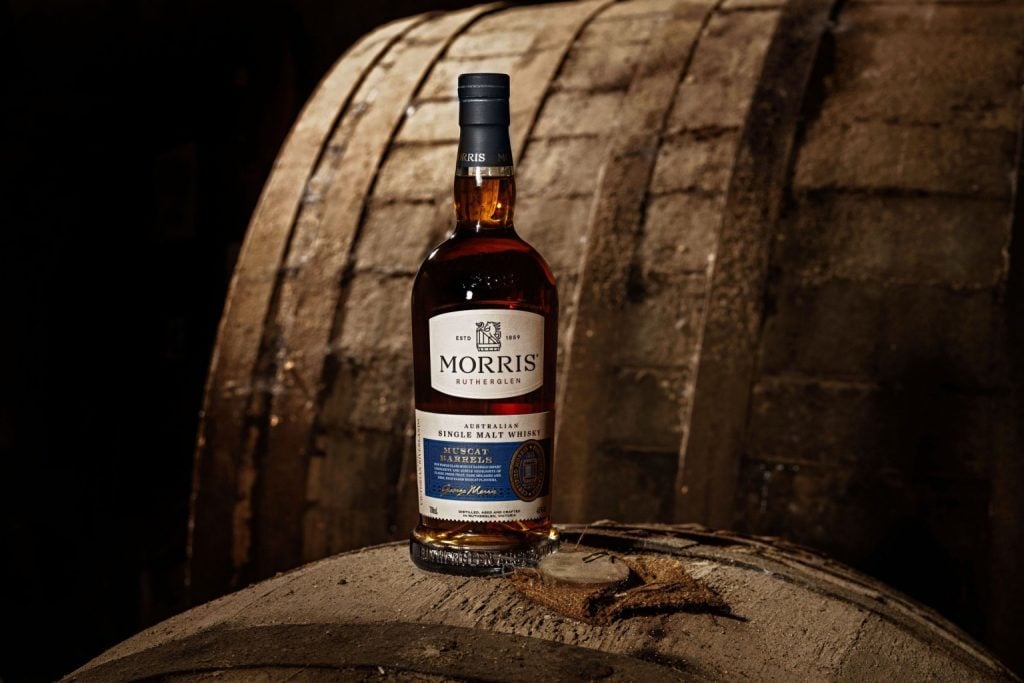 Morris Australian Single Malt Whisky Muscat Barrel Finish
The more premium offering with its unique finishing period in Morris Muscat barrels, no other whisky can boast that. The prestige is matched in good measure by personality, with oodles of aromatic spice, toasty sweet notes and dense fruit mingling away together. It's a statement whisky from the brand and it's got very interesting things to say, particularly in a palate that defies its age and has some truly complex notes. This will prove very popular I think.
Nose: There's an unctuous funk moving through this, Medjool dates, deeply caramelised apple and wine-soaked oak playing with beeswax, Muscovado sugar, mocha and rich malt. Licks of manuka honey and a hint of sweet tobacco are present throughout.
Palate: Prunes, raisin and oily nuts lead with vanilla pod earthiness, dark chocolate, cardamom, and more stewed orchard fruit in support. Underneath it all, there's floral, fruity tones, allspice, and a touch of damp forest floor.
Finish: A drier, spicier finish carries with it rich oak, dark molasses, strawberry bonbons and baking spice.