Neptune Rum was only launched in 2017, yet it already boasts over 40 prestigious global awards. How did the brand do it? We find out.
"I actually, physically, dreamt Neptune Rum, which is the most bizarre experiences I've ever had. I was walking down a beach in Florida after a hurricane, with large waves crashing and dark clouds. Then a beam of sunlight broke through the clouds and hit something shiny. I picked it up, and it was bottle of Neptune. I then immediately woke up."
The name of Richard Davies' rum brand, Neptune, came to him in a dream. The former hot air balloon pilot, bartender and restaurateur had been struggling to find the right name and angle for his new rum. It seemed too good be true, however. Rum has such an obvious association with sailors (not just pirates, people). Neptune is the Roman god of the ocean. Neptune's trident is on the flag of Barbados. Davies wasn't optimistic. Surely somebody had already trademarked it?
He was pleasantly surprised when he uncovered, after much Googling and research that began post-dream at 3am, that this was not the case. There were bars. There were cocktails. But there was no Neptune Rum brand. Davies was confident he had stumbled upon something. He consulted with James Molloy, now Neptune's commercial operations director, who agreed. The two trademarked the name at the end of 2016 and launched Neptune in the UK market in 2017. The Neptune brand was born.
It's now just over a year later, and Neptune Rum will end 2018 as the world's most awarded rum of the calendar year. As you can imagine, that also came as a surprise for Davies. Here at MoM Towers, we're a sucker for any kind of great booze, so we just had to find out more. We headed off to the appropriately-named modern seafood-focused restaurant and bar Neptune (it's no relation to the rum), to discuss the brand with Davies and Molloy. And try a tipple of the good stuff, of course. It would have been rude not to…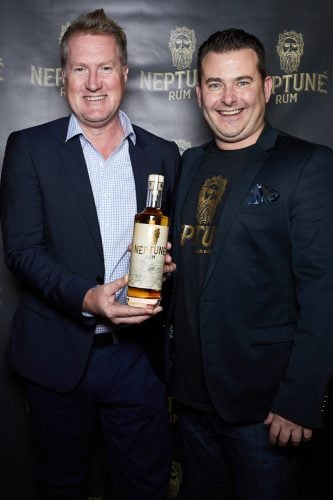 Richard Davies and James Molloy, holding their rum like proud fathers
Why rum?
When Davies initially explored developing a new drinks brand, it probably won't surprise you to learn that gin was his first focus. However, he moved away from that idea after "talking to industry people".
"I thought, actually, no. Gin is there, and it's done its thing. What is coming next?" he said. Shifting his focus, Davies became aware of more and more people ordering rum at bars, and of the lack of diversity and quantity in rum brands.
This appeared to Davies to be a gap in the market. "The gin revolution helped pave the way for premium spirits, but the public is realising there are alternatives out there," he explained. After various trips to the Caribbean, visiting as many distilleries as he could, Davies returned to the UK with a new appreciation for the romantic side of rum and its ridiculously rich history, as well as its huge cocktail potential.
The sheer number of awards Neptune it has received in such a short space of time would suggest it was a smart move. The brand was named Britain's Best Rum Brand at the 6th Golden Barrel Awards, as well as Barbados Rum of the Year at the New York International Spirits Competition 2018, and the Berlin International Spirits Competition.
It's also received gold medals at the New York International Spirits Competition, the San Diego International Wine & Spirits Challenge and The China Wine & Spirits Awards in 2018. That's just a few examples. Neptune Rum has picked up more than 40 prestigious accolades and awards already. Which is, to use a technical term we say all the time in the industry, bloody loads.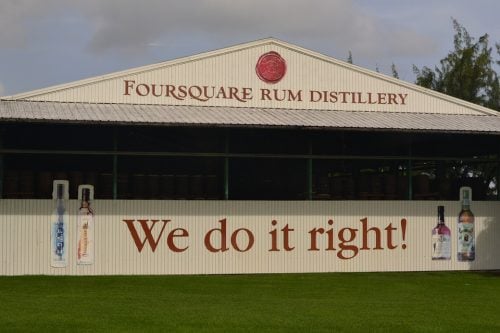 The incredible Foursquare Distillery in Barbados
How is Neptune Rum made?
It almost sounds like creating award-winning rum is easy. Alas, this is not this case. Neptune is a blended rum, an area fairly new for the pair. "The blend is totally unique to me, and it probably took 12 months to get right," Davies reckoned. He needed a distillery to produce liquid for the blend on a large scale. So, he and Molloy set off to the oldest distillery in Barbados, and one of the world's most thrilling rum producers, Foursquare Distillery.
Neptune had a desire to associate itself with Foursquare not just because the distillery makes awesome rum (it was named Rum Producer of the Year at the prestigious International Spirits Challenge 2017), but because Davies wanted to work with a team he felt were "at the forefront of the revolution with regards to be totally honest and transparent".
The duo secured an audience with the well-respected, outspoken rum aficionado and fourth generation rum master at Foursquare Distillery, Richard Seale. Molloy described it as being akin to being in the headmaster's office. However, according to Davies, Seale was "blown away by my blend", while Molloy noted that Seale's comment that Neptune had "made a bloody good rum out of my rum". Seale agreed to work with them, with current production now standing at about 2,500 bottles every three months.
The finished product (and the Neptune Rum you'll find on this very site) is a single-island blend of both pot- and column-distilled Bajan rums distilled for eight, five and three years. It's made from pure sugar cane molasses and distilled at Foursquare. "We have the best of all worlds. We've been able to take these amazing rums and produce something that he doesn't produce," Davies explained.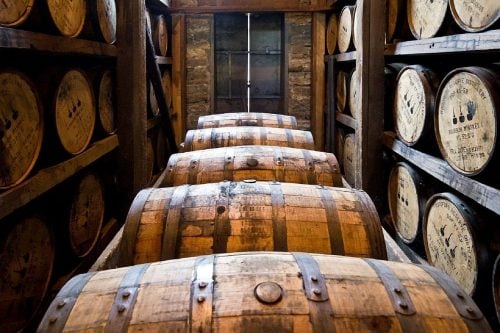 Neptune Rum ageing in ex-bourbon barrels
Neptune isn't just distilled in Barbados. It is also matured there in ex-bourbon barrels. This is "the most important of the process", according to Davies, because of the effect of tropical maturation. Which is to say that spirits demonstrate more impact from contact with oak in hotter climates compared to colder ones. In turn, rum matured in hotter climates can take on the style and quality of much older liquid. Neptune is aged in Foursquare's outdoor maturation huts in average 27°C temperatures. That's tropical ageing, all right.
Neptune's final production stage involves a specific cold-filtration process and the addition of soft spring water to dilute the rum from 68% ABV cask strength to its 40% bottling strength. It is bottled in England, without any additional colouring or sugar. Davies was keen to emphasise that he wanted Neptune "to be really honest and very transparent" as a brand. "A lot of producers in the rum industry are a little cloak-and-dagger, which is thankfully coming to an end," he added.
They key to success isn't just to source great rum and make an amazing blend out of it. One of Neptune's strengths as a brand is savvy marketing. Ensuring transparency in its production process, an increasingly important trend that modem consumers respond to, in an example of this. As is the brand's desire to become more ethical, with plans to go plastic-free by next year and found its own charity.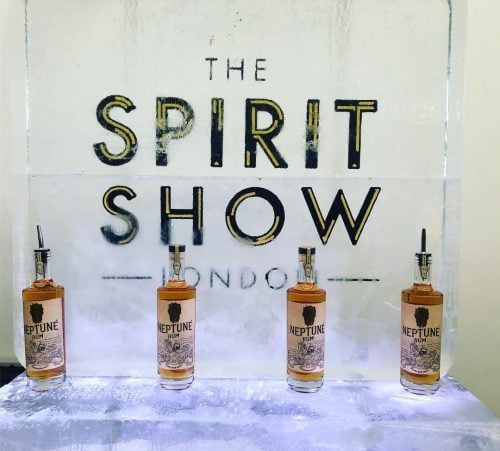 Neptune Rum made its name at rum shows and festivals
There's also the bottle itself. Tall and sleek, the Neptune bottle holds its own on a crowded back bar. The label embraces Roman sea god mythology and imagery, and specialist aged paper stock captures the feel of a treasure map washed up on the shore after a storm. There's a lot going for it, so there's no surprise Neptune stirs up so much excitement at rum shows and festivals.
Of course, Neptune's biggest asset ultimately its taste. But what does it actually taste like? Here's are our classic notes to help you get an idea.

Neptune Rum
Tasting note for Neptune Rum:
Nose: Maple syrup, fresh apricot and vanilla are followed by prickles of spicy pepper and nutmeg. Warm bourbon oak and sherried peels develop.
Palate: A viscous and refined palate is filled with ripe peaches, as well as touches of shredded coconut and green banana. More vanilla is present underneath with a faint hint of returning peppercorn and toasted white fruit.
Finish: Medium-length and sweet, with caramelised banana and brown sugar.
Overall: Mature, full-bodied and smooth, this is an exceptionally impressive rum for its age. It strikes you as a very mixable spirit, too.
Recommended Neptune Rum serves
One of the things that attracted Davies to create rum was its versatility. "Rum should be drunk any way you want it, as far as I'm concerned," he said, and the great thing about a rum like Neptune is how much it shines in a variety cocktails. Give it a go neat or on the rocks, or try mixing it up, from the simple Rum and Cola, to the more complex Espresso Martini. We've done the decent thing and included four recipes for you to enjoy at home!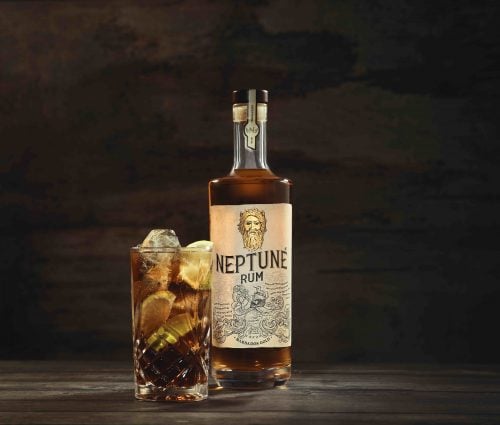 Neptune Rum and Cola
Neptune Rum and Cola: You can never go wrong with a classic Rum and Coke. It tastes great and it's super easy to make. Add 50ml of Neptune Rum to a highball glass filled with ice. Then top with cola; Fever-Tree Madagascan Cola really highlights the vanilla flavours. Then garnish with fresh lime slices.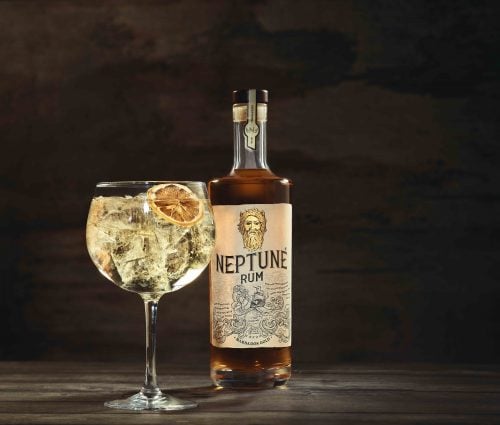 The Neptune Rum and Tonic (R&T)
The Neptune Rum and Tonic (R&T): Swap out gin for rum to revamp your go-to tipple. All you need to do is add 50ml Neptune Rum to a highball glass filled with ice and top with tonic water (the brand recommends Fever-Tree Premium Tonic Water) and a dash of orange bitters. Garnish with an orange twist and you've got yourself a simple, rum-tastic treat.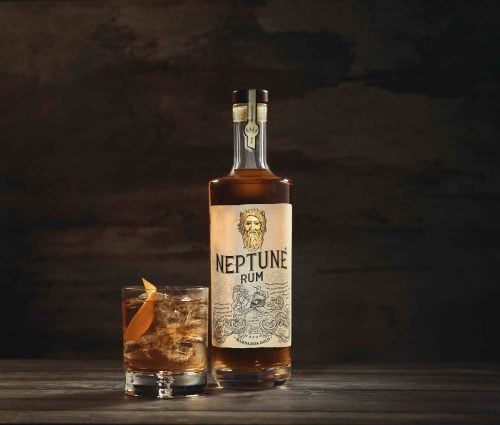 The Neptune Old Fashioned
The Neptune Old Fashioned: The quintessential whisky cocktail is rum-ified to great effect here. To make, add 60ml of Neptune Rum and 0.5ml of sugar syrup to a tumbler, then top with 2 dashes of Angostura Orange Bitters and 1 dash of Fee Brothers Black Walnut Bitters. Stir it all together, add ice and garnish with an orange twist.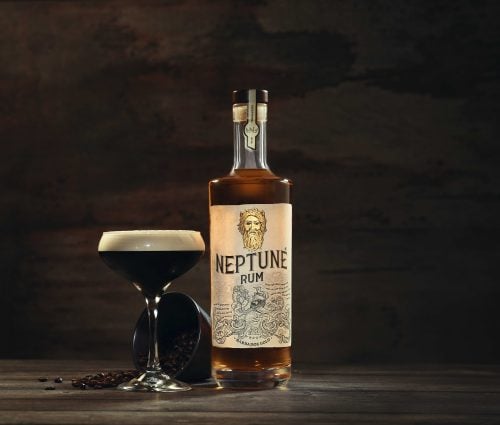 The Neptune Espresso Martini
The Neptune Espresso Martini: It might not be the first thing that comes to mind, but I can assure you from experience that Neptune Rum makes a killer Espresso Martini. To create, put 30ml of Neptune Rum, 20ml of St. George Nola Coffee Liqueur, 10ml of Gonzalez Byass Nectar Pedro Ximénez and lastly 25ml of fresh espresso into a cocktail shaker with ice. Shake vigorously for 20 seconds before straining into chilled Martini glasses (20 minutes in the freezer should do it), and dust with nutmeg.