Earlier this month, Maxim Schulte triumphed at the seventh annual Beefeater MIXLDN cocktail competition with his mouth-watering serve, Stack of Fortune. We caught up with the Macau-based bartender to discover the secrets behind crafting an award-worthy cocktail…
Regardless of whether you're an expert behind the stick or a wistful amateur, there's always room to hone your cocktail skills. And who better to glean advice from than a drink-slinging champ?
Introducing Maxim Schulte of The Ritz Carlton in Macau. After an intense four-challenge cocktail showdown in London, he beat 30 other finalists from across the globe to clinch the sought-after accolade of Beefeater MIXLDN 7 Global Bartender Champion – so he knows better than anyone how to create a cracking drink.
His winning cocktail, Stack of Fortune, won over an expert panel that comprised the likes of Ryan Chetiyawardana of Dandelyan, Doug McMaster of Cub, Alessandro Palazzi of Dukes, Simon Difford of Difford's Guide, Beefeater global brand ambassador Sumaiyah Connolly, and Beefeater master distiller (and all-round gin legend) Desmond Payne MBE. So you could say he comes highly recommended.
Here, Schulte shares his top tips for experimenting with flavour, muses over the next big cocktail trend and offers up some advice for those considering competing professionally…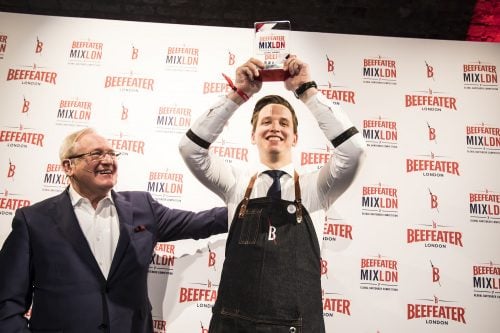 Payne, left, pictured with Schulte as they celebrate his hard-earned win
MoM: How did you get into bartending?
Schulte: Growing up in Hamburg, I always had an interest in bartending. When I was 18 years old, I was working in nightclubs but I always wanted to push my cocktail-making further. I wanted to explore bartending as a profession and that's how I ended up doing an apprenticeship. I spent two and a half years working in all of the departments within a hotel and no matter what other aspects of the leisure industry I tried, I always ended up back behind the bar! I have to thank the bar team that I worked with during my apprenticeship as they were very experienced and pushed me a lot in terms of product knowledge and classic cocktail-making. Now I work in The Ritz Carlton in Macau, on the 51st floor in the bar and lounge. It's a classic bar, you have views all over the city, a long bar counter and live jazz music. I've been there since March last year and look after the bar and our team. We have a great group – there are 11 of us and we are all passionate about bartending. We love working together to create new flavour combinations and testing out new techniques.
What was the inspiration behind your serve, Stack of Fortune?
The brief was to create something inspired by our [home] city, and I knew exactly what I wanted to enter. When I first came to Macau in March last year, people were ordering lots of Mojitos – not that there's anything wrong with Mojitos but, working at a gin-focused bar, I wanted people to try and fall in love with gin cocktails. Stack of Fortune does exactly that. The mix of the white chocolate, orange, lime and mint is designed to create a perfectly complementary flavour. It was an evolving drink. The ingredients had to be tweaked and it grew step by step – right up to the Global Final. Why the Stack of Fortune? Well, the different layers of the drink reminded me of poker chips, which ties into Macau's reputation as the Las Vegas of Asia. It's certainly brought me good luck!
Which part of the cocktail competition was most challenging?
For me, the most challenging part of the competition would have to be the secret challenge at the Beefeater Distillery. Before I went in the room, I had a couple of ideas prepared in my head but they went out the window when I got in the room and had such a tight brief. It really pushed me out of my comfort zone and challenged my natural intuition around flavour combinations and balances. My drink needed to include no juice or fruit which, when you're talking about cocktails, doesn't leave you many other options. So, I decided to keep it classic and make a Martini-style drink. In my bar, I use a sous vide* for a lot of drinks – it allows us to put flavour into whatever we want. I'm also looking at exploring the use of a rotovap** but for my MIXLDN experience I kept it simple. I didn't use any fancy technology, just my know-how, a spoon, and a jigger!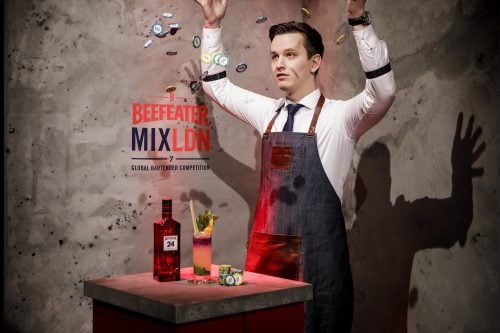 Boom. Slickest cocktail picture EVER.
We want to experiment with different flavours, but we're not sure where to start – could you offer up some advice?
If there's one thing I would say, it would be to try everything. Our industry is built on trial and error and that's how the best flavour combinations come about. If you select your ingredients, mix them and they're right first time, then you're either very talented or very lucky! It's about trying, testing, and improving. Don't be shy or think that you're wrong – so much in bartending is about trusting your gut instinct and this is exactly what I did throughout MIXLDN. You need to use your instinct to help create your own sense of flavour and structure – trust your taste buds.
What's the hottest drinks trend at the moment?
The weird and wonderful ingredients that bartenders are using – the lesser known, the better. It stems from bartenders wanting to source locally and showcasing the unique ingredients their city has to offer. As an example, we had a drink in London with parsnips while we were here for MIXLDN – I've never had that before but it was lovely. The unique ingredients help us all to achieve standout in the industry and allow customers to have a different experience in every corner of the world.
What's the best thing about being a bartender?
I love being creative and expressing my passion for the industry and what's even better is that I get to share it with different people every day. It's amazing to be able to make a new drink and go to a guest and tell them that you've got just the drink for them and then talk them through the creation and flavours. It's so rewarding when a customer says that they enjoyed your drink – that's the best payment we can receive. As Beefeater pointed out in its New Golden Era report, bartending is being seen as a real profession now and we're finding more guests who appreciate the effort that goes into a drink. Sometimes something might look simple but it's likely that a bartender has spent hours perfecting the ingredients and the balance so that it is just right.
What do you think the next big drinks obsession will be?
The sky's the limit in bartending and every year we're continuing to push boundaries. The use of new techniques is allowing us to test our creativity. I think we'll see more bars doing their own fermentation over the next few years, particularly to play into the theme of using locally-sourced ingredients. Also, technology is playing a role in bartending too – it will be a necessity to have the newest equipment to keep up with the industry. I think we'll even see an increase in redistilled spirits, too (in the countries where it is allowed).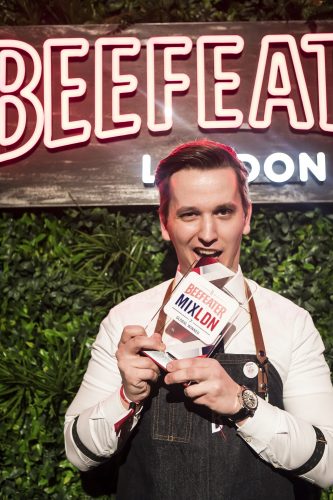 Wonder if he's finished eating it yet?
As part of your prize, you'll work with Desmond Payne to create your very own Beefeater Gin. Which botanicals will you use?
Well, I have some ideas up my sleeve but I'll have to keep them under wraps until I've discussed them with Desmond! Whatever happens, I'm going to try and bring an essence of Macau through. My use of flavours has been inspired by the Chinese herbs we have in Macau and I'm looking forward to chatting with Desmond about what we can come up with together.
Could you share some top tips for cocktail competition success?
My main piece of advice is to keep calm. Yes, it is a competition but as soon as you focus on the prize and the glory, you lock up and panic. You need to remain calm and just be yourself. Cocktail competitions are not just about the drink, in fact, it is you as a bartender – how you act, how you talk, how you interact – that is the most important thing. At a cocktail competition, you're serving yourself and the drink – remember that. My last piece of advice is this: don't get carried away. Keep your basics locked in your head for the classic ingredients and how they work together. You never know what challenge is going to come. Always start with the foundations and think about your basic drinks, and then overlay your personality and creativity.
Feeling inspired? Recreate Schulte's Stack of Fortune at home – you can find the full recipe below.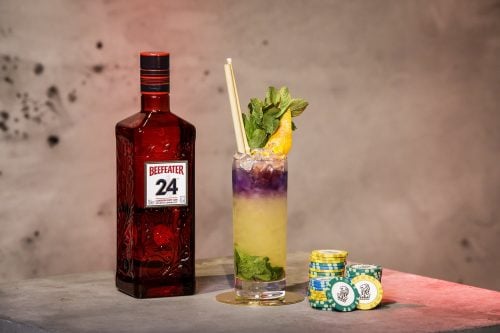 Stack of Fortune
Ingredients: 45ml Beefeater 24, 15ml fresh lime, 15ml white Crème de Cacao, 15ml homemade bitter orange blossom sherbet, 2 dashes orange bitters, 1 handful fresh mint, Butterfly Pea soda to top
Method: Put all ingredients (aside from soda) in a highball glass and fill half with crushed ice. Swizzle until the glass is frosted on the outside. Top with crushed ice and garnish with bamboo stirring spoon, fresh mint, and an orange twist. Float soda on top.
*A fancy bit of cooking kit. Food is vacuum-sealed and cooked at a very precise temperature in a water bath.
**Short for rotary evaporator, a piece of laboratory kit often used to vacuum-distil spirits