Last week we travelled up to Speyside to join Elgin-based distillery Glen Moray for its 120th birthday celebrations. But far from looking backwards, we discovered a disruptively modern trailblazer with a whole host of unexpected developments going on behind the scenes…
1897: William McKinley became the 25th US president. Horror classic Dracula by Bram Stoker was published. The UK got its first-ever official bus service. And the Glen Moray distillery fired up its stills for the very first time.
Booze-making on the site can actually be traced back to 1830: before the first stills arrived, the land, tucked in on the edge of Elgin, was home to the Elgin West Brewery. The first spirit ran on 13 September 1897, and from day one the distillery's made use of some pretty unusual casks – more on that later. Exactly 120 years after that first distillation we retraced the founders' steps through the distillery, and then partied in style…

Glen Moray is one of the Speyside giants. Its current output of 5.7 million litres per year is dwarfed by its maximum 9 million potential, with its spirit destined for blends including Label 5, as well as its eponymous single malt. The scale is the result of a 2015 expansion project from parent company La Martiniquaise, which saw the addition of four pairs of gigantic external washbacks, and a distillery reconfiguration. Three wash stills now reside alongside the modern (and enormous) 11-tonne mash tun, with all six spirit stills accommodated in the old stillhouse.
It's an intriguing format – and one which is ramping up production opportunities for distillery manager, Graham Coull (pictured top).
"There are more peated expressions coming through," he confirms when we stand by the traditional Porteus grist mill, capable of processing 280 tonnes of barley a week. A win for whisky fans who lean towards the smokier side of the spectrum.
But if that isn't you, listen up: "We have enough production capacity that we could now triple distill," Coull hints the following day. "It's definitely an option."
Triple-peated Glen Moray? It'll likely be a long way off, but it's an exciting prospect.
Glen Moray: King of cask experimentation
Warehouses too were high on the list of expansion priorities – and a grand total of 12 now rest on the estate.
"95% of the casks in here are American oak," Coull says, as we enter Warehouse No.1. But it only takes a quick glance to note the importance of that remaining 5%. Casks, hogsheads, barrels and pipes of all dimensions rest in the darkness – that's a lot of flavour packed within.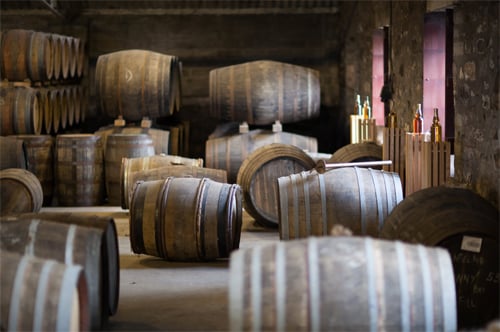 An array of casks in the warehouse
"Sherry, Port, Cognac, brandy…" Coull lists, alongside endless types of wine. The Glen Moray 10yo Chardonnay has become a bastion of bang-for-buck whisky glory. The expression is now sadly discontinued, but it has paved the way for many more wine-finished releases to follow
But – fear not! There is a great deal more cask innovation to come from this pioneering distillery, as we discovered when a sample of whisky that had been finished for 12 months in an agricole rum cask emerged. It's certainly the first agri-influence whisky I've tasted – along with my fellow drinks journalists in the room, I am transfixed.
Peppery, earthy, green but with rich vanilla pod spice and tropical fruit richness, it was definitely a statement of intent from the distillery.
The days of regionality in whisky have "almost gone", Coull said on the experimentation. "Whisky now is more about the taste, and it's even less about age. It's all about the cask and the quality of the wood."
Glen Moray might be celebrating a significant milestone, but this is not a distillery stuck in the past. Congratulations to the team on 120 years young!
Stay tuned to the Master of Malt blog for more from the Glen Moray team as the distillery marks its 120th anniversary