Don't worry if you can't hit the town this Halloween, we've rounded up five of the spookiest cocktails to get you in the spirit of things (sorry!) at home. You could even serve them in a pumpkin! How scary would that be? 
It looks like it's going to be a night-in for most of us on the 31 October this year. Never mind trick or treat, we've got some delicious Halloween-themed cocktails you can make at home this year. So put down the mulling syrup and pick up your shaker for some easy to make cocktails, all perfect served in the dark with a scary movie! 
And whatever cocktail you plan to create on Halloween night, one way to up your mixology game is to exchange your glass for a pumpkin bowl! To make, simply grab a small pumpkin and carefully chop around the top. Next, remove all of the flesh from inside. Finally, give the whole pumpkin a good rinse and you're ready to go! Fill it with the cocktail of your choice – make sure you've got yourself a straw or things can get rather messy… Oh and don't carve a face out of it first or you'll have booze all over your costume.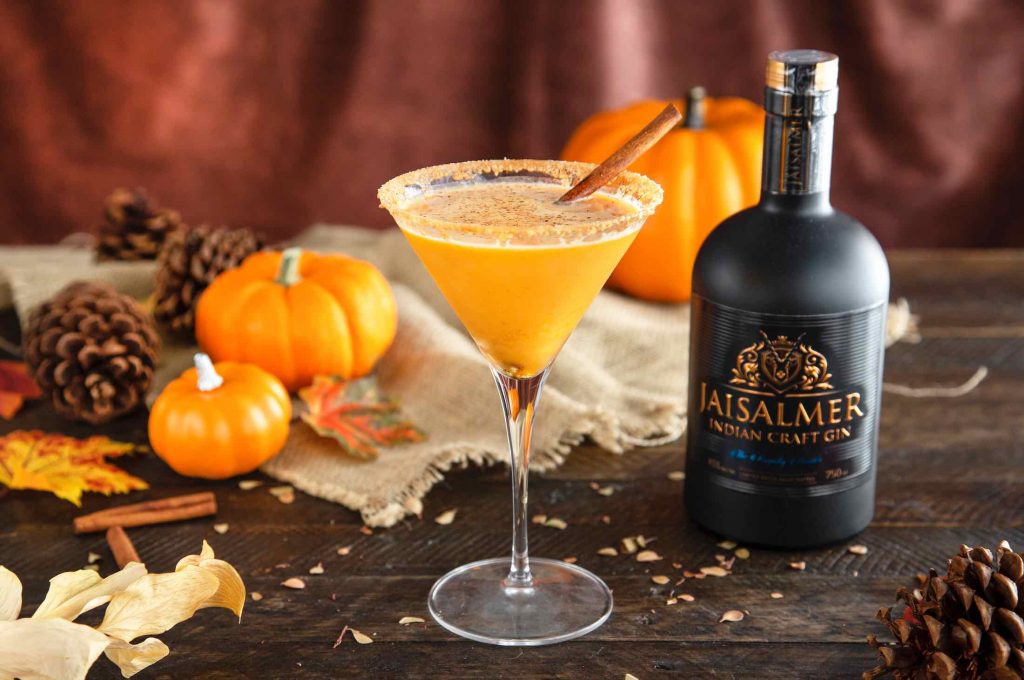 Jaisalmer Pumpkin Cocktail 
This warming Spiced Pumpkin Cocktail was made using Jaislamer's Indian craft Gin. It's deliciously sweet and sour, and scarily simple to make! 
50ml Jaisalmer Gin
25ml Monin Pumpkin Spice syrup
20ml lemon juice
Cinnamon sticks to garnish 
Add all of the ingredients into a cocktail shaker and shake well. Then double strain into a Martini glass and garnish with cinnamon sticks for an extra whack of warming spice!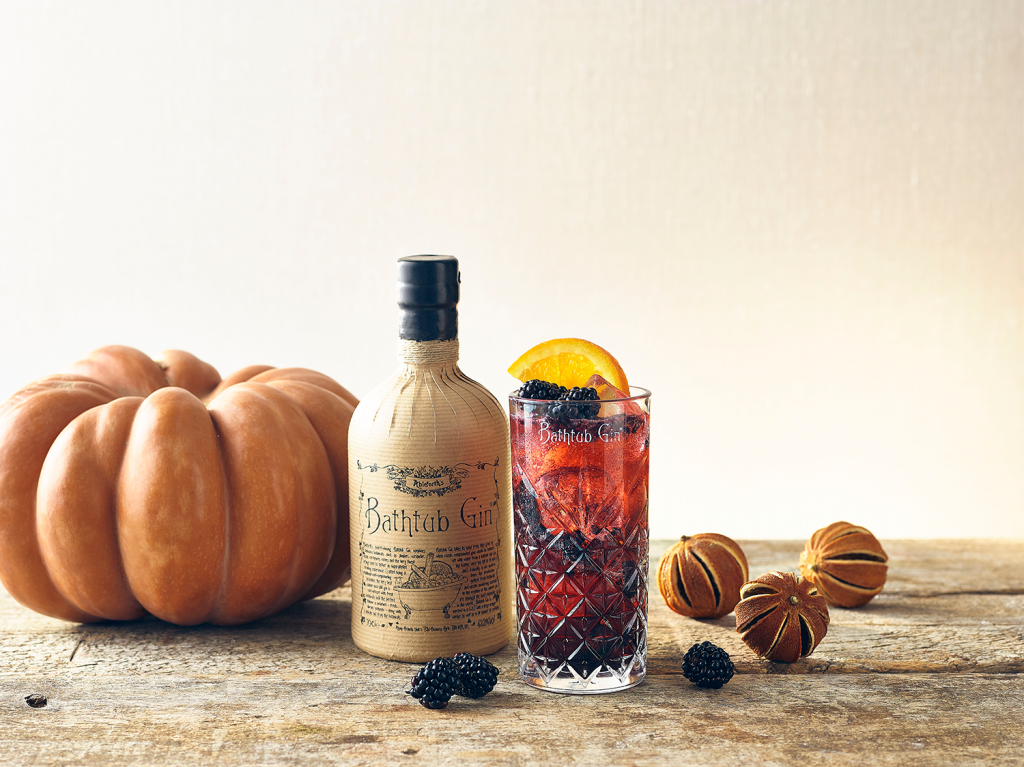 Bathtub Blackberry Fizz
This delicious cocktail made with Bathtub Gin is light, fruity and fresh, and with a good muddle the blackberries give you all the right colours for Halloween! Chances are you've already got everything you need to make it too! 
50ml Bathtub Gin
Fever Tree tonic water
Blackberries
Orange slice and more blackberries to garnish
Grab yourself five of the blackberries and muddle at the bottom of a Highball glass. Next, fill half the glass tonic water and stir. Fill your glass with ice and top with tonic water. Garnish with more blackberries and an orange slice.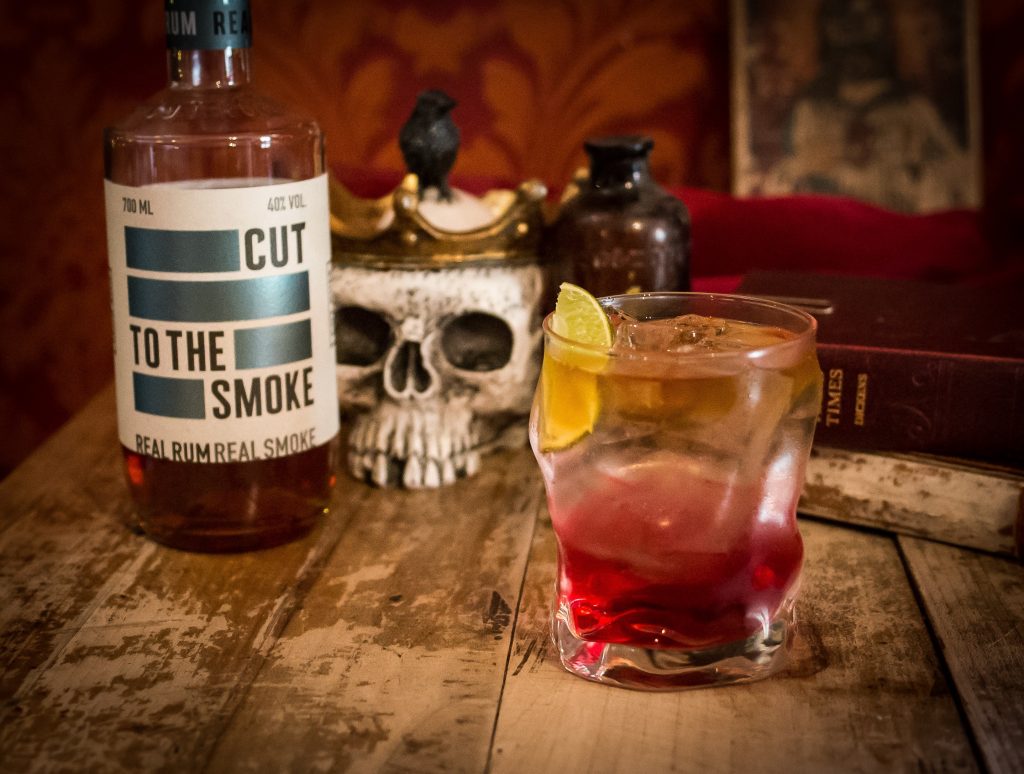 Red or Dead
This is a great smoky sipper from Cut Smoked Rum, a smoked three year old Jamaican rum infused with coffee. Plus, those distinct layers of cranberry juice and soda give it a ghoulish and gory appearance! 
25ml Cut Smoked Rum
100ml cranberry juice
Dash of soda water
3 lime wedges 
Start by filling a tumbler halfway with ice. Next, add the cranberry juice and then carefully pour on the soda to ensure a clear layer. Follow with the Cut Smoked Rum, add the lime wedges and serve. Give it a stir before drinking.
The Witch Doctor 
If you're looking for a cocktail that makes you go "Ooh ee ooh ah ah ting tang walla walla bing bang" Cazcabel has got you covered. Cazcabel Honey, a Tequila-based honey liqueur, adds a lovely sweetness to this cocktail, a little more complex in terms of ingredients for this one, but it is called the Witch Doctor after all! 
20ml Honey Cazcabel 
20ml Smokehead Islay single malt
20ml pineapple juice
25ml lime juice
15ml Orgeat syrup 
2 dashes of Angostura Bitters 
Fill a Nick and Nora glass with ice to chill. Place all of your ingredients into a shaker, and shake. Remove ice from your Nick and Nora glass and strain the mix into it. Garnish with a dried orange wheel and a sprig of fresh rosemary.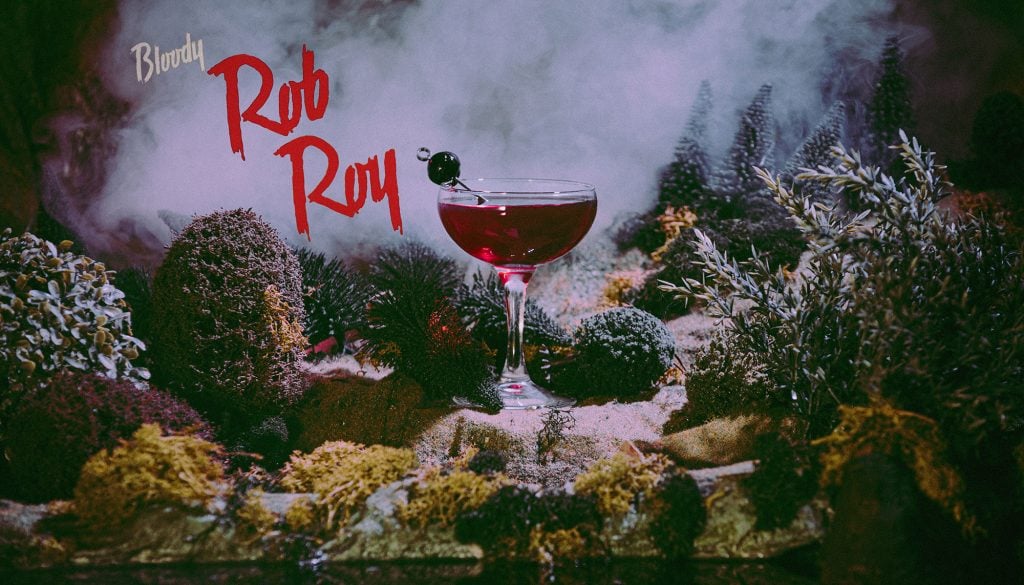 Bloody Rob Roy
A smoky version of the classic Rob Roy, just in case you were unsure what a Scottish outlaw had to do with Halloween… Anyway outlaws aside, this cocktail is made using Ardbeg's new Wee Beastie, one incredibly smoky dram, with nothing really 'wee' in its flavour… Expect smoke and lots of it! 
50ml Ardbeg Wee Beastie
20ml Gonzalez Byass La Copa sweet vermouth
2 dashes Angostura Bitters
Orange twist and cherry to garnish
Add your ice and all of your liquid ingredients into a mixing glass, and stir until mixture is suitably diluted to your taste. Strain into your favourite coupe glass, garnish and indulge in a Bloody (smoky) Rob Roy!