Grace O'Malley Spirits may be just five years old, but it's already made its mark within Irish whiskey and now has the largest independent stock of spirit in the business. How? We uncover the story of Irish whiskey's secret giant.
Have you heard of Inis Tine Uisce Teoranta? It's an Irish whiskey and spirits company with a typically uncomplicated Irish name that was founded in 2017. It may not be on your radar because its core brands, Grace O'Malley and Proclamation, are the public-facing side of the operation. But in a short space of time, it has grown exponentially to become a hub of Irish whiskey sourcing, blending, and distributing. 
From dog food to whiskey
Initially, founder Stephen Cope had intended to create a small boutique brand that would tell Irish stories that appealed to him in his youth. Instead, a meeting with Stefan Hansen and Hendrick Melle from Berlin-based investment company PPI led to the project accelerating in pace and refocusing ambition. They had experience in trading on Irish identity with a successful dog food brand called Irish Pure, and saw the potential to take Cope's idea international. 
They began investing not only in the brand, but Irish whiskey as a whole, becoming the largest independent owners of stock in the industry. Inis Tine Uisce Teoranta now owns around 20,000 barrels and is purchasing them at a rate of 10,000 a year. If you sold every drop now, it would be worth over £300m.
Irish whiskey is hot right now
Given one of the fears within Irish whiskey is that there isn't enough of it to meet demand, it's a sage bit of strategy. Inis Tine Uisce Teoranta has set up a bulk whiskey company, selling whiskey to domestic and international producers, with customers ranging from bars in the United States to Japanese blenders. There's also Good Spirits Bottling, a blending, bottling, and maturation facility in Dundalk, just 10 minutes from Great Northern Distillery. 
"We're in the renaissance of Irish whiskey in which we've gone from four distilleries to over 40 in just over a decade, and every bit of data reports there will be more growth," says Heather Clancy, brand manager for Grace O'Malley Spirits. "When you talk to distributors at the moment, everyone wants their Irish whiskey. As the Americans would say, it's hot right now. And they're looking for brands that can handle output."
The Great Northern partnership
This has put Inis Tine Uisce Teoranta in pole position to take advantage. The only thing it doesn't have right now, however, is a distillery. "You can go one of two ways when setting up a whiskey company," Clancy explains. "You put huge investment into a distillery, but to get your brand up and running you're still going to source whiskey in the initial phase, or you can go to an external supplier and start that way." Inis Tine Uisce Teoranta did the latter, with a distillery and visitor centre to come further down the line. "We'll set up in Mayo with this great story of Grace O'Malley behind it, but that will take some time I'm afraid," Clancy says.
Instead, Inis Tine Uisce Teoranta took the interesting step of creating an exclusive partnership with Great Northern Distillery. It's a case of Irish whiskey's secret giant teaming up with its greatest secret weapon, as the distillery is a superb and consistent producer without its own named brand. In fact, the name people will associate with most is that of its founder, John Teeling, the man who made history in 1987 with Cooley, the first new Irish whiskey distillery in a century, before selling it to Beam Suntory.
"For us, it was really important it wasn't just a brand-slapping exercise, it was actually working together with a team and creating a partner," Clancy says. "John Teeling is perfect as he knows everything there is to know about Irish whiskey. Once we get the spirit we have our own set-up and master blender to bring together the whole thing and put our stamp on it."  
A French master blender in Ireland
The whiskey is made to a specific mash bill at Great Northern and from there it's transferred to the Good Spirit Bottling ageing and blending facility, where master blender Paul Caris gets to work analysing and testing before picking the cask he deems perfect for that spirit. A Bordeaux native who cut his teeth in wine and was previously at Maison Ferrand managing Citadelle Gin and Plantation Rum, he was brought in as the brand was looking for someone appreciative of the Irish whiskey technical file but with a fresh approach and international connections. 
Separate to Grace O'Malley, he's actually turning his passion for casks into his own cooperage, buying one in Foxford in County Mayo (where Grace O'Malley is from), assisting the vast network of new brands to assist them with coopering needs. 
Irish stories brought to an international audience
Lots of whiskey is not much use if you don't know how to sell it, however. In this case, the story actually became before the spirit. Cope is from County Mayo himself and grew up on the stories of Grace O'Malley. After reading Ann Chambers' book, he knew he had to make a whiskey brand that told her story. His aim was to root his marketing in Irish history and stories, bringing them into the 21st century with some authenticity. "When you create a brand you could spend hours within a marketing room coming up with a concept, but within Irish history, there are all these amazing tales not known by the wider world that we can bring to a larger audience that's not the eye-diddly-eye Irish story."
Grace (or Gráinne) O'Malley is known as the pirate queen of Ireland, a woman born into Irish nobility around 1530 but became, as Chambers described her, a "fearless leader, by land and by sea, a political pragmatist and politician, a ruthless plunderer, a mercenary, a rebel, a shrewd and able negotiator, the protective matriarch of her family and tribe…" as well as a "woman who broke the mould and thereby played a unique role in history". As far as figures you could a brand around go, O'Malley is about as compelling as it gets. One particular story tells of her sailing up the Thames with a bottle of whiskey to negotiate the release of her son with Queen Elizabeth I. "We like to say it's the first export of Irish whiskey," Clancy remarks. 
A whiskey for everyone
It's the first Irish whiskey named after a woman, a pretty shocking fact given it was launched in 2019.  The brand actually has a stat on its website that says, while the proportion of female consumers of Irish whiskey is usually around 45%, it is 53% for Grace O'Malley. "With Irish whiskey in general, looking at the stats compared to other categories there are more women drinking it. It's a cultural thing but also it's marketed as the more approachable spirit," Clancy clarifies. "The idea for us was not to create a female-only brand. The last thing we want to do is pinkwashing. If someone turned to me as a woman and said 'this is for you' I'd be saying 'what?!' What we've been doing is trying to tear down stereotypes around whiskey drinking and very passionate about it being for everyone and you don't have to follow a certain set of rules. By doing that, within the domestic market, we've seen much more of an even split with the consumption of the product". 
The other brand within the range is Proclamation, a dedication to the 1916 Proclamation which was the document that declared Ireland a republic. Cope took pains to recreate the feel of the original document on the label. "The whole concept was for the Irish-American diaspora market, making a liquid that's as close to bourbon as possible," Clancy explains. "It's predominately a grain liquid using whiskey matured in virgin American oak with a little bit of sherry-finished malt at the end".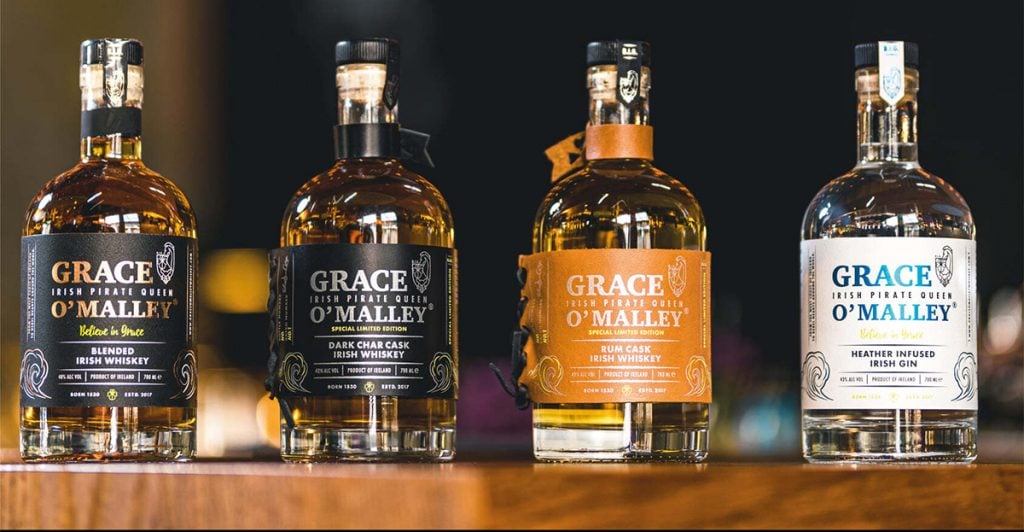 Standout: Grace O'Malley Rum Cask Irish Whiskey
In my opinion, Grace O'Malley's standard Blended Irish Whiskey is impressively complex for its price and welcomely versatile, while the Dark Char Cask Irish Whiskey is rich and rewarding, but the Rum Cask blend is the standout. I get the impression that it would be a fine whiskey without the cask, with lots of sweet and ripe fruits, creamy dessert notes, and gentle aromatic spice coming together to create a very familiar Irish whiskey profile. The blend is finished in wet rum casks from the Caribbean for six months which is measured well, making the spices richer, the toffee note slicker, and the fruits more vibrant. You can be certain there's more to come from Grace O'Malley, and I'm intrigued to see where this brand goes in the future.