"Come with me, and you'll be, in a world of pure imagination…" Whisky's Willy Wonka has a new factory of fun to create the drams of the future and we got a chance to see it before the experiments begin. Here's what to expect from Glenmorangie's new distillery: The Lighthouse!
Dr Bill Lumsden's first-ever sip of whisky was Glenmorangie 10 Year Old in 1984 at a party on Marchmont Road, Edinburgh, while Let's Hear it For The Boys played on the radio.  Since then, he has spent almost four decades in whisky innovating and creating exceptional drams like the world's first made with high-roast chocolate malt, exploring the benefit of various cask styles and even sending the odd tipple into the final frontier. You can see where the Willy Wonka comparisons come from.
This week we got a first-hand glimpse at how Lumsden's experimental days are far from behind him as Glenmorangie invited us to visit its new on-site innovation distillery called The Lighthouse. A spectacular multi-million-pound creation, the new landmark on the site where Glenmorangie has been creating its single malt since 1843 stands tall like an actual lighthouse, a 20m-high beacon in its rural highland home that promises to give Lumsden and co. true flexibility at all stages of whisky-making. 
Designed by Barthélémy Griño, known for creating premises for Berluti, Dior, and Louis Vuitton, those who attended from the luxury magazines will appreciate all the reclaimed stone and slate, the stunning views and the wood aluminium hybrid cladding made with wood from bourbon and sherry casks that sits behind the Lighthouse's glass façade. But this is MoM, so we were there to get our geek on. Because Lumsden tells us this is where Scotch whisky innovation is going to get seriously funky.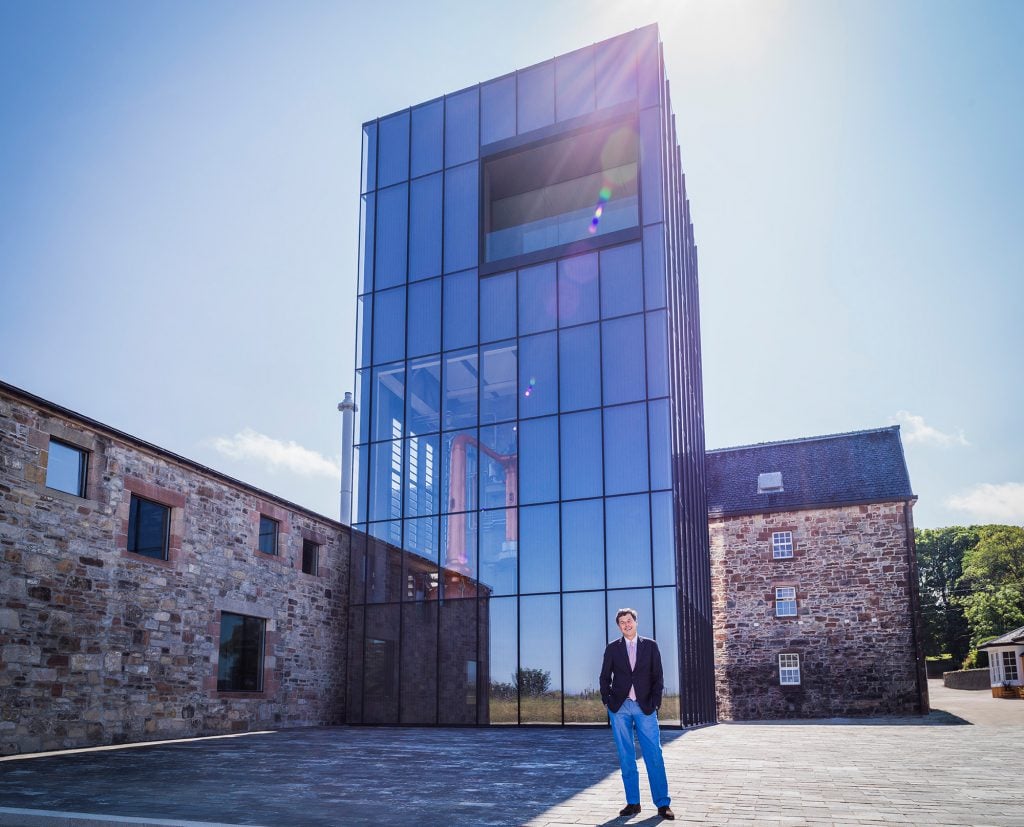 Dr. Bill in front of his new pride and joy
Inside the Lighthouse
"The ambition is to look at every aspect of primary production. Experimentation in terms of maturation is well established, as is Glenmorangie's reputation for it. But dabbling in primary production isn't easy when you've got your main distillery set up and running smoothly. So, you name it: raw materials, malting, milling, mashing, fermentation, and all sorts of things with distillation. There's nothing on or off the table," says Lumsden. He will spend a week of every month here doing things that were never possible before because the old distillery was too busy or lacked the required equipment. 
As our tour demonstrated, that's very much not the case anymore. Beginning on the bottom floor, a Briggs of Burton-designed malt intake and mill can process array of cereals, so for the first time in Glenmorangie's history, you can expect whisky made from things other than malted barley. Wheat, maize and oats are all tipped, as is spirit from things that aren't cereals at all… On the next floor, the two mash tuns capable of processing one-and-a-half to two tonnes of mash (compared with 12 in the main distillery) can create different clarities of wort, from crystal clear to cloudy. 
A cereal cooker is fixed to each, a piece of equipment that Lumsden says he "hasn't used in anger in many years" which breaks down the husk of grains to get to the starch. This is useful because in Scotch you can't add chemical enzymes (or jungle juice as Lumsden calls it) and if you're using non-malted barley, for example, there are no naturally occurring enzymes to break things down for you. Two temperature-controlled fermentation vessels, common in brewing but not in Scotch, meanwhile, give Lumsden control in his specialist subject.
The possibilities are endless…
Armed with a PhD in biochemistry, the workings of yeast and fermentation is very much his bag, baby, and he laments the fact that in Scotch whisky, fermentation is typically a two or three-day process that's very vigorous and violent. "There's got to be a reason why our colleagues in the wine industry allow fermentations to run for two weeks, or beer for five or six days," Lumsden explains. "I'm deeply intrigued by how those two industries focus on the flavour from primary production, whereas in Scotch we rely a lot more on maturation to drive the shape of our products". 
Lengthy fermentations are to be expected then, as are different yeasts. According to Lumsden these are "magical microorganism" which are sadly just treated like a commodity. "When I first joined DCL (now Diageo), I was aghast that they were just emptying bags of yeast into water. You never do that as a yeast physiologist! It's simply used to reach an end, but there's so many different avenues you can go down. I know others like my old friends at Diageo have tried things, but a lot of experimentation in the industry is never really published".
From outside, the glass tower offers a glimpse at the two gleaming Forsyth's copper stills, modelled on the 12 giraffe-high stills in the main stillhouse, and they're even more impressive up close. While the wash still is fairly conventional, the spirit still (or "the little beauty" as Lumsden calls it) is full of additional modifications. A glass man door allows the distillers to see what's being distilled, while an optional purifier like the one at Ardbeg is there to recycle vapours and increase reflux. 
Worth the wait
Look up at the lyne arm and you'll see it splits to go into either a standard copper condenser (to create the lighter, elegant signature style) or a stainless steel condenser designed to mimic the effect of a worm tub, exposing the vapours to less copper to create meatier, more full-bodied whisky like Ardbeg. The neck of the still is covered with temperature-controlled cooling jackets, which metaphorically double the height of the still to allow the vapours to condense and reflux. "Many of these bells and whistles exist in other distilleries, but this is the only place where they ALL exist," Lumsden says, beaming with pride.
On the fourth and top floor, our tour concludes with the Sensory Laboratory, a space in which the team will be able to study raw spirit and assess their experiments after every six-hour spirit run. It's not finished yet, but soon it will be complete with a tasting room, while a terrace offering truly spectacular views of the neighbouring Dornoch Firth. Although Lumsden does add he would have been happy with a shed, it's hard not to think that such a vibrant space won't be inspiring. 
He has had to wait to play with his new toys, as the launch has been postponed since April 2020 due to COVID. This delay has the benefit of giving him the time to plan, however, and Lumsden knows the dozen or so things he's going to do when things kick off properly next month. Which includes the freedom and capacity to bottle things that aren't Scotch whisky, which might not even be presented as Glenmorangie. "The first thing will be to make a normal spirit, and then after that I will never make a normal spirit again here," Lumsden says.
Nothing holds them back
Glenmorangie fans need not fear, however, as the whisky maker stresses that this will not distract him from the core whisky that makes the distillery what it is. "People don't realise that at least 50% of my working time and effort goes into maintaining the quality and integrity of our core offerings. It just doesn't generate press coverage. If we don't have that foundation we don't have anything else. Innovation is the cherry on top of the icing on top of the case". 
Lumsden is also a supporter of the current Scotch whisky regulations, saying they are "stifling in a good way" and that they make you take a step back and be really creative. "I wouldn't want the regulations to be loosened again. When they were last changed, my question was 'why would you want to use a Tequila cask anyway? Is it going to give you a good flavour?' It's easy to lose sight of that fact. I won't sit down and think about using a wild yeast, I think about what product I want to create and then work back from that". 
The maverick malt master also goes out of his way to credit the LVMH group for backing his visions, saying that many of its brands are run as if they are independent, which is also true of its modest but mighty Scotch portfolio: Glenmorangie and Ardbeg. "We're very much left to our own devices, which allows us to be nimble and experiment with ease," he explains. "A lot of things I've worked on I never told anyone what I was doing until I thought there was a product ready to be talked about, which I could never do in any previous role."
The whisky of the future
While the Lighthouse part of the distillery won't be open to the general public day-to-day, there will be a special limited edition 'Lighthouse' whisky release available to purchase from the distillery to mark the occasion. Limited to 4,782 bottles, the 12‑year‑old malt has been aged in the very same bourbon and sherry casks that are now embedded in the Lighthouse distillery's walls. In addition to this, Glenmorangie House, the brand home in the Highlands, has undergone a large renovation and now looks completely and brilliantly bonkers. 
It's all part of an approach to rebrand Glenmorangie as a vibrant producer, welcoming a world of colour and innovation to take on the difficult, dark, masculine and often closed-off world of whisky and the "sea of sameness", as Lumsden puts it. Even the packaging is currently being reviewed.
What we can expect from the Lighthouse is truly exciting. The brand promises new ways to make whisky, new ways to drink it and everything in between. The fourth-biggest single malt in the world doesn't need to rock the boat and, at 61, Lumsden is aware he won't even see some of the products he creates. But the ambition is here to embrace modernity, and creative, original and category-defying booze lies in the distance. The future of Scotch is bright. And The Lighthouse promises to be one of its leading lights.