Luck of the Irish? As 2017 Irish whiskey exports reach a staggering €600 million, we select five of the category's most creative bottlings to demonstrate why its success is anything but chance…
Mere days ago, we brought you news that Irish whiskey tourism was booming, with recent figures revealing 814,000 of us charged through the island's distillery doors in 2017. Frankly, it doesn't take a genius to work out there's a reason why we're all packing our bags for the next flight to Dublin – it's because we can't get enough of the stuff!
Yesterday, Bord Bia (Ireland's food agency) revealed the full scope of our obsession in its latest export performance report. For scale, total Irish beverage exports (alcoholic and non-alcoholic – everything) were worth €1.5 billion last year, and Irish whiskey accounts for more than one third of that.
We're loving Irish cream liqueurs too, apparently. More than €300m worth of 'em were exported in 2017, up 10% on the previous year (a moment of silence for the dairy cows, please). One can imagine this is largely down to the resurgence of creamy vintage cocktails, along with the arrival of some rather welcome new varieties. In December, the Irish Spirits Association launched a campaign called Love Irish Cream Liqueur to draw awareness to the category's geographical indication (GI, if you want to sound cool to your mates).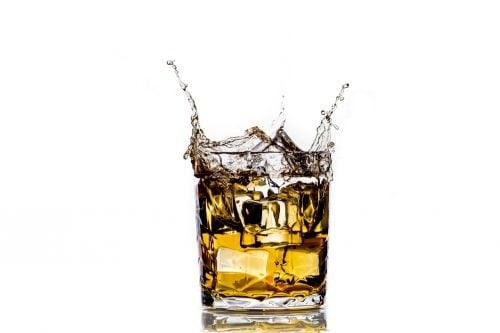 N'aww. You're spilling it.
The US, the UK, Canada, Germany and France are Ireland's biggest customers in terms of drinks, but Japan also has somewhat of a penchant for the Emerald Isle, importing €9m worth – up by a spectacular 30% on 2016. Everything seems to be coming up Milhouse.
"Ireland's drinks industry is continuing to increase its exports as a result of innovation, more choice, high quality and a focus on building strong brands that resonate with consumers in export markets," said Patricia Callan, director of the Alcohol Beverage Federation of Ireland (ABFI). "We are on the right track to continue this growth. A few years ago, there were just four whiskey distilleries and there are now eighteen, with a further sixteen in planning."
However, "there are challenges ahead", acknowledged Callan – with Brexit on the horizon, "a resolution to the issue of a trade border between Northern Ireland and Republic of Ireland is our priority".
There's also the contentious issue of the proposed Public Health Alcohol Bill (PHAB), which aims to tackle alcohol misuse through advertising restrictions, minimum unit pricing, and more. One of the proposed measures under the draft bill would require Irish whiskey, gin, beer and liqueurs to carry a cancer label, "when our competitors in the rest of the world do not".
"This will be hugely damaging to our international reputation and our ability to export," she added. "We want to work with the government in 2018 to address these issues and to ensure Irish drinks exports continue apace."
While we cross our fingers for a fair and agreeable resolution that keeps everyone happy, Irish whiskey distillers continue to titillate our taste buds with awe-inspiring bottlings. We've selected five 'wow-factor' Irish whiskey releases from the last few years…
J.J. Corry 'The Gael'
J.J. Corry 'The Gael'
Back in October, The Chapel Gate Whiskey Co. – Ireland's first bonder for 50 years – launched its first blended Irish whiskey, J.J. Corry 'The Gael'. The whiskey's historic namesake (J.J. Corry was the bloke; The Gael was his bicycle) was a whiskey bonder in the village of Cooraclare, which Chapel Gate now calls home, and this bottling is a riff on his style. The liquid is made up of 5% 26 year old single malt, 27.5% 15 year old single malt, 27.5% 11 year old single malt, and 40% seven year old single grain whiskey. As far as Chapel Gate founder, Louise McGuane, knows, it contains the oldest whiskeys of any Irish blend on the market.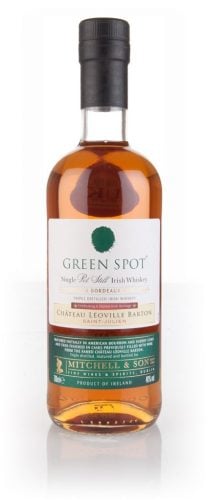 Green Spot Château Léoville Barton
Green Spot Château Léoville Barton
Rather impressively, Green Spot Château Léoville Barton is the first ever single pot still Irish whiskey to enjoy a 12 to 24-month finishing period in Bordeaux casks! As you might guess from the name, the casks are sourced from renowned winery Château Léoville Barton, set in the heart of the Saint Julien appellation. Interestingly, the Château is overseen by the direct descendants of Thomas Barton, a 'Wine Geese'* winemaker who migrated from Ireland to France in 1725.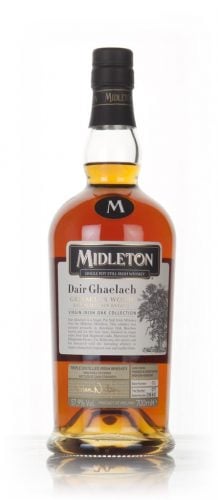 Midleton Dair Ghaelach – Grinsell's Wood Tree 7 (Virgin Irish Oak Collection)
Midleton Dair Ghaelach – Grinsell's Wood Tree 7 (Virgin Irish Oak Collection)
The Midleton Dair Ghaelach series is the first Irish whiskey to be finished in virgin Irish oak hogsheads, crafted out of trees felled in (you guessed it) Grinsell's Wood. To create this unique bottling, a mash of malted and unmalted barley was triple distilled in traditional copper pot stills and matured for between 15 and 22 years in ex-bourbon. The whiskeys were then married together for two days, and decanted into Irish oak casks for just shy of a year. Wicked.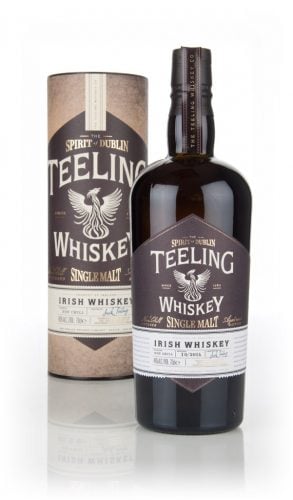 Teeling Single Malt
Teeling Single Malt
Every whiskey that the folk at Teeling put out is considered and creative, but for the sake of this list we've decided to kick it old school and champion Teeling Single Malt. It's a blend of five wine cask finished 100% malt whiskeys – sherry, Port, Madeira, white Burgundy and Cabernet Sauvignon – aged for up to 23 years, and it's bloody delicious. Teeling is arguably leading the charge when it comes to the Irish whiskey renaissance, and we can't wait to see what the team comes up with next.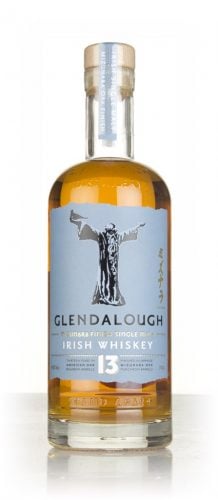 Glendalough 13 Year Old Irish Whiskey – Mizunara Oak Finish
Glendalough 13 Year Old Irish Whiskey – Mizunara Oak Finish
This 13 year old expression is the first Irish whiskey to have been aged in Mizunara oak barrels. It started its life in bourbon barrels, before enjoying a rather luxurious finishing period in casks constructed (and charred) by Japan's oldest cooper. The oak is sourced from Hokkaido, the northernmost of Japan's main islands, which is known for its whacking great volcanos.
Which are your favourite Irish whiskey innovations? Drop us a note in the comments below, we'd love to hear 'em…
*Wine estates with a connection to Ireland