Now more than ever, Scotland's whisky-makers are treating their ageing stocks to a resting period in tropical casks from sunshine shores. We explore the trend for rum cask-finished Scotch whiskies…
With 'gooey caramel, helpings of apricots, dark chocolate, bittersweet vanilla and soft baking spices', you'd be forgiven for assuming this tasting note was describing Ron Zacapa or El Dorado. In actuality, it documents the deliciousness of BenRiach 22 Year Old Dark Rum Cask Finish, which saw out the final period of its maturation in dark rum barrels from Jamaica.
From the creamy vanilla and tropical fruit notes found in firm fan favourite Balvenie 14 Year Old Caribbean Cask to the light, grassy, spiced elements of Johnnie Walker Blenders' Batch – Rum Cask Finish, a dose of rum-soaked secondary maturation can alter the flavour of our favourite drams in ways never seen before.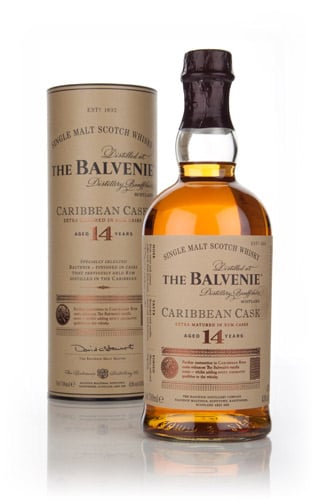 Balvenie 14 Year Old Caribbean Cask – available on masterofmalt.com
While the trend isn't exactly new – especially as far as Irish and US whisky-makers are concerned – more Scotch distillers than ever are looking beyond wine cask maturation and making daring puncheon pit-stops en route to the bottling line.
"Rum cask-finished whiskies have become popular in recent years because [they're] more accessible and affordable," observes Lukas Etus, bar manager at London's Iron Stag. "The bigger brands have started shouting about their new rum cask-finishes."
"I still find independent bottlings from the early 2000s, but could I afford it? Probably just a tiny dram," he continues – whereas these days you can find a half-decent rum cask-finished whisky in your local supermarket. Times are a'changing.
No wonder really. Whisky producers "need to be creative with new expressions to surprise enthusiasts," remarks Etus. And with strict rules and regulations to adhere to, distillers need to think outside of the proverbial box to offer something unique.
Take the newest kid in Dufftown, Glenfiddich Fire & Cane, which unites delicious peat and sweet rum casks for the first time. "This new single malt truly encapsulates the spirit of experimentation," malt master Brian Kinsman said in a statement last month.

Glenfiddich Experimental Series Fire & Cane – soon to be available on masterofmalt.com
"We started with a question: what would happen if we did something with peat that we had not done before? The answer is an unconventional and unexpected whisky, one that is truly surprising."
Kinsman married peated malt with non-peated malt aged in ex-bourbon casks, and finished the liquid in Latin rum casks. The result? Given tasting notes of campfire smoke, baked apple, toasted marshmallow and wood spice i.e. Bonfire Night in a bottle. It launches in the UK in October.
Rum vs. Scotch legislation
That Scotland's whisky distillers – who are governed by the Scotch Whisky Regulations – source barrels from rum producers, who have few (if any) rules to adhere to, makes for a compelling juxtaposition.
This lack of definitive regulations must surely increase overall flavour potential when it comes to cask-finishing? Yes, says Guy Mazuch, head bartender at the Zetter Townhouse Clerkenwell, but it's a double-edged sword. The issue, unfortunately, lies in quality control. "You'd like the liquid to be of 'good provenance', and this is often not the case when we talk about rum," he explains.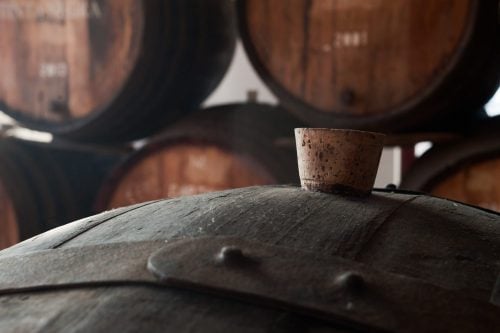 Where the whisky sleeps is of utmost importance
Mazuch advocates introducing legal structures within the rum category, and says the current state of affairs doesn't result in "an even playing field". "Bringing in regulations would [result in] a greater appreciation for the rum and therefore the whiskies that are finished in those casks," he says.
For the most part, adds Etus, Scotch whisky makers aren't necessarily looking for the best barrel, but rather for the one that will yield the most consistent end liquid. "I know producers who season ex-bourbon barrels with [their own] rum," he says. "[Others only] get their barrels from the biggest rum distilleries. This allows them to create their product fairly consistently."
Drinking it in: How to spot a great rum cask-finished whisky
So, what are the sipping signs of a cracking rum-soaked dram? For Mazuch, the rum flavour shouldn't be "the star of the show". "I like it to bring out what the whisky has to offer already within its character," he says. "Usually you'll find vanilla, sultanas and other dried fruit, banana, barbecued banana, and baking spices like nutmeg and cinnamon."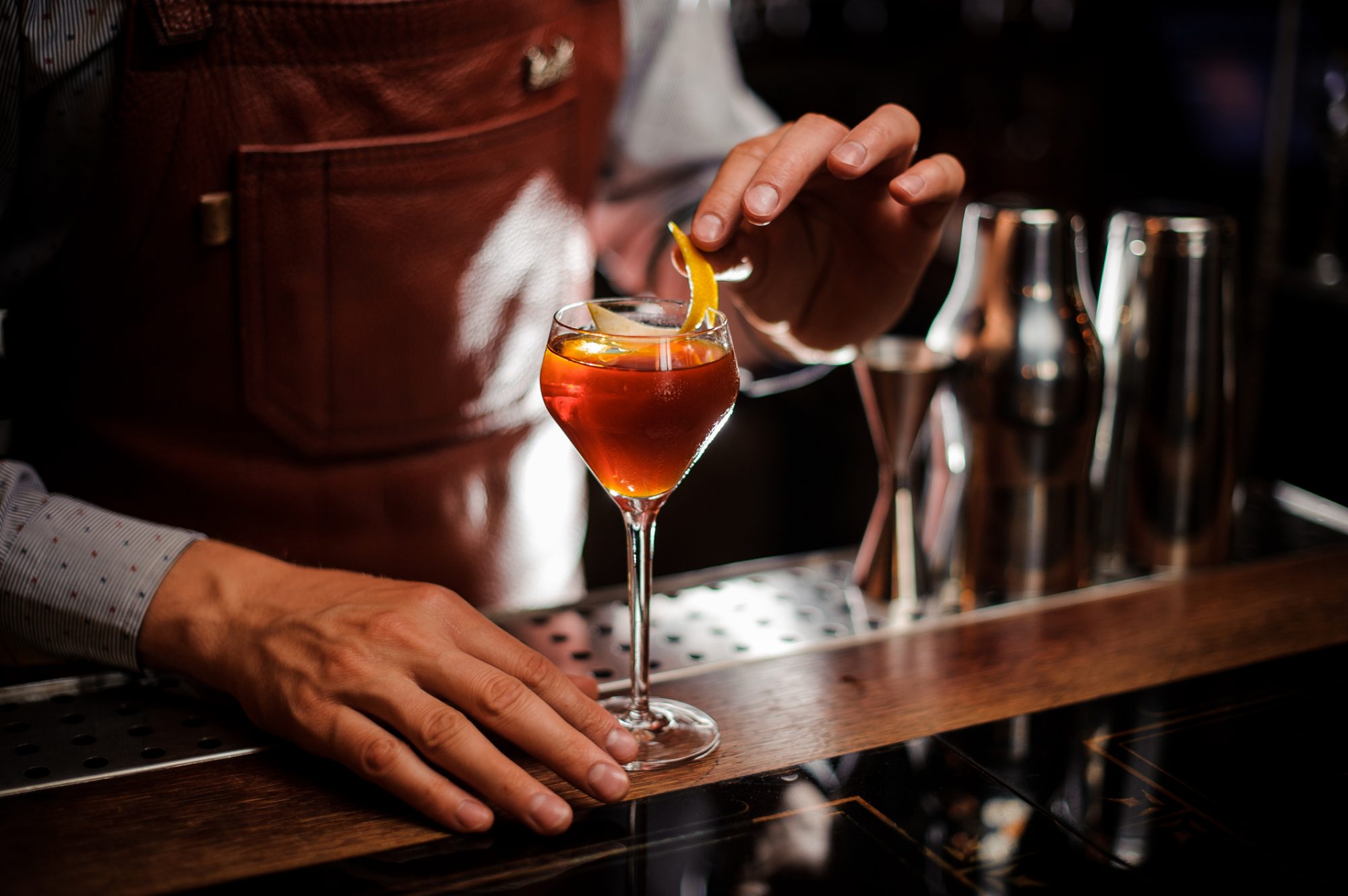 Rum-cask-matured-whisky-cocktail-makin'
The flavour profile of these whiskies means they're a mixology match made in heaven. Etus suggests "spirit-forward" cocktails, like an Old Fashioned or a Rob Roy. Something "citrusy, like a Whisky Sour" could also make for a delicious tipple.
When it comes to classic cocktails, Mazuch recommends the Bobby Burns, or – if you're feeling suave – subbing rum for whisky in an El Presidente. To make the most of your chosen bottle's characteristics, experiment with different vermouths, he suggests.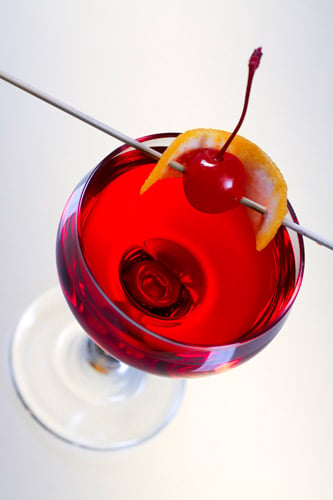 El Presidente
"Finding the right vermouth will allow you to highlight the rum character without overpowering it. There is a wealth of great sweet vermouths out there and playing with those alongside different cask finishes can lead to some unbelievable results."