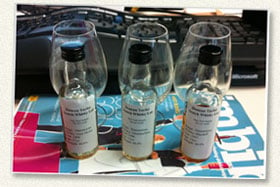 This morning I mentioned to Ben it was high time we posted something on the blog for this week, his suggestion:
"Something about whisky. We don't do enough of that."
To be fair, he has a point. We've been so caught up in the recent excitement of Christmas, making and launching new stuff, and my imminent emigration, that we've neglected that one little thing we're here to write about first: Whisky!
So, dutifully I had a rummage through the assortment of drams, miniatures, cask samples and all the other messy accoutrements strewn over my desk and found a trio of samples from Duncan Taylor's new(ish) Dimensions series – perfect!
Dimensions is the most recent range in Duncan Taylor's already excellent arsenal, and this one features single malts and grains, aged for up to 39 years. The purpose is to showcase the multi-dimensional levels of character and flavour that exist in different styles, distilleries and even between casks. These are all single casks and they're either at cask strength or in "exclusively numbered batches" at 46%. First up (going from lightest to darkest) is a Glentauchers…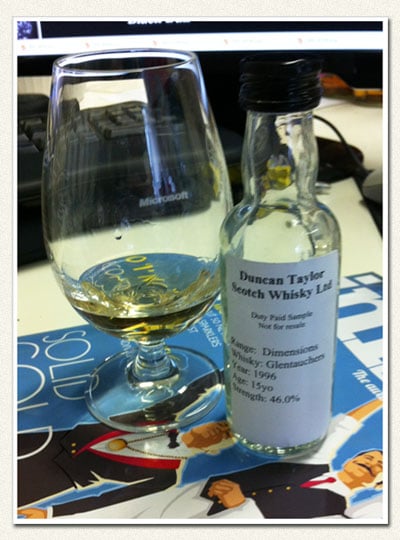 Glentauchers 15 Year Old 1996 – Dimensions (Duncan Taylor) 46%
Nose: An easy, creamy nose with salt air, butter and sweet vanilla. Plenty of malt and a good dose of dried apricot, toasted almonds and freshly grated nutmeg.
Palate: Tangy sweet fruits, a little like the sugar from the top of a grilled grapefruit, with biscuits (generously sprinkled with freshly ground cinnamon) and Cox's Orange Pippin apples. Slightly perfumed, with just a tinge of juniper.
Finish: Some sweetness on the finish, with oak, cedar and cardamom. A little trace of black pepper and toffee brittle are evident too.
Overall: Lovely stuff. An easy-going dram from a speyside distillery known for its dry, gently malty whiskies. This is a summery dram and I can see it working well in a Mizuwari, if you feel so inclined!
Next up is a 17 year old Glen Moray. We have already tried some cracking Morays from Duncan Taylor's Rare Auld range, let's see how this one fares…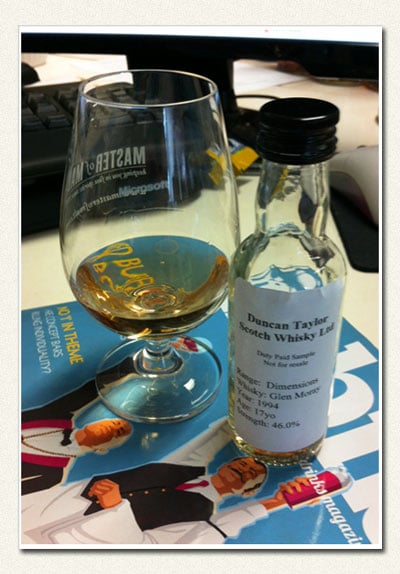 Glen Moray 17 Year Old 1994 – Dimensions (Duncan Taylor) 46%
Nose: Wow! Enormously sweet and just like the sticky toffee pudding they served when I was at school (my favourite school dessert by far!). Madeira cake, dates, walnut jam and rose petal jelly. Golden Syrup too. Very sweet and unctuous.
Palate: The palate is as sweet and syrupy as I was hoping – it's very much redolent of caramel syrup (the kind for squeezing over ice-cream), a hint of café latte with lavender honey (I know this as downstairs we have both a coffee machine and a selection of jars of honey!) and peppery spices. Big and malty.
Finish: Sweet, gooey treacle and spice notes, a touch of stewed fruit and potpourri.
Overall: Not the kind of whisky you expect from Glen Moray. Very tasty though. This is definitely the kind of rich, warming, spicy whisky to put a smile on your face at the end of a freezing cold day – much like today in fact!
Finally, a darker whisky that the first two, this is a 14 year old Macduff…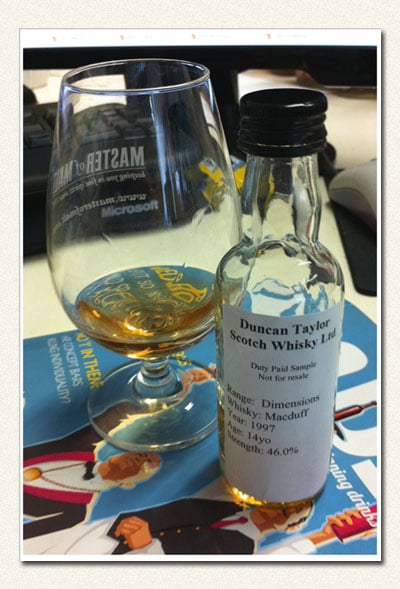 Macduff 14 Year Old 1997 – Dimensions (Duncan Taylor) 46%
Nose: An interesting nose with maybe just a hint (just a hint, mind) of sulphur. A deal-breaker for some, it's actually really nice here, bringing a wonderfully festive spent-match quality to an already ripe birthday cake of a nose: Sweet sponge, icing sugar, vanilla cream and recently extinguished candles! Very enjoyable indeed. I also get just a touch of prune and cut hay on a hot summer's day.
Palate: Sweet and toasty and very biscuity. This is quite a lot like our 10 year old Whisky Liqueur, in that it's rich and unctuously sweet and spicy, with similar citrus/cinnamon/clove notes. Really interesting! It feels almost like a dessert whisky, and it would pair very well with baked pear, liberally doused in golden syrup.
Finish: Sweet and spicy, some toasty oak barrel notes, and Manuka honey.
Overall: I really liked this one – very evocative stuff… Lay on, Macduff!
Mike.