A new Irish whiskey has landed at MoM Towers, the Shed Distillery's long-awaited inaugural release: Drumshanbo Single Pot Still Whiskey.
Irish distilleries have been popping up all over the place in recent years with a noticeable and delightful consequence: more Irish whiskey to enjoy. Teeling, J.J. Corry, Dingle, Roe & Co and Pearse Lyons have made real strides and there's more to come from a raft of other producers. Some will inevitably disappoint, while others, like Drumshanbo Single Pot Still Inaugural Release, will demonstrate why there's so much excitement around the category.
Its producer, The Shed Distillery, made its name creating the wildly popular Gunpowder Gin. It was crafted with an intriguing botanical selection that included gunpowder tea. This was followed by Sausage Tree Vodka, made with the fruit of the Kigelia Africana (also known as the sausage tree – because the fruit looks like sausages, definitely worth a Google).
Looking at the previous body of work, it's fair to say that the first distillery in Connaught in over 101 years, based in the tiny rural village of Drumshanbo in Co, Leitrim., has set the bar high for this whiskey. It's also demonstrated an experimental approach that has prioritised creating spirits with a singular profile, rather than appealing to notions of tradition or Irish identity. Unless I'm mistaken and Kigelia Africana is native to Donegal, I think we can all agree that the ingredients The Shed Distillery has used so far are distinctly exotic in nature. This made me curious to see how the company would innovate with its first whiskey.
Drumshanbo's inaugural release is a triple-distilled, single pot still whiskey. Triple distillation is often associated with Irish whiskey and pot still is a style unique to the Emerald Isle, so that's two big traditional boxes ticked already. Personally, as a huge pot still fan, I'm always delighted to see a distillery embrace this distinct and historical style. But where things get really interesting is the recipe. The mash bill contains malted and unmalted barley as well as a 5% helping of Irish Barra oats, which keeps it in line with the current Irish Whiskey Technical file while offering a point of difference.
Historically there's a precedent of using oats in pot still whiskey and the forgotten grain has started to find its way into expressions, particularly in America. But if you were to have a search of the Irish whiskeys in MoM Towers right now you'll notice that oats have yet to make a significant comeback. The fact that The Shed Distillery has chosen to embrace it demonstrates both an appreciation for the category's heritage and a helping of that experimental side we're used to seeing from the Connaught-based producers.
As for maturation, Drumshanbo Single Pot Still Inaugural Release is made up of whiskey that was aged for between three and five years in a combination of ex-bourbon barrels and oloroso sherry butts. It was then bottled at a relatively hefty 46% ABV without any additional colouring or chill-filtration which should appeal to those who enjoy getting geeky about such things.
Every drop of Drumshanbo Single Pot Still Inaugural Release was crafted by head distiller Brian Taft at the distillery itself. The Shed Distillery clearly made a decision that it would not buy-in any spirit made elsewhere, which is quite refreshing for an Irish whiskey brand. There's nothing necessarily wrong with doing this, but I like drinking a whiskey knowing that I'm tasting some distillery character. It might explain why the price is on the premium side of things, however. Also, I'd like to draw attention to the fact that, according to the Irish Independent, Prince Albert of Monaco and Count Carl Von Hardenberg of the German drinks dynasty are the proud owners of two of the first-ever casks of whiskey distilled in Drumshanbo. For no other real reason other than I found that quite amusing.
So,  what should you (and Albie and Carl, for that matter) expect from Drumshanbo Single Pot Still Inaugural Release? In my opinion, good things. The market for Irish whiskey is highly competitive but there's always enough room for those who are creating distinctive drams. That's exactly what the Drumshanbo Single Pot Still Inaugural Release is. It's delightfully creamy, the sweet notes are well-measured and it really tastes a good few years older than its age. Very promising stuff.
The Shed Distillery is currently in the process of expanding the distillery with a €1.5m visitor centre that is set to open in the summer and there's sure to be more whiskey to follow. It's certainly a producer to keep an eye out for. For now, it's three expressions all provide something different to enjoy and you can find all of them here at MoM Towers. Sláinte!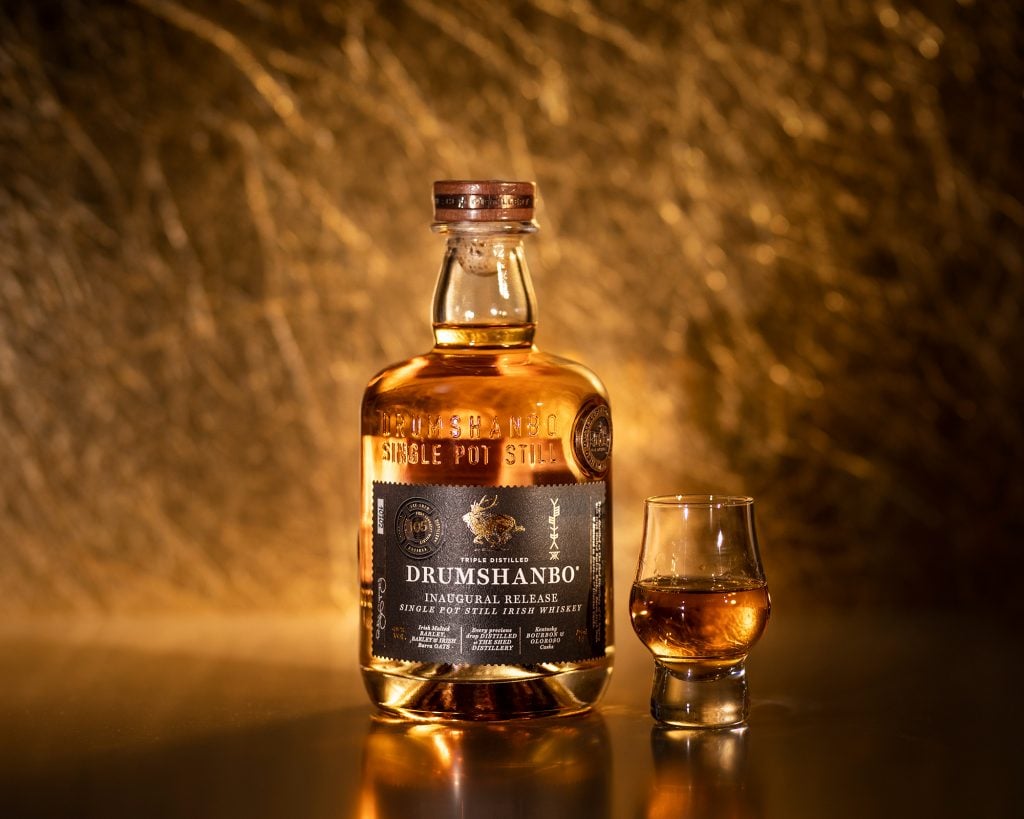 Drumshanbo Single Pot Still Inaugural Release Tasting Note:
Nose: Creamy vanilla is at the core with custard and caramel in support. The sherry-cask influence then arrives with raisins, red berries and a touch of baking spice. Hazelnut whip brings a nutty element to the aroma while apple turnover, golden cereals and a hint of milk chocolate add sweetness underneath.
Palate: It's a fantastically creamy and slightly rich palate. Notes of stewed plums, Christmas cake and flamed orange peel appear first, before leather, red chilli heat and aromatic nutmeg add depth.
Finish: Quite long and delicately sweet. The spices make way for more dried fruit, grassy malt and honeyed porridge. 
You can buy it here from Master of Malt.