After 523 years, the stills at Lindores Abbey Distillery were fired up, ready for whisky production to begin. We spoke to its owners and founders, Drew and Helen McKenzie Smith, about embracing history, impressing Richard Patterson and why they didn't want to create the Disneyland of whisky. 
In 1191 Lindores Abbey was founded on the edge of Newburgh, Fife, by the Earl of Huntingdon. It's a place of great historical significance. Prince Alexander, heir to the Scottish throne, died there in 1283. It was here that three puissant knights, Sir Gilbert Hay of Errol, Sir Neil Campbell of Lochaw, and Sir Alexander Seton, vowed to "defend the King Robert Bruce and his crown to the last of their blood and fortunes." Extensive archaeological digs around the abbey ruins have uncovered significant medieval pottery and a 12th-century lead plumb line.
But it's in 1494 that the story of Lindores Abbey gets really interesting, at least for us booze nerds. It's claimed that Lindores Abbey was the site of the first written reference to whisky in Scotland. Records show that Friar John Cor of Lindores Abbey in Fife was paid duty on eight bolls of malt to make 500kg of aqua vitae (400 x 70cl bottles) for King James IV at The Tironensian Abbey, which is now little more than an overgrown ruin.
In 1912 the Abbey and a neighbouring farm were sold to the family of current owners Drew and Helen Mackenzie Smith, a husband-and-wife team who act as custodians of the historic grounds. Yet, for a long time, the family was completely unaware of any whisky link. "We're not a whisky family. We were blissfully ignorant. Then my father phoned me up one day to say this chap had been round and asked if he could look around the ruins. Several months later this lovely book arrived and it was Michael Jackson's Scotland and its Whiskies," Drew explains. "He'd sent us a copy, thanking us for letting him wonder about it and to turn to a specific page. Sure enough, there's a picture of the Abbey ruins and Jackson writing about 'for the whisky lover, this is a pilgrimage'. I thought, 'blimey, that's in our back garden'." 
The McKenzie Smith's understood the location had potential but were unable to put any concrete plans together to take advantage of the good news. This was back in the early nineties and the whisky industry was very different. Trying to raise capital and interest was more difficult then and though the family explored a project with Glenmorangie, ultimately they were unable to get anything off the ground. That was until a chance phone call out of the blue over two decades later.
"Things go full circle. I say to people it's been a 25-year journey with 15 years in the middle when we were just getting on with our normal lives. Our friend Ken Robertson (director of corporate relations at Diageo and a member of the Worshipful Company of Distillers and the Keepers of the Quaich) alerted us to the host of new distilleries cropping up and said, for his money, the one place there should be one was at Lindores," says Drew. "So, we thought we'd give it a go, carpe diem! On the 17th of December 2020, our spirit is three years and a day. I suppose if you build it they will come".
In 2013 the family embarked on a £10 million project that entailed excavation and subsequent archaeological investigations before the distillery was finally open for business in October 2017 and distillation occurred soon after. Much like its inception, the road to getting the distillery off the ground was similarly paved with good intentions and helpful friends. "I've got a great deal of advice from lots of people within the industry like Anthony Wills. He knew the pitfalls along the way. A lot of people have these dreams of doing something like this, but the harsh reality is it's bloody expensive," Drew explains.
Like a lot of its contemporaries, Lindores Abbey Distillery brought on board the late Jim Swan to offer his expertise. He helped design the still shape and work with the cask recipes. "I always remember him saying that getting the funding is very hard, getting the planning is very hard, but then they have their own rewards. The very first run of spirit is a huge moment. The moment when it comes of age is another great big step forward," says Drew. 
Like we've seen from most of the new whisky distilleries that have emerged in the last decade, Lindores Abbey made an alternative expression while its whisky matured. But the brand didn't opt for gin, rum or vodka. The first spirit released from the distillery had to be rooted in the Abbey's legacy, which meant making Aqua Vitae. "Obviously gin was an option, but there's so many out there, but the bottom line for us was that we felt it had to be about history, provenance and the very first thing that comes from Lindores Abbey in 500 years couldn't be a gin," Drew explains. "The one thing we know for sure is that the monks didn't make gin. Aqua Vitae is what we're based on."
Their creation, Lindores Abbey Aqua Vitae, was adapted from an ancient recipe used by the monks. It begins life as new make whisky distilled in the brand's pot stills, which is then infused with a blend of spices and herbs, including cleavers, lemon verbena, douglas fir and sweet cicely, all of which are foraged from the grounds of the ancient Abbey. But it was a difficult process. "The single biggest challenge was finding an authentic way to add some sweetness. Research showed that the monks traded with Flanders and had access to dates and raisins, which was a game-changer," explains Drew. "Once we added them, the character was right and they had a pleasing side effect that we hadn't considered, which was the fact it makes the spirit amber in colour because obviously it's not going anywhere near wood".
The duo concedes that it's not been the easiest spirit to market and that gin would have been more profitable. "If Joe Public went into an off licence for gin or vodka, they would see a new gin in a lovely bottle and give it a try. If they see the aqua vitae, they might not know what that is," Drew says. "Convincing people is hard. We had quite an aggressive challenge from a big drinks company in Scandinavia saying we can't call it aquavit cause it doesn't have cardamom". But, despite some initial confusion and difficulty, the spirit's reputation has grown. "When people try it and understand it, they love it," adds Helen. "The old lady down the road kept sending her son in to buy some during the lockdown. She went through about 12 bottles!"
The distinctive bottle of the Aqua Vitae was modelled on carved stones and pillars uncovered from a series of archaeological digs undertaken before the distillery's construction, and on your bottle's label you'll notice a great deal of transparency about the production, which I'm always a fan of. You'll also see the Roman numerals MCXCI, or 1191, when the Abbey was founded and a handsome bear that Helen explains was modelled on the Warwick Bear, specifically tone carved out into a local hill that was commissioned by Drew's mother about 70 years ago for a pageant because the first Abbot was awarded the Earl of Warwick. "We spoke to design companies who were coming up with all sorts of ideas and I pointed out we've got a 200-metre high bear right by the distillery that we could use. Eventually, I think they just surrendered," Drew explains. 
Helen says they're considering using the same shape for the whisky, which we're getting ever closer to seeing. The first distillation run occurred in December 2017 and in 2018 Lindores Abbey Distillery released its very first new make spirit to the public, which Helen says is estery and fruity in profile, with apples, red fruit and a little bit of pepper and a very long finish. It quickly sold out (costing £22.50, with £2.50 donated to the Preservation Society, more on that later) before being voted as the Best Scotch New Make by the World Whiskies Awards 2020.
"To win the best new-make in Scotland was a big deal. It was the first rubber stamp for us that our spirit is heading in the right direction. We know how to handle the history and tourism side of things. But the big test for us was the spirit," says Drew. "To know that we've got a fantastic new make spirit and that through Jim's connections we've got really good casks, we're sitting here confident that our whisky, when it's ready, will be a cracking whisky."
McKenzie Smith says we can expect to see the very first bottling not long after three years and a day, but that will be a private bottling for the brand's member's club. For the first general release, the duo are looking at 2021, but haven't committed to anything yet. "I've had a couple of very young whiskies from new distilleries that weren't great. We've seen young distilleries release very young stuff and then say to people don't judge us yet, but I think people are going to say well actually I've just paid 50 or 60 quid so I will judge you," says Drew. "We need to be confident in ourselves that the spirit will step up as a decent spirit and not just as something people will probably buy it cause it's the first bottling. So we haven't got a fixed date. Just watch this space."
Helen adds that the whisky they currently have in its casks is drinking better than an awful lot of other established brands quite frankly. "I've run tours where people thought that one of our peated casks was a far more established Lagavulin. We're proud of the maturation quality and we're proud of the spirit that's evolving really," adds Helen.
Lindores Abbey's whisky production process, much like the decision to create Aqua Vitae, is rooted in history and provenance. The water, for example, comes from a borehole near the distillery, in order to draw from the same supply used in 1494. The barley, which is malted and then mashed in a conventional, semi-lauter tun supplied by Forsyths of Rothes, is grown locally on two farms that border the distillery and would have originally been abbey lands.
"There's a lot of talk nowadays about terroir, which I buy into. That land was Abbey land so you could argue we're growing barley on the same soil as the monks were doing over 500 years ago," says Drew. "We also like the circular economy in the sense that one of those farms takes our draft away. Then there's Falkland Palace locally that grows organic barley so we're going to use some of that. We've also considered doing a peated run. We know that the monks had permission to take 200 cartloads of peat from Kindloch just five miles away, so back in the day when Friar John Cor was doing his stuff, the monastery was heated with brushwood and peat."
The brand opted for traditional wooden washbacks, supplied by Joseph Brown of Dufftown and have future-proofed its operation so if things go well four more washbacks can be added. At the moment Lalvin dry yeast is used, although interestingly a Heriot-Watt project demonstrated that there is a strain of yeast that exists now that existed back in 1494. "There's a sample and the plan is to do a trial run in a controlled environment. Wouldn't it be an amazing thing if we got to the point of production where we're using the same soil, grown under the same sunshine, using the same water and the same yeast? That would be truly unique", says Drew.
Fermentations are far longer than originally planned after distillery manager Garry Haggart was left less than impressed with the initial results. "We started off at 72 hours, but now it's never less than 118. With your monetary hats on it's not absolutely ideal because we wanted to do more mashes than that a week, but we feel that it's helping enormously to make the spirit what it is," Helen says. 
Haggart joined after coming up through the ranks at Diageo, most notably working as a distillery manager at Cragganmore. "We considered trying to tempt Andy Cant out of retirement after he left Cardhu," Drew recalls. "But then we started with talking with Gary, who mentioned his mentor was Cant. Michael Jackson also spoke very well about Cragganmore, so there he ticked a lot of boxes. He brought with him a lot of practical skills and he's got links to other distilleries if we ever need any help. He is a big plus and he's doing a very good job".
Haggart distils Lindores Abbey whisky on three Forsyths copper pot stills, one large wash still and two smaller spirit stills, which the McKenzie Smith's chose because it allowed greater copper contact in the final distillation. "We had an order with Forsyths for one wash still and one spirit still. But then Jim Swan came back one day very excited about this new make from Annandale that it was really good. He said they have two smaller spirit stills which creates more copper contact. We then decided to go down that route," Drew says.
Lindores Abbey counts Richard Patterson as a fan of the spirit it's produced. "He's been a great help and a friend. The two twin stills are identical in every way so the assumption had always been the spirit is the same coming off of them. Until Richard was here and he said 'no, one of them is definitely more complex'. We can't say which one as those two stills are named after our two daughters and I don't want any grief," Drew explains. "But the best part of Richard's visit was that he felt that the spirit from both stills would be good enough to stand up on its own. Our current new make is a mix from both these stills, but it does mean that we would be in a position of having these three different new makes if we chose. There's an experiment to be had there". 
Lindores Abbey is currently maturing whisky in a frankly astonishing number of barrel types. The brand lists Woodford Reserve and Old Forester bourbon barrels, Oloroso sherry butts, refill sherry hogsheads, bourbon quarter casks, refill quarter casks, peated refill quarter casks, STR (wine barrique), Port pipes and more as barrel types its working with. Lindores Abbey has since connected with Nebb Whisky Barrels to import Australian wine casks, which to the brand's knowledge are the first of its kind to be brought into Scotland and also recently commissioned a dozen casks made from Thiron oak.
"The monks of Lindores originated from Thiron in France (about 150 miles south of Paris). Arguably those casks are giving us the best spirit, or at least the best bang for buck spirit as such at a young age," Drew says. "We started off predominantly with STRs, bourbon and sherry and we still think our core Lindores single malt, when it comes out, will feature that combination. But our active cask sales programme gave us the license to look at different casks from around the world and give the purchaser something more exciting. We're building up a great variety which means we can have a core range and then lots of special bottlings, which we like!"
Sustainability is at the core of what Lindores Abbey do and Helen believes that people are going to be judged, especially going forward, about how they approach their environmental duties. "We have to be really conscious that we're not wasting things or being destructive to the environment. It's important to us to be accountable and we feel it's part of your corporate responsibility. The distillery itself is built from the old stones of the Abbey from when it was ransacked, back in the 15th Century. It stands on the blueprint of the stoning and there's one slightly new building on the side," says Helen.
Then there's the brand's membership programme, the Preservation Society, which takes a percentage of the money people pay to help towards genuine preservation. "This could be cutting back ivy on the Abbey ruins to adding more warehouse space and bottling hall to create a single estate situation. We're planting 600 fruit trees next year so we have apples, pears and plums for our Aqua Vitae, my niece keeps bees on-site, we're looking at doing our malting with a company that's six miles away," Helen explains. "Even the Aqua Vitae bottles are distinct enough to be recyclable and we've provided people with free lights to use inside. We want our forward-planning to be legitimate, if the business can help preserve the Abbey for another 500 years, well then we'll feel we've done our bit." 
Lindores Abbey has embraced that its a place of global whisky pilgrimage. If you're looking for a distillery to visit post-pandemic it's one to put on the list. It's close to both Edinburgh and Glasgow, offers tours and opportunities to create your own Aqua Vitae and having the Abbey ruins and all that history on-site gives the brand a point of difference to a lot of its competitors. "We're unlike nearly any other distillery. We don't just talk about whisky or the story of Friar John Cor because there's so much more to Lindores than that. We wanted to take people on a journey to realise how everything built up to the state-of-the-art distillery," says Drew.
But for Drew and Helen, the priority is creating whisky that will live up to the Lindores Abbey name and not simply rest on the laurels of the distillery's heritage. "We could have gone down a completely different route and become a Disneyland for whisky. We use our history, we have a fantastic five-star visitor experience and we understand the benefit of these assets. But the focus from day one was the spirit," says Drew. I've reviewed both the Aqua Vitae (which you can buy here) and the New Make Spirit below so you can find out how they're doing. It's safe to say that all for the history you can enjoy at Lindores Abbey, it's the future you should be really excited about.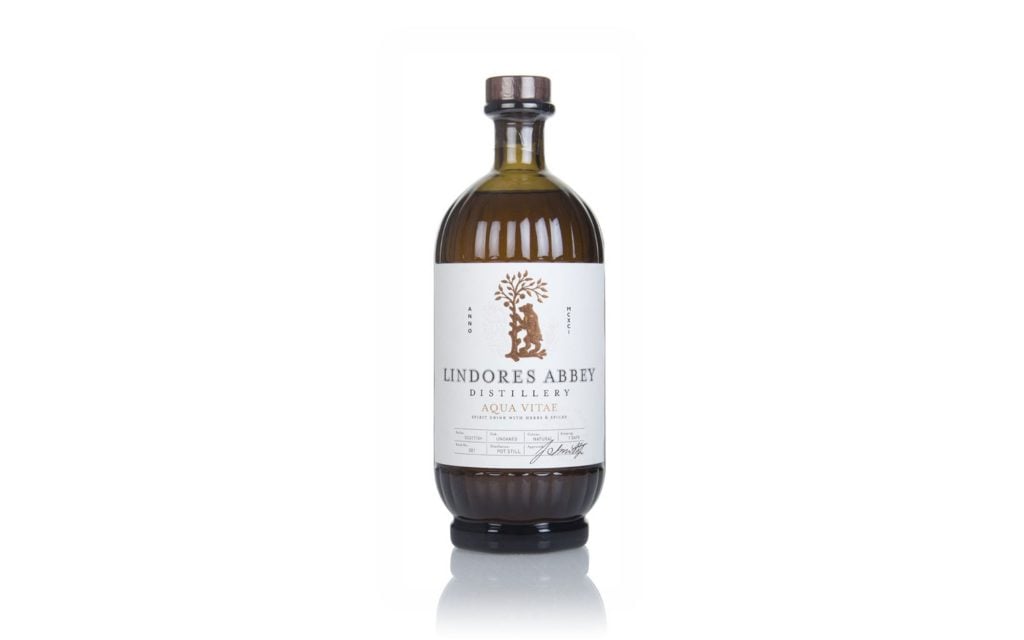 Nose: Through a fragrant piney aroma comes fleshy white fruit, salted caramel, sweet aniseed, fresh herbs and a rich medley of baking spices. There's plenty of stewed raisins, marmalade, floral honey and lemon sherbets in support.
Palate: Fruitcake, orange peel, nutty dark chocolate and brown sugar initially, with more aromatic lemon citrus notes underneath and a return of that ginger, clove and cinnamon mix.
Finish: A touch of pot still spice and woody tannins linger among the sweeter dried fruit notes.
Overall: A very tasty bit of liquid history. It's an interesting window into the past, it's individual in profile and full of flavours I enjoy. The Aqua Vitae is definitely one for mixing and playing with and I'm excited to make a few different cocktails with it.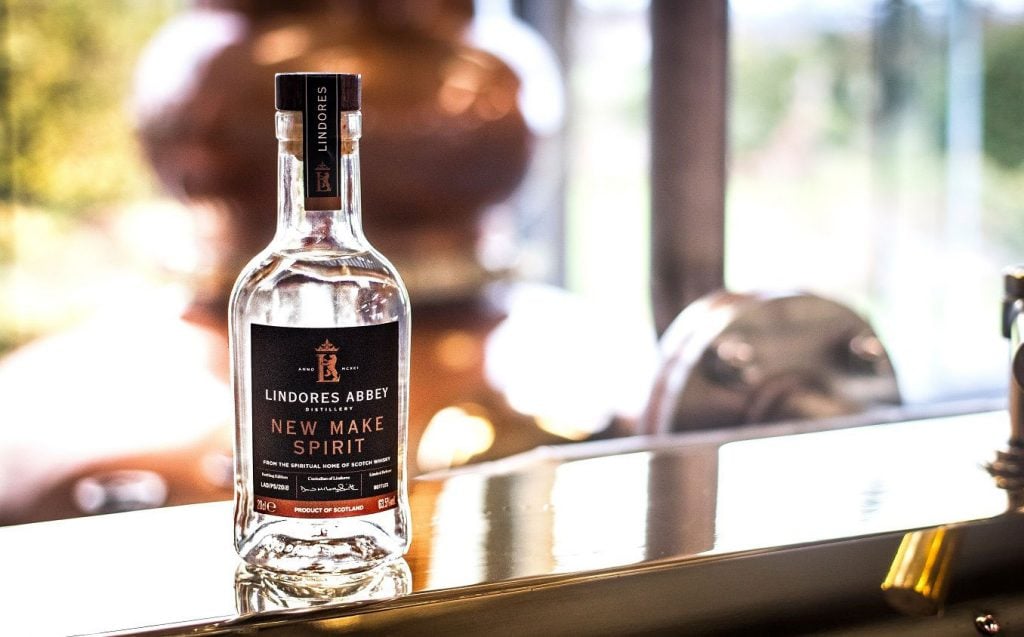 Lindores Abbey New Make Spirit:
Nose: Soft toffee pennies, hazelnut, condensed milk and crisp fresh malt emerge initially, with a helping of orchard fruit, mostly pears and ripe Granny Smith apples. A little spearmint, anise and soft marshmallow add further sweetness among a hint of cherry, tinned peaches and sweetcorn, which adds a vegetal quality like a Blanco mezcal.
Palate: More toffee, buttery croissant and chalky sweets are detectable through notes of fresh-cut grass, cereals and a little biscuity malt. Spice and heat emerge on the mid-palate but quickly make way for menthol notes, sticky liquorice sweetness and a touch of fennel
Finish: Fruitier than the palate, with peach cobbler, strawberry bonbons and cooked apple. Some syrupy anise remains with peppermint and a very light woody element.
Overall: As promising as it is intriguing. We eagerly await its matured form.