Today, we're putting some new flavoured spirits from Grey Goose through their paces. Called Grey Goose Essences, they come in three flavours and we've picked one in particular to make a Strawberry & Lemongrass Blush.
Do you remember flavoured vodka? If like me you grew up in the '90s you wouldn't have been able to move for the stuff: strawberry vodka, bison grass vodka, vanilla vodka, and fiery chilli vodka that would make you cry when you had a shot. Ah, happy days!
Some flavoured vodkas were delicious but many were sickly sweet and decidedly unpleasant. The sort of things that you would only drink because of the effect, not the taste. Flavoured vodkas gradually went out of fashion while all the excitement in spirits moved over to gin with the great gin explosion of 2009.
Vodka is back, apparently
Now, however, the gin boom is over and vodka is back! Now as I am sure many people will point out, vodka has never gone away. It's the world's most popular spirit and in Britain only very slightly less popular than gin. 
What has changed, however, is there are lots of new brands coming to the market either from small producers or from the big boys looking to exploit vodkas' new-found fashionability. Enter Grey Goose Essences.
Grey Goose is the original cult vodka. It was created by New York booze tycoon Sidney Frank who saw how successful Absolut was and thought he could easily sell something more premium (read the full story here). But rather than make his vodka in the US, or in more obvious countries like Finland, Sweden or Poland, he decided that Cognac in France would be the home of his new brand. After all, they do know a bit about distillation there.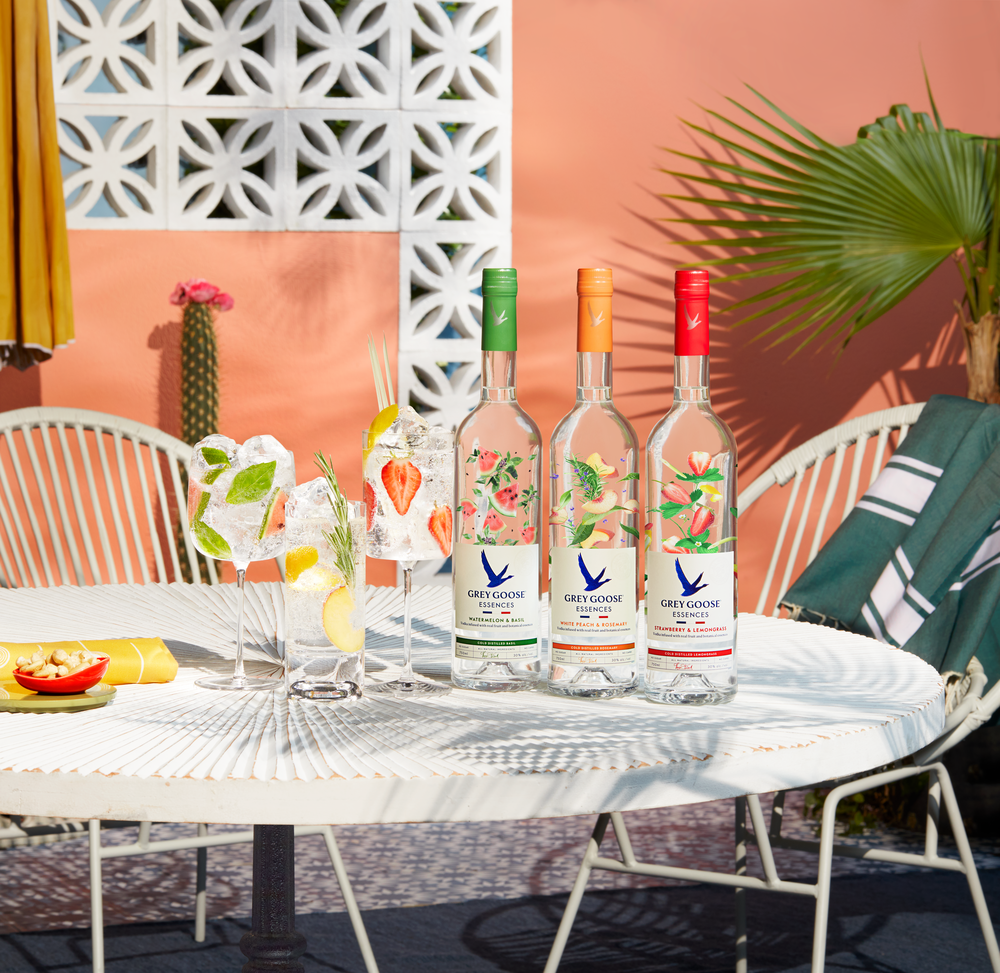 Enter Grey Goose Essences
Today, Grey Goose is made from winter wheat grown in Picardy and distilled in Gensac by maître de chai François Thibault. He's the man behind this latest product, Grey Goose Essences. "Grey Goose Essences has been a labour of love for both me and the brand. The freshest ingredients were meticulously searched for and a unique distillation process is used for each fruit and each botanical to ensure we captured the purest flavour in every bottle," he said. 
Rather than just add flavour to vodka as in the past, Thibault uses techniques from gin production to make Grey Goose Essences. Some of the botanicals, which come from countries including France, Spain, Thailand and Sri Lanka, are infused while others are cold-distilled. And here's the big change from flavoured vodkas of old, no added sugar. 
At the moment there are three varieties: Strawberry and Lemongrass, White Peach and Rosemary, and Watermelon and Basil, all bottled at 30% ABV which means they are spirit drinks rather than vodka. A good way to think of them is as a cocktail in a bottle, just add tonic or soda water, and a garnish. Perfect for entertaining this summer. 
Click here to see the full range from Grey Goose.
How to make a Strawberry & Lemongrass Blush
50ml Grey Goose Essences Strawberry & Lemongrass
100ml soda water
Cloudy apple juice
Add the first two ingredients to an ice-filled Highball glass, stir gently and top up with apple juice. Garnish with a twist of lemon.