This is the story of Grey Goose vodka, the brand that kickstarted the super-premium movement and changed the face of the category. But did you know that before it was vodka, the Goose was a brand of cheap German wine? Lucy Britner has the whole story.
The tale of Grey Goose can't take flight without talking about its creator, the US booze tycoon Sidney Frank (who with his bow tie and cigar looked just like you hope a booze tycoon would look). It might surprise you to know that Grey Goose wasn't always a vodka. The brand 'Grey Goose' started life as a German Liebfraumilch (like Blue Nun) – registered by Frank in the '70s. And although the sweet wine died, the trademark lived on, revived by Frank two decades later, to become a vodka.
The ultimate vodka brand
It was the ultimate vodka brand – it started life with no liquid, no distillery and no bottle. But Frank knew there was a tremendous opportunity. Absolut was already making waves and he had the contacts, thanks to his success with Jägermeister.
You see, Frank started Sidney Frank Importing Co (SFIC) in 1972, bringing Jägermeister from Germany and putting it on the map in the US. Among SFIC's contributions to its success are the Jägerettes – what the company claimed were the first promotional models in the spirits industry. SFIC also introduced the Jägermeister Tap Machine, which brought the brand out of the freezer and onto the bar. So, Frank and his team were well connected in the US bar world.
Super Premium
Frank could see Absolut was doing pretty well, but he had worked out how he might do even better. In an interview with Inc, he points out that Absolut was selling for $15 a bottle. "I figured, let's make it [Grey Goose] very exclusive and sell it for $30 a bottle," he said.
And the story of how it came to be made in France is just as 'matter of fact' as Frank's pricing structure. "I said, France has the best of everything. I asked a distiller there whether they could make a vodka. They said sure. The product manager and I tasted about 100 vodkas on my front porch here, and we agreed on one vodka as the best-tasting," he told Inc.
If you've been to Cognac, you might've seen the big grey, Grey Goose plant outside of the town. And despite its location among the vines, Grey Goose is made using winter wheat from Picardy, France.
The liquid was created by François Thibault (below), Grey Goose's own maître de chai. "The vodka was created in Gensac, near Cognac, a region renowned for its high-quality wines and spirits and high mastery of the distillation process," says Sébastien Roncin, heritage curator for French brands at Bacardi (which now owns the brand). "The pure grain undergoes a five-step distillation process, maximising the flavour at each stage and retaining the unique qualities of fine French wheat. The spirit is then combined with naturally-filtered water from the Gensac spring."
The vodka quickly won 'best-tasting' status with the Beverage Testing Institute and the story goes that Frank put all his projected profit for the year into advertising. The brand went from nothing but a name to 1.5-million cases by 2004.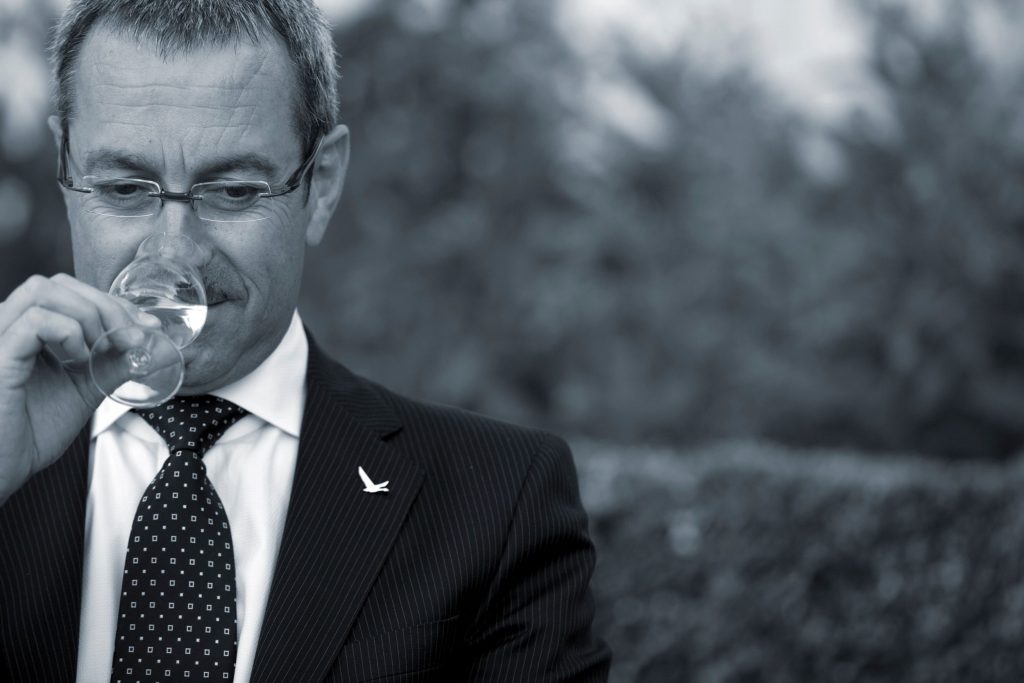 Frank becomes a billionaire
And in that same year, Frank sold Grey Goose to Bacardi, for a reported "more than" $2bn.
Bacardi made the purchase to become a "serious player in the strategically important vodka category". And Frank, though rolling in cash, was a little bittersweet about it. He said of the sale: "One cannot avoid having mixed feelings on the sale of such a great brand. However, I cannot think of a better new home for Grey Goose than Bacardi. The people at Bacardi understand brand building, and this will ensure the development of the full potential of Grey Goose."
Frank handed out big bonuses to his employees so they wouldn't quit the company and he also splashed a bit of cash on himself – he bought two big Maybachs and a Bentley. And he gave $100m to Brown university, which is used to provide financial aid to students in need. (Frank himself had attended Brown in 1942 but had to leave after a year because he couldn't afford the tuition.)
Before he sold the brand, Frank, who was a big golf fan, contributed to the creation of the Grey Goose 19th Hole TV programme on the Golf Channel. This was continued after the acquisition by Bacardi and in 2005, golfer Retief Goosen was endorsed by the brand, then Matt Kuchar in 2012.
The story goes that in his older years, Frank, unable to still play golf, would ride around on his cart, instructing a team of aspiring pros to play for him. And they say money can't buy you happiness.
Frank died in 2006, at the age of 86, having fulfilled his dream of becoming a billionaire.
And the story of Sidney Frank Importing went full circle when, in 2015, it was acquired by Mast-Jägermeister. Two years later, the company's name was changed to Mast-Jägermeister US.
The Bacardi years
With Bacardi in the driving seat, Grey Goose has continued to champion the super-premium mentality, with straplines like 'Fly Beyond' and 'Live Victoriously'.
The company has also carried on producing flavours, after Frank introduced L'Orange in 2000 and Le Citron a couple of years later. La Vanille ran from 2003-2007 and was reintroduced in 2018, while La Poire (2007), Cherry Noir (2012) and Le Melon (2014) have kept things fruity over the years.
All the while, Grey Goose has gained traction in popular culture. It was explicitly mentioned in the Sex and the City TV series and in songs such as Stop Playing Games by 8Ball & MJG. Roncin says these mentions contributed to Grey Goose vodka's popularity.
And 'sleb' tie-ups are still on the bill. In 2018, Grey Goose announced a partnership with top Hollywood actor Jamie Foxx. The collaboration included a 9-part digital series called 'Off Script', which featured Foxx interviewing other superstars, including Denzel Washington, Benicio Del Toro and Melissa McCarthy.
The brand's latest iteration, Grey Goose Essences, also got a spot at the Oscars. The 30% ABV flavoured vodka range was launched in February and it comprises three flavours: Strawberry & Lemongrass, White Peach & Rosemary and Watermelon & Basil. The Oscars push included a 30-second ad that ran during the ceremony.
Interestingly, Roncin describes Bacardi's investment in Essences as the "largest investment in the brand since the original Grey Goose". 
Today, Grey Goose is available in 152 markets – and it's not yet 25 years old.