Venice is home to some pretty amazing cocktails like the Bellini and the Spritz, but have you tried the Sgroppino, a refreshing blend of lemon sorbet, vodka and Prosecco?
The Negroni, Aperol Spritz, Bellini, the very concept of an aperitivo – we have Italy to thank for all of these legendary libations. But have you heard of the Sgroppino (pronounced Scro-PEEN-yoe)? It's not the best-known or the easiest to say, spoken by a Brit at least, but it's a delicious cocktail, with plenty of history to boot.
The Sgroppino al Limone, or Sgropin in the Venetian dialect, is today known as a frothy lemon sorbet mixed with vodka and topped up with, what else?, Prosecco.
One of the earliest mixed drinks
The origins of the Sgroppino are thought to date to 16th century Venice, around the same time that construction on the Rialto Bridge began. For context, the term cocktail didn't come into circulation until the mid 19th century. That was (probably) thanks to a mix up over the French word for egg cups 'coquetier' (pronounced 'cocktay' in English), used by Antoine Amédée Peychaud to serve Cognac with Peychaud bitters and absinthe. And so the oldest 'cocktail' is often cited as the Sazerac.
If the Sgroppino's origin story is accurate, then it is much older. But the most impressive thing about the Sgroppino isn't its long history, but the fact that it came to be at all – an ice-based cocktail invented in 16th century Venice, pre-refrigeration and the industrial revolution, after which transportation of ice, usually from America, became easier. It takes a little unpicking.
When ice was a status symbol
While the transatlantic ice trade didn't take off until the 19th century, wealthy Europeans began building ice houses from the 16th century onwards, storing ice cut from nearby frozen lakes or streams. At that time, ice was the height of luxury, not easy to procure or store, and only the wealthiest would have had the means to enjoy it with drinks or to chill food.
Those people would also have had staff. The story goes that it was one such anonymous kitchen servant who served the first Sgroppino to a group of rich Italian aristocrats at a lavish dinner party. It proved a hit and it became traditional to serve it as an after-dinner digestif to soothe one's stomach, as well as a palate cleanser between courses. In fact, its name comes from the Italian verb sgropàre, which means to "untie a small knot", referencing a 'twisted' stomach after a big meal.
At the time of its invention, the Sgroppino would have been simply lemon, sugar and ice whisked with some kind of alcohol (perhaps an eau-de-vie made from grapes), and would have resembled an Italian Ice or granita. Sparkling wine was in its infancy (the techniques for making reliable bubbles were not perfected until the 19th century), so while it was possible some households might have had access and means to use it, the drink most likely began as a grappa-laced lemon-flavoured Italian ice, that was later topped up with sparkling wine once it became more commonplace.
Variations on the classic recipe
Today, refrigeration has allowed the Sgroppino to become more refined, served as a lemon sorbet (made with the aid of refrigeration) whipped with alcohol and sometimes limoncello, topped up with Prosecco. In Italy a waiter will often prepare the drink at your table to ensure a swift serve before natural separation. More modern variations can include strawberry or grapefruit, you could use a flavoured vodka, or swap it out for gin. You could use gelato for a creamier base, but the classic is dairy-free.
It's best enjoyed in its native Venice, on a warm day looking out across the Adriatic with a plate of cicchetti. But it's pretty tasty on a blustery autumn day in England. And best of all, you can whip one up without a shaker, and just three ingredients.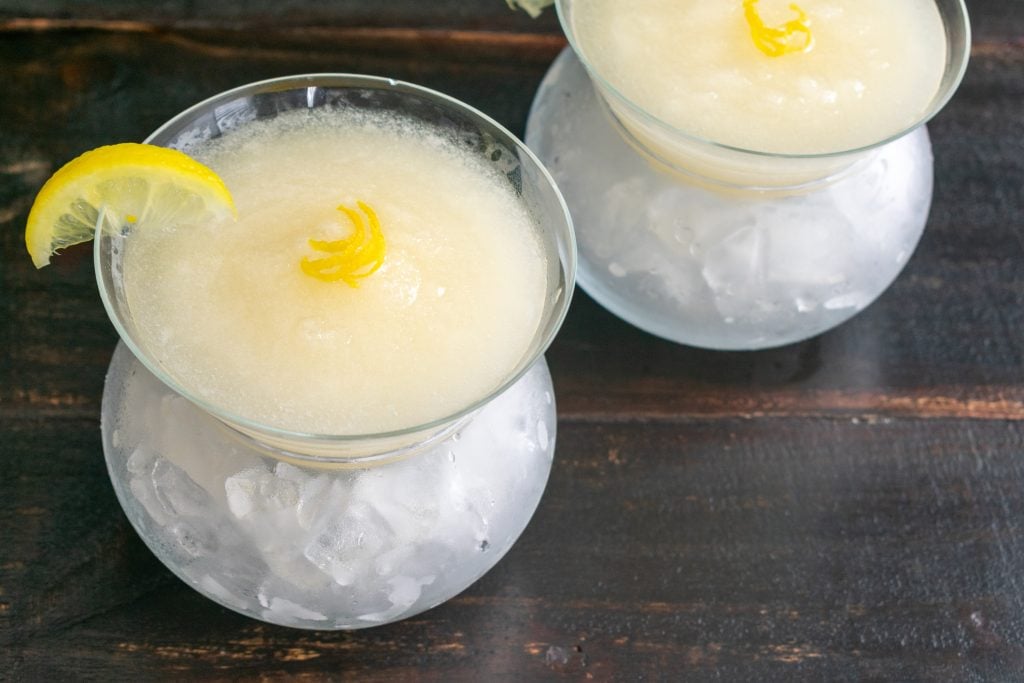 How to make a Sgroppino
Modern Sgroppino
50g lemon sorbet
25ml Master of Malt Vodka
75ml Folonari Prosecco
Buy a good quality lemon sorbet, or make one from scratch, whisk in the vodka. Pour into a Champagne flute or coupe glass. Top with Prosecco and garnish with a sprinkling of lemon zest, or add a teaspoon of limoncello if you are feeling fancy.
Malfy Gin con Limon Sgroppino
50ml Malfy Gin con Limone
25ml lemon juice
15ml sugar syrup
1 scoop lemon sorbet
25ml Folonari Prosecco
Shake the first three ingredients together and strain into a chilled glass. Add a scoop of sorbet and top up with Prosecco. Garnish with a mint leaf.