This week we're stirring up a seasonal drink inspired by the ancient Druids from a new cocktail book. It's called the Oak and Mistletoe and combines whisky, Calvados, and a special apple syrup.
"In ancient times,
Hundreds of years before the dawn of history
Lived a strange race of people, the Druids
No one knows who they were or what they were doing
But their legacy remains
Hewn into the living rock, of Stonehenge!"
This week's cocktail called Oak and Mistletoe has made the Master of Malt team come over all Spinal Tap because it's inspired by the ancient British Druids. It comes from a new book called Spirits of the Otherworld: A Grimoire of Occult Cocktails by Allison Crawbuck and Rhys Everett. The book is a cornucopia of delicious, decadent, and downright bizarre drinks inspired by esoteric learning.
The strangest bar in London
The pair own the cocktail bar at The Last Tuesday Society which has to be one of the best and strangest bars in London. Not only do they serve superb cocktails but you might get to sit next to a stuffed lion in a top hat while you sip your drink. They also put on an interesting selection of talks which are well worth checking out. It all takes place behind an unassuming shopfront in Hackney.
The Last Tuesday Society was founded by an eccentric called Viktor Wynd. Originally it was not a place but a series of parties with names such as 'The Animal Party, from the Beast to the Blond', 'The Orphanage Masked Ball, a Danse Macabre', and 'Loss; an Evening of Exquisite Misery.' They became bywords for all kinds of mid-noughties decadence. 
Curiouser and curiouser
In 2008, Wynd opened a shop and art gallery on Mare Street in East London called  'Viktor Wynd's Little Shop of Horrors'. In the basement, there was a 'cabinet of curiosities' inspired by early museums where the strange, the shocking, and the exotic were all piled up next to each other. Items on display include a two-headed sheep, syringes belonging to the late artist Sebastian Horsley and, most peculiar of all, celebrity poo including some belonging to Russell Brand. 
All deeply strange. Wynd has now moved to Norfolk where he presides over the Last Tuesday Society putting on events and talks though sadly not the wild parties of yore from his rural idyll. Meanwhile, Crawbuck and Everett own the bar upstairs in the shop. You can visit the museum below for a small charge. It's well worth a visit, drink in hand, though be warned, on your own, it is pretty sinister. The pair don't only run a bar and produce cookbooks but they also have their own brand of absinthe called The Devil's Botany which is extremely tasty. 
An occult Old Fashioned
But back to the cocktail of the hour, the Oak and Mistletoe. It's a blend of Calvados and Scotch whisky into an Old Fashioned style drink sweetened with roasted apples. Apparently, apples are the "sacred fruit of the Druid forests". You could use a mixture of cloudy apple juice and sugar syrup if you don't have time or inclination to make the roasted apple syrup. It works nearly as well.
According to the book: "Inspiration for this cocktail is drawn from the ancient woodlands of the Druids. From the apple-producing regions of Normandy to the whisky oasis of Scotland, the spirits of the Britons and the Gauls offer pure magic when blended together. The flavours of these liquids are heightened by the powers of the wise oak tree…"
The book's authors recommend drinking on "the eve of Samhain, 31 October, as the Sun sets and the soul of the dead rise." But the mistletoe in the title makes us think of Christmas. Whenever you drink it, this is a wonderful wintery cocktail and a great introduction to the weird world of the Last Tuesday Society.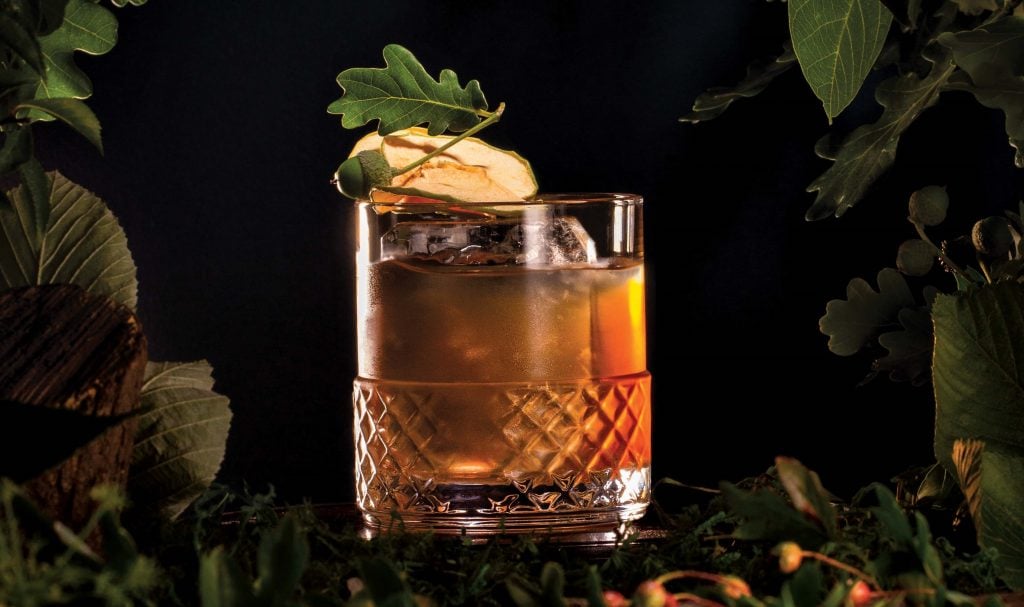 How to make an Oak and Mistletoe
30ml Calvados Chateau de Breuil
30ml Monkey Shoulder blended malt Scotch whisky
4 dashes Angostura bitters
15ml roasted apple syrup* (or half cloudy apple juice and half sugar syrup)
Stir all ingredients in an ice-filled shaker or jug. Strain into a large rocks glass filled with ice. Garnish with a slice of roasted or dried apple.
*roasted apple syrup
5g brown sugar
1tsp ground cinnamon
1 apple, cored and sliced
150g of caster sugar
100ml of water
Toss the apple in a mixture of cinnamon and brown sugar. Spread on a baking tray and bake at 175 degrees C in an oven for six minutes, turn and bake another six minutes. Keep a couple of slices back for garnishes. Add the rest to 100ml of water with the caster sugar. Heat gently until the sugar has dissolved. Take off heat and allow it to cool. Pour through a fine strainer into a jar. It should last for two weeks in the fridge.
Spirits of the Otherworld: A Grimoire of Occult Cocktails & Drinking Rituals by Allison Crawbuck and Rhys Everett is published by Prestel. Click here to buy.