Today we're stirring up a French twist on the Manhattan made with St-Rémy Signature brandy. It's called the French Metropolitan.
Last week we looked at six Armagnacs for whisky lovers. All wonderful spirits but probably not what you want to use if you're knocking up a load of cocktails for your friends. Well, if you are then we've got the perfect thing, St-Rémy Signature brandy.
Master blender of the year
St-Rémy was originally an off-shoot of Cognac house Remy Martin. It was founded by Paul-Emile Rémy Martin II in 1886 after phylloxera destroyed the company's vineyards in the Charente. He set up a business at Machecoul in the Loire Valley to make brandy from local grapes. Today the company, now part of the Remy-Cointreau group, sources its grapes from all over the country including Burgundy, Champagne, Rhône Valley, Languedoc Roussillon, Loire Valley, Bordeaux, and Beaujolais. So you won't find much talk about 'terroir' in the St-Rémy press bumf because master blender Cecile Roudaut has such a wide variety of places to acquire grapes from. We imagine that it must take a lot of skill and expertise blending such disparate eaux-de-vie into a consistent brandy.
She started in the cosmetics business after studying microbiology and chemistry before making the jump into drinks with Remy Cointreau in 1997. She took over from Martine Pain as master blender at St-Rémy in 2016 and last year won Blender of the Year at the Spirits Business Awards in 2022.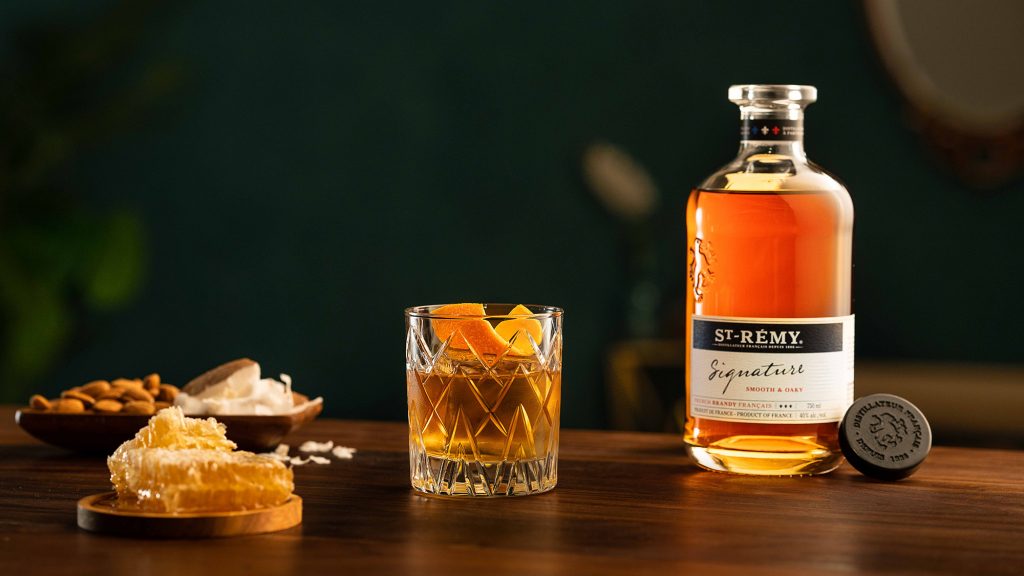 Introducing St-Rémy Signature
Sitting above the classic VSOP and XO expressions, Roudaut created a signature brandy called, naturally, St-Rémy Signature. It was released in 2020 and first appeared in Britain last year. It is first aged in quercus petraea oak (aka Cornish oak) casks with a fine grain, which were toasted using medium and high heat. These casks impart spicy, vibrant tannins. The second maturation occurs in more traditional European oak casks (with a larger grain), toasted using high heat only. These casks are more balanced and sweet, helping to mellow the bolder first barrel. Together, they make a beautifully contrasting pair that give this brandy its unique flavour profile. It's bottled at 40% ABV.
This is what Roudaut said about it: "This expression is an original creation, designed to be discovered by a new era of brandy-drinkers. While respecting the traditional French brandy values and processes, I have added a maturation stage in small virgin oak barrels, which marks its distinction and creates a smooth brandy with elegant notes of vanilla, a hint of toasted French oak, and a velvety texture."
As well as blending the core line-up such as St-Rémy Signature, she also gets to go a bit wild occasionally. Since 2018, she has produced some interesting cask finish brandies such as Chardonnay Cask, Islay Scotch Whisky, Sauternes and Barbados Dark Rum. The great thing about working outside AOC rules, like in Cognac, is this freedom to experiment.
How to make a French Metropolitan
For this week's cocktail, however, we're sticking with St-Rémy Signature which is an excellent all rounder. It's grapey and gently sweet with a nice oak-aged richness. Really perfect cocktail brandy. It would be great for a Champagne Cocktail, a Brandy Old Fashioned, or as we're making today, a French take on the Manhattan called the Metropolitan. 
60ml St-Rémy Signature 
30ml Italian vermouth
3 dashes Angostura bitters 
Stir with large ice cubes and strain into a chilled Nick & Nora glass. Garnish with an orange twist.